Rotary-USAID
Lesson learned
Get government support early
In August 2011, it seemed as if the entire town of Abutia Teti gathered to welcome a delegation that included RI President Kalyan Banerjee and his wife, Binota. Men, women, and children sang and danced, celebrating a new electric pump that would provide the town with safe drinking water.
But several years later, the situation in Abutia Teti had changed. The community's water and sanitation funds had been poorly managed, electric bills had gone unpaid, and the pump was broken and had been disconnected from the national power grid.
Younger townspeople stepped in and assumed management of the local water and sanitation committee. Today, the power is back on and the pump has been replaced. Still, there are challenges, including debt and more infrastructure issues. "When you do a life cycle cost analysis, we have certain costs that are beyond the community," says Theophilus Mensah, program manager for the partnership.
Managing a water system is a huge responsibility for a community to undertake. One of the lessons learned during the partnership was the need to get government officials involved right from the beginning. "Rotary cannot stay in one community forever," says Kwadwo "Willie" Keteku, who chaired Ghana's Rotary host committee for the program's first phase. "So it's important we build sustainability into projects. That takes cooperation not only from beneficiaries but also from local government officials."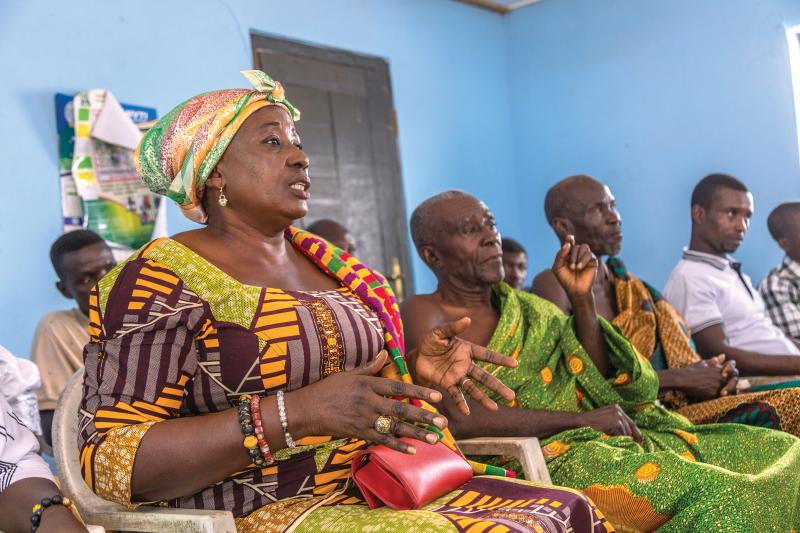 Lesson learned
Invest in changing hygiene habits
Diarrhea kills 2,195 children every day worldwide. But there's a simple solution that can cut that figure nearly in half: hand washing. Studies have found that this low-cost intervention can have as great an effect on health as the much bigger project of providing access to clean water.
In Ghana, the School Health Education Program is the national government's initiative to promote healthy living, and school sanitation and hygiene education falls under its purview. To increase the sustainability of the water and sanitation projects such as the one at Kade Methodist School, Rotary's partners — Global Communities and the government of Ghana's Community Water and Sanitation Agency — train the schools' health coordinators in the use and maintenance of latrines and the national school health education strategy, among other topics.
The partnership also trained local hygiene promoters to deliver key messages about hand washing and other hygiene tips to the broader community. An assessment of Rotary-USAID Phase 1 projects found that most heads of households understood the importance of hand washing and encouraged it in their families; children, however, had poor hand-washing practices, and a majority of residents wash their hands with soap in only 17 percent of communities. There is often not much governmental support for the work of community-based hygiene promoters, and many of those who were trained as part of the first phase of the program have since moved on.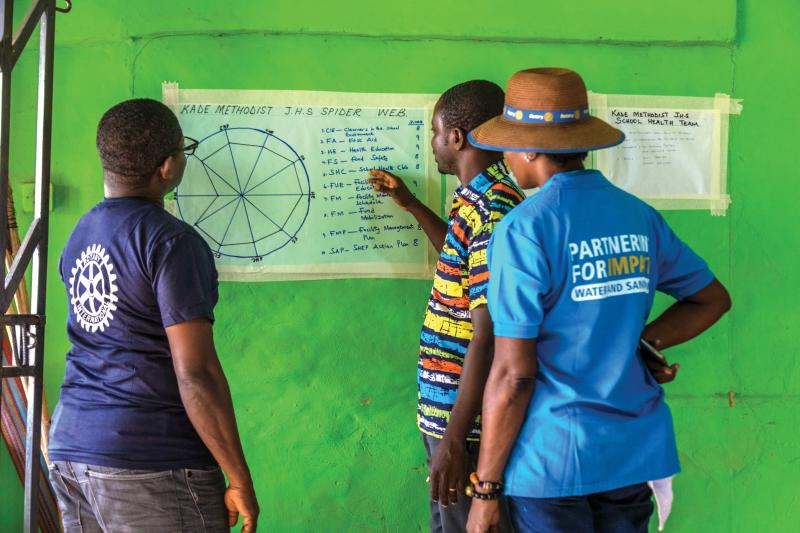 • This story originally appeared in the December 2019 issue of The Rotarian magazine.