Rotary-USAID
Lesson learned
Make sure government stays involved
Abuviekpong is a community of 550 people near the Volta River. The river is the source of their livelihood — fishing and farming — and, until recently, their drinking water.
After Rotary-USAID installed two boreholes with manual pumps, tests found excessive levels of iron in the water — prompting the partnership to install iron removal devices on both boreholes. (With the device in place, the iron in the water will precipitate into a solid material when exposed to oxygen; the water is then run through a series of filters to remove the precipitate.) Community members therefore received two trainings: one showing how to operate and maintain the pumps, and a second about the operation and maintenance of the devices that remove the iron.
The Phase 1 assessment of the partnership's projects found that their water and sanitation infrastructures were well constructed and that local water and sanitation committees understood their roles and have remained vigilant and involved. In addition, there are clearly outlined national policies for rural water supplies and frameworks in place for implementing them. But with only 4 percent of water and sanitation funding coming from government sources, local authorities have few resources for ongoing support of projects completed by Rotary-USAID and other nongovernmental organizations. Without that government support, communities are often left to manage complex water facilities on their own.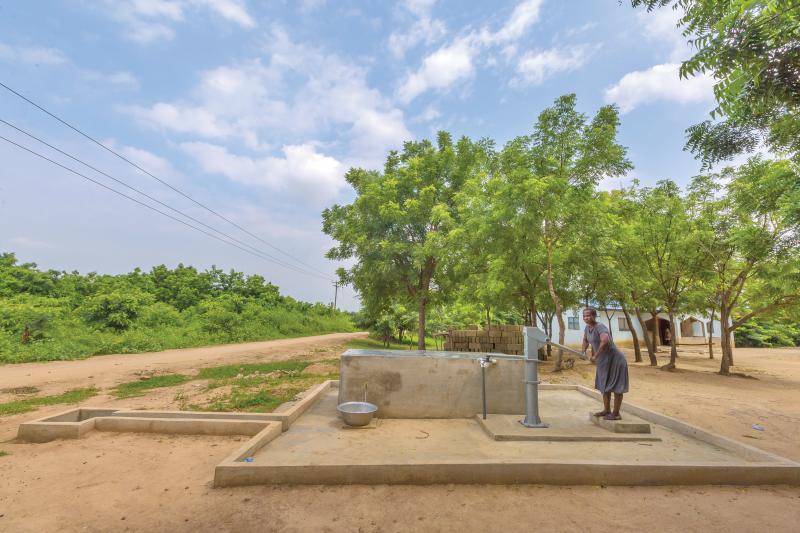 Lesson learned
Choose the technology that suits the local context
Thirty-one percent of the schools in Ghana do not have proper sanitation facilities. One of them was the Ajumako-Techiman Catholic School. So the Rotary-USAID partnership replaced the school's malodorous pit latrines with environmentally efficient microflush toilets; it also installed a manual borehole with a hand pump so students and teachers could wash their hands. But when program representatives returned to monitor and evaluate the latrines, they found filthy conditions due to after-hours use by other members of the community.
One student explained that if they use the dirty toilets, the stench stays with them, and they feel embarrassed in front of their teachers. "We don't want to come here because of the bad smell," she says, referring to the fairly new latrines.
Seven of eight school latrine blocks assessed in the Rotary-USAID study of Phase 1 projects were found to be in unsanitary condition. Many of the schools had not implemented a regular cleaning schedule, did not have cleaning supplies readily available, and did not provide toilet paper or water for hygienic purposes. Meanwhile, there is inadequate funding for the proper training of government staff who are supposed to support and monitor these facilities.
At the school in Techiman, the partnership is building a mechanized borehole with a microflush toilet system, a novel technology that uses a small amount of hand-washing water to flush the toilet. The excreta goes into an underground biodigester that creates compost.
But what will happen if this system breaks? The Phase 1 assessment found that schools are not able to set money aside for maintenance and repairs and that local governments rarely provide funds to schools for this purpose. With that in mind, an important part of the Rotary-USAID program has been training communities in how to advocate for their own needs once the partnership has moved on. "We are coaching communities on how to approach the district assembly and how to get their voices heard," says Dominic Osei, deputy chief of party at Global Communities.
• This story originally appeared in the December 2019 issue of The Rotarian magazine.