Where are they now?
---
The seeker

A Rotary Peace Fellow finds the journey is its own reward
By Geoffrey Johnson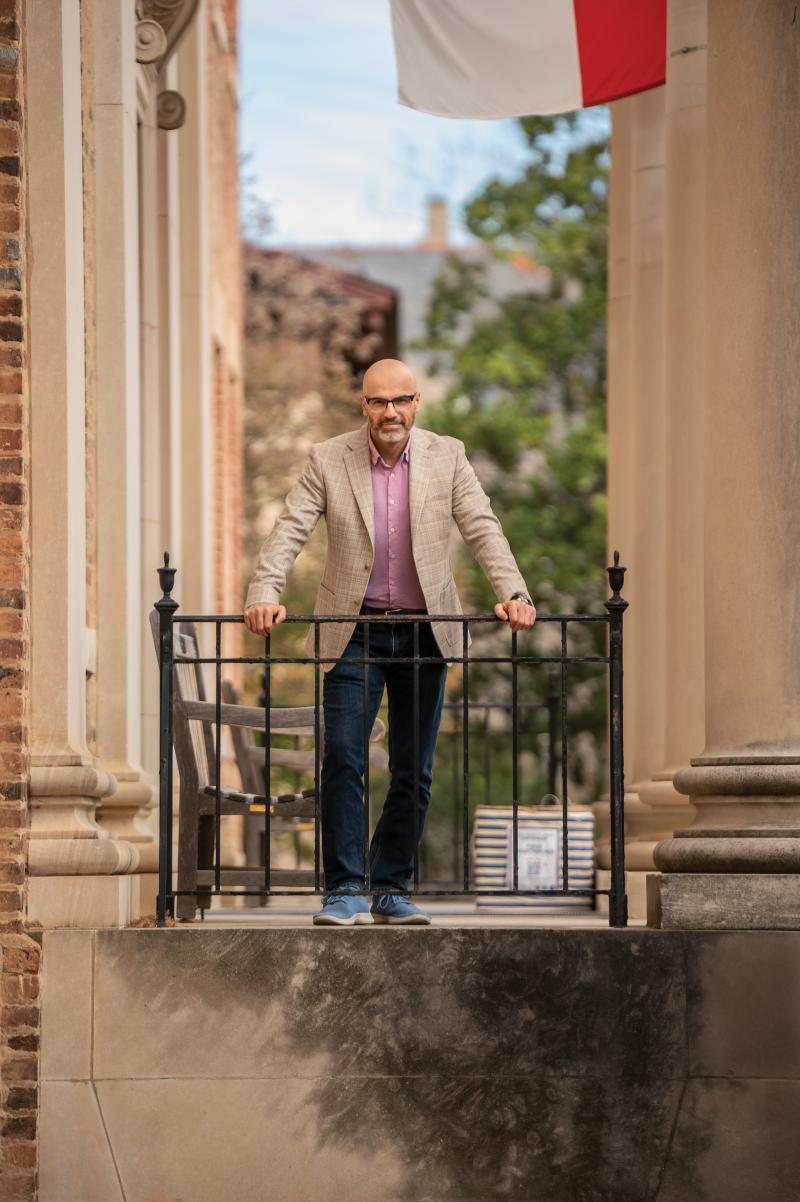 "I always felt like an outsider," says Shai Tamari. Born in Jerusalem in 1976, he served in the Israeli army from 1994 to 1997 and then knocked around the world for a few years taking odd jobs. "It was this constant search," he says. "I wasn't aware I was searching, of course. It was subconscious, this desire to feel part of something."
Then his life took an unexpected change in direction, influenced in part by a gift from Rotary International that would benefit both Tamari and Rotary. With it came not only a sense of purpose but an acceptance of who he was and an anticipation of who he might become. "'Life's a journey, not a destination,'" says Tamari, a sage man tapping into the timeless wisdom of the rock band Aerosmith.
That sense of being different began in childhood in Israel. The son of a father from Romania and a mother from England, Tamari's first spoken language was English. "I only started learning Hebrew when I went to kindergarten, which meant that when I started speaking Hebrew, I spoke with an accent," he says. "So I never really sounded Israeli, even though I was born and raised there."
Following his army service, Tamari moved to England, where he worked as a security guard, in a music store, and in the hotel industry. He remained in the hotel industry when he moved to Australia, where his mother had moved. It was there he made a surprising course correction. "I never saw myself as someone who would ever go back to school after high school," Tamari explains. "But by my mid-20s, I realized that my brain needed stimulation and that I actually wanted an education."
Tamari continued to bounce from one country to the next, earning a bachelor's degree in Australia and a master's in England. His next stop was the United States, where, as a Rotary Peace Fellow, he earned a second master's at the University of North Carolina at Chapel Hill. The fellowship affected him in a handful of ways. Asked to speak at Rotary clubs and conferences, he slowly shed the insecurity he felt as a public speaker. At UNC, he also spent two years studying a new language. "My joke is that I came all the way from Jerusalem to Chapel Hill to study Arabic with somebody from the Gaza Strip," says Tamari. "And he and I became really good friends."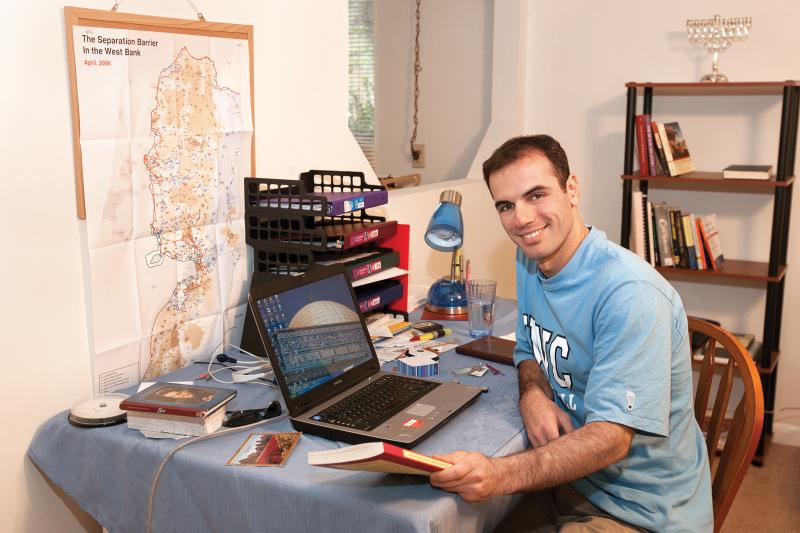 And then there was his applied field experience, a two-month stint living in Amman, Jordan, between his first and second year at UNC. "I had never traveled to an Arab country, let alone lived or worked in one," says Tamari. "For me, it was truly an eye-opener — and a very positive one."
The next chapter in Tamari's life — a job in Washington, D.C., working in the office of then-U.S. Rep. James P. Moran of Virginia — also came about through his Rotary connections. He spent two years drafting legislation, writing speeches, and focusing on Middle East issues. It was another eye-opener for someone who knew little about U.S. politics.
Shai Tamari
Bachelor's in journalism, Queensland University of Technology, Australia, 2004
Master's in Near and Middle Eastern studies, School of Oriental and African Studies, University of London, 2006
Rotary Peace Fellowship, University of North Carolina at Chapel Hill (master's in global history), 2006-08
Ultimately, Tamari returned to Chapel Hill, and Rotary again had a hand in that change in direction. While at UNC, he had met Terry Meyer, who at the time worked in the peace fellowship program. They married in 2009. "Terry was able to offer me the home I always longed for," he says. "I've always been the one who traveled around the world, and Terry always lived in North Carolina. She had the base I wanted, and I had the wings she wanted, so we combined those two things."
After the couple married, they continued to work in different cities, 270 miles apart. "It was not sustainable," says Tamari, who resigned from his job in Washington despite having no employment prospects in North Carolina. "At the time, I was very passionate about Middle East issues, and I found that the only job in a 250-mile radius that had anything to do with the Middle East was with what's now the Center for Middle East and Islamic Studies at UNC."
Tamari became the center's associate director in 2010 — but yet another unanticipated change lay ahead. In 2015, Susan Carroll, the managing director of the Duke-UNC Rotary Peace Center, asked Tamari to teach the required course on negotiation and mediation to the incoming cadre of peace fellows. Today, he's also the director of the Conflict Management Initiative at UNC and teaches on the topic. He hopes to one day step away from the Middle East center and concentrate exclusively on conflict management — ensuring that Rotary's investment in Tamari will continue to reap rewards.
Tamari has also adjusted his approach to dealing with conflict. "For years I missed a crucial component of conflict management," he says. "You can't make peace with or between other people unless you make peace with yourself." That new way of thinking was inspired by The Work, a 2017 documentary that follows three men as they venture into Folsom State Prison in California to participate in a four-day group therapy retreat with prisoners. "It touched on all the issues I was moving toward but couldn't articulate," Tamari says. "I watched the movie and thought, this is what my course has been missing!"
That missing ingredient was a willingness to be personally vulnerable and to do "the work," which Tamari describes as "working on healing your own traumas." He began meeting online with Inside Circle Foundation, which provides training in facilitating the kind of sessions Tamari witnessed in The Work, and in 2021 he started leading sessions in North Carolina prisons. "This has changed the way I view myself, the way I teach, and the way I engage with other people," he says.
That begs the question: After decades of searching, has Tamari finally found what he was looking for? "To be honest, I don't think I'm there yet," he says. "I don't think I'm ever going to be there yet — and I'm OK with that."
This story originally appeared in the February 2023 issue of Rotary magazine.