Rotary projects around the globe
October 2021
by Brad Webber
Rotarians and Rotaractors proved their mettle and adaptability as they shifted to confront the COVID-19 pandemic. But through it all, they never stopped working toward the goal of ridding the planet of polio. As we celebrate World Polio Day on 24 October, here are some of the ways they did that in 2020.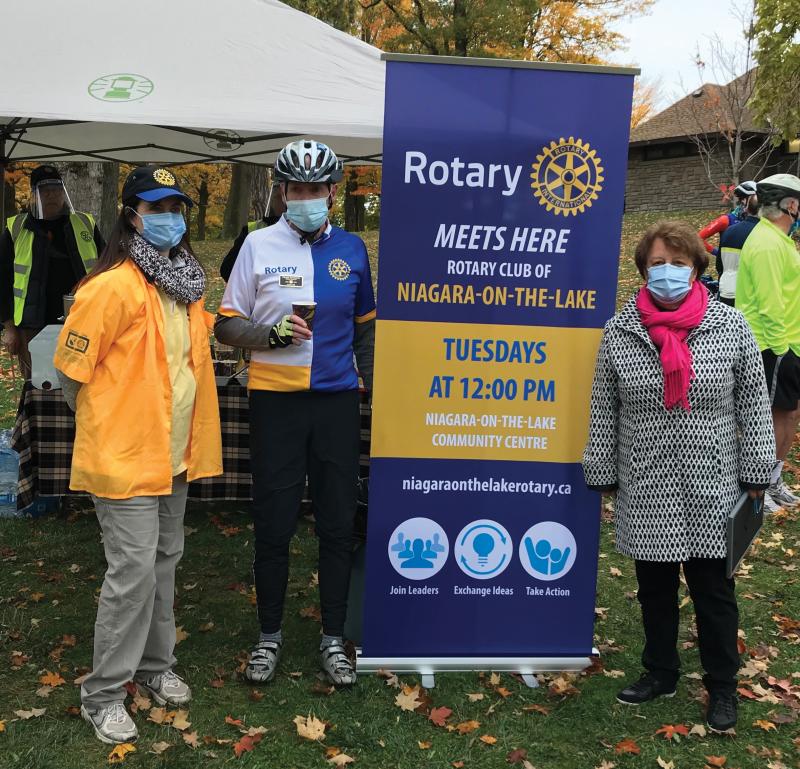 Canada-United States
When the pandemic leveled restrictions on gatherings and border crossings, District 7090 — which covers parts of southern Ontario and western New York — downshifted plans for its inaugural World Polio Day fundraising bicycle rally. Despite cold and rainy weather on the day of Pedal for Polio, riders on the Canadian side and on the American side completed courses of about 15 miles, says organizer and then-District Governor Frank Adamson of the Rotary Club of Fonthill, Ontario. To expand their fundraising reach, the district encouraged walkers and joggers to join the cause wherever they were located. Rotarians across the district raised more than $160,000.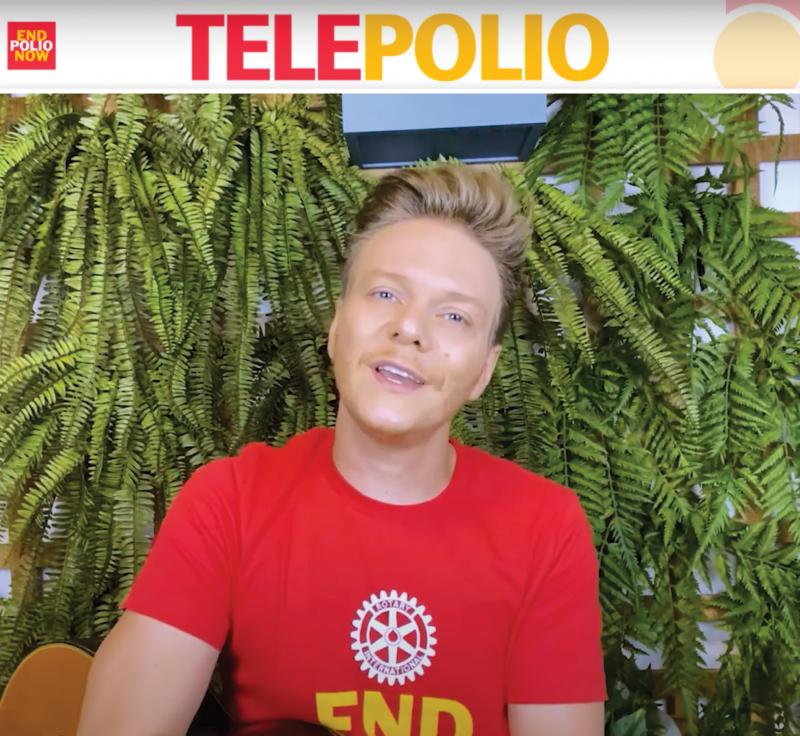 Brazil
On 17 October, Brazil's End Polio Now coordinators and public image coordinators organized a nationwide YouTube program dubbed "Telepolio." Featuring prerecorded messages from Rotary leaders and Brazilian celebrities, the 45-minute program generated more than 2,100 views and about $130,000 in donations, made online and through a QR code created for the effort. Members of nearly 300 Rotaract clubs contributed; more than half of those Rotaractors were first-time givers to End Polio Now.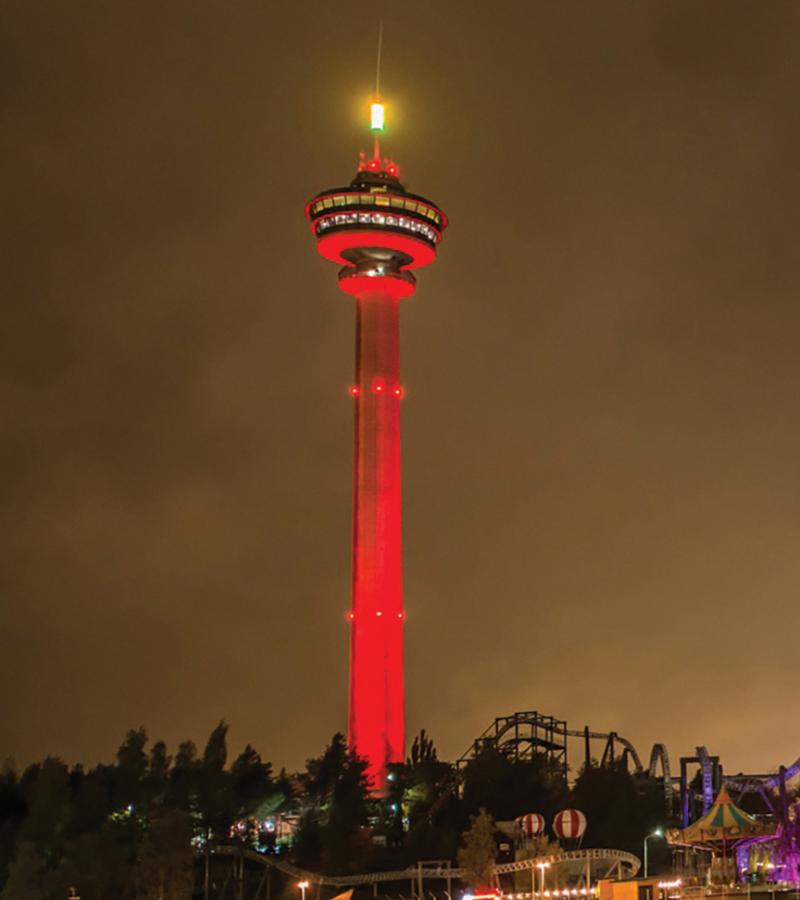 Finland
Over the past decade, some of the planet's most recognizable landmarks have been lit up to mark World Polio Day, with many also sporting a projection of the End Polio Now logo. In 2014, District 1390 enlisted the operator of the Särkänniemi amusement park to promote the message. That year, and every year since, the park has illuminated its 551-foot Näsinneula observation tower with red floodlights on World Polio Day.
364,000

Auckland-area Rotary members convened on commuter rail lines and ferries

17.5 million

Brazilian children given the polio vaccine on a single day in 1980

2002

Year the WHO European region was declared polio-free

6,398 ft.

Height of Hallasan, South Korea's tallest peak

1902

Year Auckland switched on its electric tram
Korea
Hiking is a popular pastime in Korea, where more than one-third of citizens polled in 2019 cited sports and fitness as their prime hobby. Rotary clubs in Korea tapped into that mania for the outdoors to raise funds for End Polio Now with the "Hiking the 100 most beautiful mountains challenge" in October and November. The event engaged 145 climbers from 74 clubs and garnered nearly $106,000 in contributions. Participants — who agreed to personally donate at least $100 each — teamed up, tackled their favorite mountains, and promoted their achievements by posting pictures and comments on social media. "It is possible to celebrate World Polio Day while following the government's guidelines for social distancing," noted Ju-Hwa Jeong, Rotary's End Polio Now coordinator for Korea.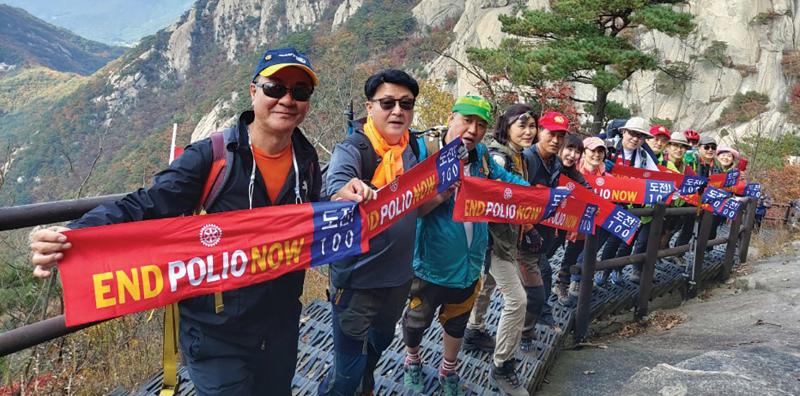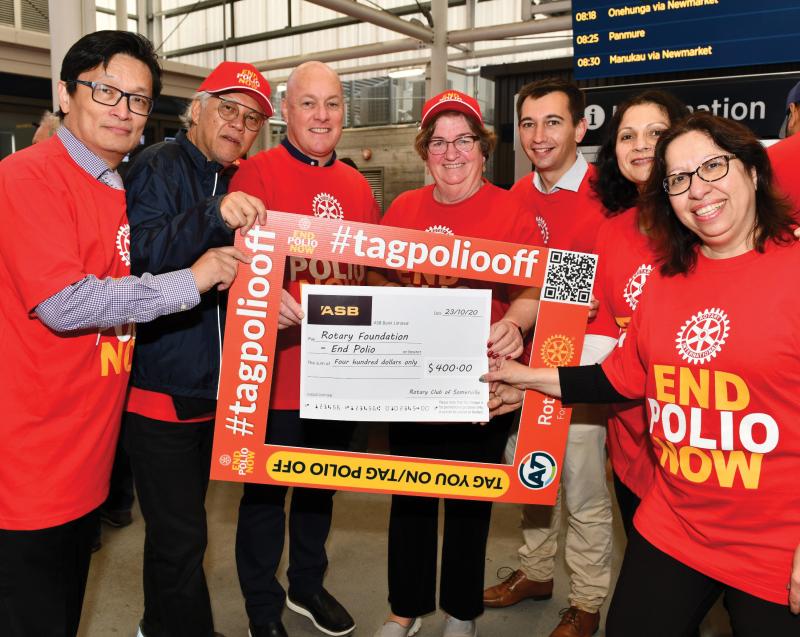 New Zealand
Following the template of mass-transit fundraising drives made popular by clubs in Australia, some 500 Auckland-area Rotary members convened on commuter rail lines and ferries for a polio awareness campaign. The 23 October Polio All Transit event, expanded from a 2019 version that included only train travel, raised roughly $25,000. "End Polio Now and Rotary projects can be fun," says Ron Seeto, a past governor of District 9920. "Polio All Transit presented opportunities for fellowship and networking and raised funds with the Bill & Melinda Gates Foundation 2-to-1 multiplier in a project that showcased our Rotarians, clubs, friends, and family."
This story originally appeared in the October 2021 issue of Rotary magazine.
---
Related content
Rotary projects around the globe: September 2021