Enhance participant engagement
We want our members and participants to find long-term value in their relationship to Rotary.
People join Rotary for a variety of reasons. Some are looking for leadership opportunities. Others hope to make new connections and expand their professional networks. All want to give back to their communities.
We provide a variety of programs and opportunities to meet our members' diverse needs, keeping them engaged with Rotary while helping them achieve their personal and professional goals. When we invest in our members, they invest in Rotary.
A long-term investment
Rotary is committed to service, but we are also dedicated to our members and program participants, who seek experiences that are personally and professionally rewarding. To meet members' needs, we are committed to listening more and asking questions to learn about what they want and value. We help them put their professional skills to work, like leading a fundraising committee, planning a membership event, or joining service projects. We want our members and participants to find long-term value in their relationship to Rotary.
More than a year ago, Rotaract was elevated from a program to a membership type. This evolution provides Rotaractors with more training and leadership opportunities and promotes growth and flexibility in Rotaract clubs, strengthening our organization overall.
Each year, Rotary awards up to 130 scholarships for peacebuilders to study at one of seven Rotary Peace Centers around the globe. In 2019, Rotary announced its first peace center in Africa, established in partnership with Makerere University in Kampala, Uganda. Peace and development leaders who are from or have worked in Africa are eligible for the postgraduate certificate program, which will emphasize the underlying challenges to peace in the region.
We want everyone to get involved in Rotary — even those who aren't part of a club or program. Rotarians, Rotaractors, Rotary Peace Fellows, alumni, and friends of Rotary who want to use their skills in service projects can join one of more than 20 Rotary Action Groups. Over 27,500 people in more than 140 countries lend their expertise through these groups. Or, for those looking to connect with others who share a common passion, profession, or identity, we offer Rotary Fellowships. Almost 75,000 individuals are part of 90 fellowships worldwide.
Rotary members who want to use their expertise in an area of focus to support their fellow Rotarians' work can join The Rotary Foundation Cadre of Technical Advisers. Cadre members receive training on global grant advising and are available to help clubs and districts plan grant projects with a lasting impact. The Cadre has more than 700 members from 75 countries.
Rock on
Felix Heintz is a member of the Rotary E-Club of Bavaria International, Germany, and a fan of metal music. For years, he didn't see any connection between Rotary and his love for metal — not when he was a Rotary Youth Exchange student, and not when he was a Rotaractor. Then inspiration struck.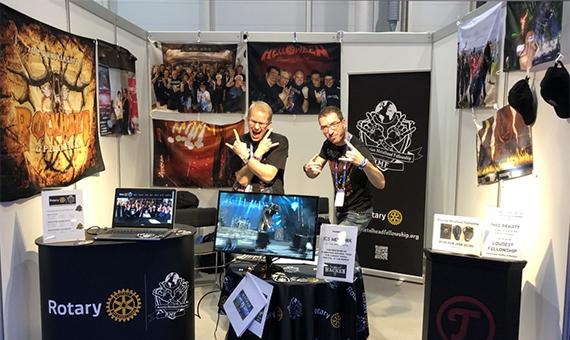 After reading an article about five Rotarians who attended Wacken Open Air, one of the largest metal festivals in the world, Heintz started a closed Facebook group for fellow Rotarian and Rotaractor metal fans. Then he organized a Rotary meetup at Wacken Open Air. Twenty-three people came, and the idea for the Rotarian Metalhead Fellowship was born.
Today, the fellowship has 164 members from 23 countries. They host fundraisers to support The Rotary Foundation and the Wacken Foundation, which helps young people who want to develop their musical skills in a rock and metal environment. They've raised funds for End Polio Now at Wacken Open Air. And they invite anyone in the Rotary family to join, including Rotarians, Rotaractors, Rotary Youth Exchange students, and alumni. Non-Rotary members are welcome too. As friends of Rotary, they get to engage with others who love metal music while learning more about Rotary's work.
Using film for peace
When Megumi Nishikura returned to Japan from the United States as a 2006-08 Rotary Peace Fellow, she was often treated as a foreigner, even though she was born in Tokyo. The daughter of a Japanese father and American mother, her identity was constantly questioned.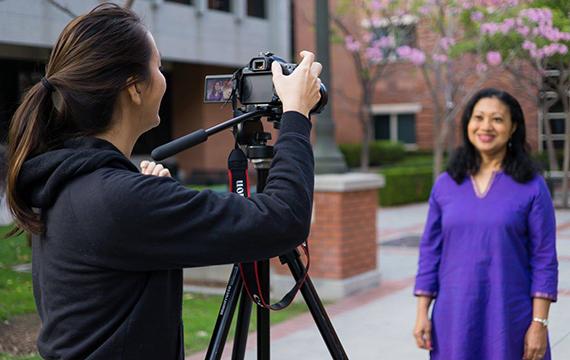 During her peace fellowship at Tokyo's International Christian University, Nishikura learned more about the "us versus them" mentality and realized that it was one of the root causes of conflict. She used filmmaking to capture a vision of a more peaceful world.
For her film "Hafu," Nishikura spent three years documenting the experiences of half-Japanese individuals living in Japan. It was released in five major Japanese cities and is widely discussed in university classrooms. Nishikura went on to produce a film about Japanese "war brides," and another about a young Japanese American activist who traces his family history of internment during World War II. Nishikura is currently working on a documentary about Sono Osato, the first Japanese American ballet dancer, who was barred from touring during World War II because of her Japanese heritage.
Nishikura's Rotary Peace Fellowship heightened her understanding of peace. Now her films foster conversations about what it will take to achieve a more just world.
Membership
Impact starts with our members — those who see a world where people unite and take action to create lasting change.
1174890.00

Rotarians worldwide
Number of members by geographic area*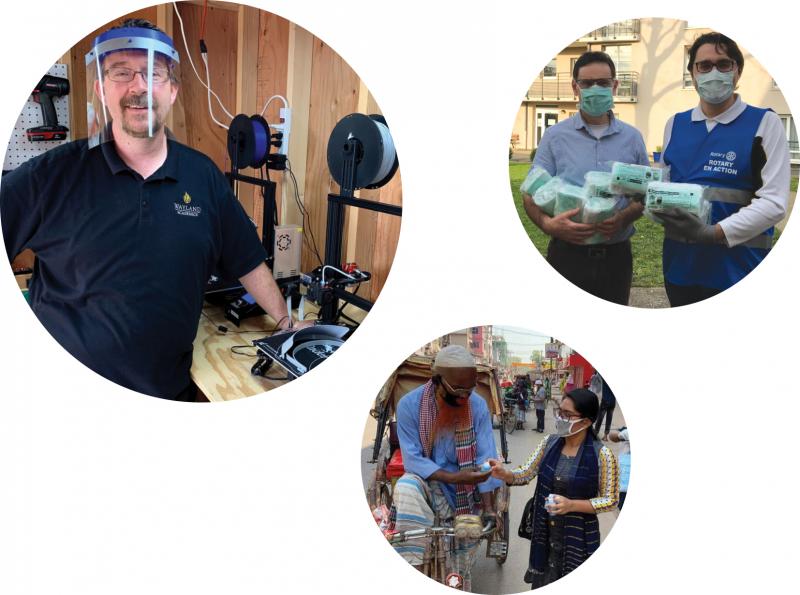 65.00

%

of clubs participated in a COVID-19-related service project

72.00

%

of Rotary clubs transitioned from in-person to virtual meetings

22.00

+ million USD

in grants awarded for COVID-19-related projects
Data is from a May 2020 survey of club officers