Viva Lviv: Life during war time
By Wen Huang
As the first anniversary of Russia's invasion of Ukraine approached, Rotary magazine's Wen Huang went on a personal trip to Europe, where he witnesses the resilience of the Ukrainian people and the wide reach of Rotary's global network. In the second installment of his two-part report, Huang crosses the border from Poland to Ukraine.
Donate to the Rotary Foundation
Ukraine Disaster Response Fund.
Friday, 10 a.m., southeastern Poland
"I can smell Ukraine now," exclaims Vasyl Polonskyy with a broad smile on his boyish face. "We are getting very close to the border."
We're zooming through southeastern Poland on a newly paved country road. Polonskyy pokes his head out the window and takes a deep breath. I do the same but fail to catch the scent of anything distinctively Ukrainian. Polonskyy reads my thoughts. "Only we Ukrainians can detect the unique smell of our land," he says. "Each time I return from trips abroad, I always know I'm home, just from the smell of it. I love my country very much, and the war has only made my love stronger."
I met Polonskyy earlier this morning in the Polish town of Zamość. Tall with a slender build, he's the president-elect of the Rotary Club of Ukraine Unity Passport. He rose at dawn to drive across the border to fetch me.
Following the Russian invasion, the Ukrainian government prohibited most men up to age 60 from leaving the country, to make them available for military service. I ask Polonskyy about his military status. "Not yet," he replies. "I'm helping my country in a different way." Equipped with a special pass, he and other Rotary members drive into Poland several times a month to collect food, medicine, clothing, and electric generators donated by Rotary clubs around the world; they arrange for the distribution of those necessities to hard-hit cities across Ukraine. Shortly before my visit, they traveled to Poland to pick up the second of two ambulances donated and driven from Germany to Poland by members of the Rotary Club of Medford Sunrise, New Jersey. They also recently returned with a minibus packed with medical supplies from Rotarians in Finland.
"At a time like this, the Rotary network is truly amazing," he says.
As we approach the Polish border, we pass a long line of trucks. Polonskyy says that the queue sometimes extends as long as 2 or 3 miles, and drivers sometimes have to wait days to cross. Luckily, the line for passenger cars is short — the war has decimated tourism. At the border checkpoint, Polonskyy tells the officers that I am a civilian volunteer from the United States. In a matter of minutes, two visa stamps are added to my passport.
The thought that we are about to enter a country at war has left me visibly tense during the journey, but that jittery feeling gives way to excitement at the border. I snap a photo of a big blue sign indicating the distances to Lviv and Kyiv. I text the photo to my Rotary colleagues, along with a jubilant message: "I just entered Ukraine."
Friday, noon, approaching Lviv
The Lviv region has been the funnel through which millions of Ukrainians, mostly women, children, and older people, have escaped the country. At the time of my visit, this metropolis in western Ukraine has largely been spared massive Russian bombing and missile attacks, although more recent assaults on the city's energy grid are making for a grim winter.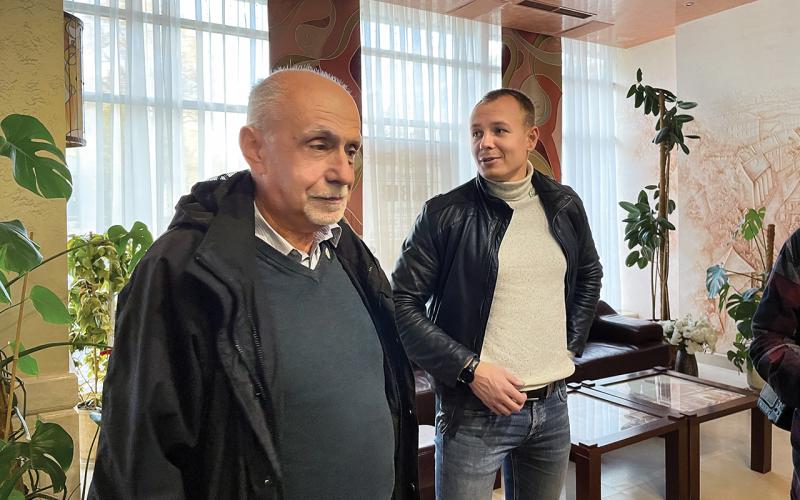 Yet life seems normal on the rural approaches to Lviv. We pass farmhouses with red roofs and see farmers working the fields. Occasionally I spot the dome of a church. The peaceful scenery lulls me to sleep.
The car jolts to a stop. I wake up to find a soldier peering through the window. We are at a military checkpoint. Sandbags and concrete blocks partly barricade the road, and farther along there are metal anti-tank traps, called hedgehogs. They are a stark reminder that we are in a war zone. My anxiety returns.
After being questioned, Polonskyy rolls up the window and announces that we have arrived in Lviv. He cautions again against taking photos of guarded bridges or checkpoints on our way to the hotel. People might suspect that we are dyversanti — saboteurs who try to alert the Russians to potential targets.
As we drive past a shopping center, I am surprised to see a new construction site with colorful billboards advertising a beautiful residential complex. Since the start of the war, Polonskyy says that more than 150,000 displaced Ukrainians have settled in Lviv. The city is building apartments to accommodate them.
Friday, 3 p.m., Lviv Hotel
With its faux marble floor, the lobby of Lviv Hotel is a study in Soviet-era utilitarianism. But as I glance around, I spot a familiar banner near the elevator door. In big purple letters it proclaims Imagine Rotary, the theme of RI President Jennifer Jones. It suddenly feels like I'm on home turf.
When you check into a hotel in another part of the world, you're usually briefed on the location of the restaurants, the gym, and the bar. But here in Lviv, the serious young receptionist hands me directions to the bomb shelter. I have no idea how to respond.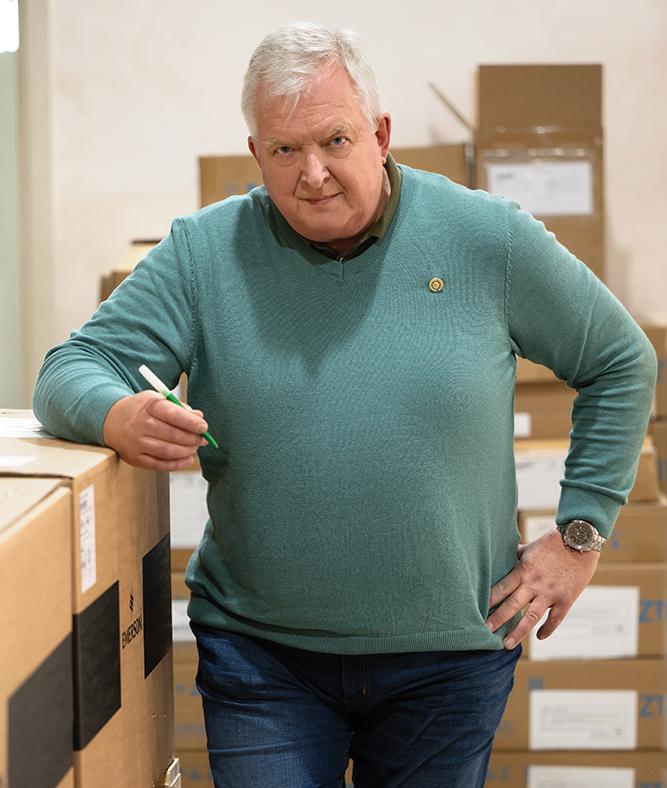 My room has electricity, but warm water escapes the faucet grudgingly. I am nonetheless grateful after my long journey. An hour later, I join about 50 Rotary members packed into a small conference room on the hotel's second floor. They've traveled here to participate in a district Rotary Foundation seminar. Mykola Stebljanko, publisher of Rotary's regional magazine in Ukraine, is making a presentation. A week earlier, while I was vacationing in Berlin, Stebljanko had surprised me with an invitation to attend the seminar. I have been spending my holidays traveling eastward ever since, following directions from a cryptic caller with a British accent — Borys Bodnar.
During a break, that familiar accented voice sounds behind me. "Borys," I blurt out and turn around. The mysterious man who has orchestrated each leg of my trip to Ukraine materializes as a towering figure with a handsome face. I ask about his British accent.
His parents, he explains, fled Ukraine during World War II and settled in the United Kingdom. Born in Leicester, he spent a better part of his life in London as a tax adviser and auditor with various financial institutions, before coming to Lviv four years ago. He started an office furniture export business and connected with Rotary to "get to know people and become involved in doing good works," he says. In June 2020, Bodnar became the charter president of the Rotary Club of Ukraine Unity Passport. "Within the six weeks of organizing the club, we registered 35 members," he says. "We now have 37 members. People want to join us and help."
When the war began, Bodnar says that Rotary members in Ukraine formed a crisis committee. One of their first priorities was to assist refugees fleeing cities under attack. The committee also brings in supplies donated by Rotary clubs around the world and distributes them to where they are most needed.
Bodnar shows me a packet of water purification tablets. With the help of The Rotary Foundation, the Rotary Club of Ukraine Unity Passport and clubs in Great Britain, Ireland, and the U.S. have purchased water purification tablets for families in frontline regions, where clean water sources have been destroyed. At the same time, his club is working alongside Aquabox and Water Survival Box, charities founded by UK Rotary clubs, to obtain water filter kits for distribution in Ukraine.
Iryna Ivanova, a member of the Rotary Club of Kharkiv New Level, comes up to me to share her story. At the Rotary seminar, she hopes to reconnect with her Rotary network to secure the essential supplies that the people of Kharkiv will need to survive the harsh winter.
Ivanova tells me proudly how the eight Rotary clubs in Kharkiv have established a large warehouse inside a Rotarian-managed shopping center. There they receive, load, and distribute donated supplies from Rotary and other relief agencies in Europe and North America. More than 50 volunteers work daily to sort and distribute the donations. "Before the war, many people, including my Rotary members, probably didn't understand the power of Rotary," she says. "Now, when they see how Rotarians help people, they want to be part of Rotary."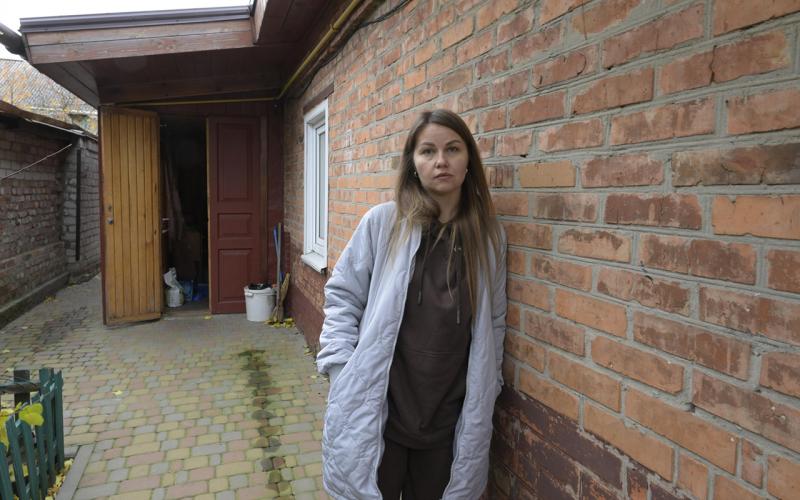 Friday, 5 p.m., Lviv Hotel
The air raid siren hits my eardrums with a blunt force. Momentarily panicked, I run back to my room. I grab my laptop, wallet, and phone charger and dash down the stairs to the lobby, where I run into Iuliia Pavichenko, president of the Rotary Club of Kharkiv Nadiya. She explains that the Ukrainian word nadiya means "hope."
"Listen to the siren," I shout. "How can everyone be so calm and unafraid?'
"It's a nationwide air alert, not specifically for Lviv," she says in her accented English. "We were scared [when the war began] and ran fast to the shelter. But we know that life has to go on and we have to fight the Russians. We cannot be afraid."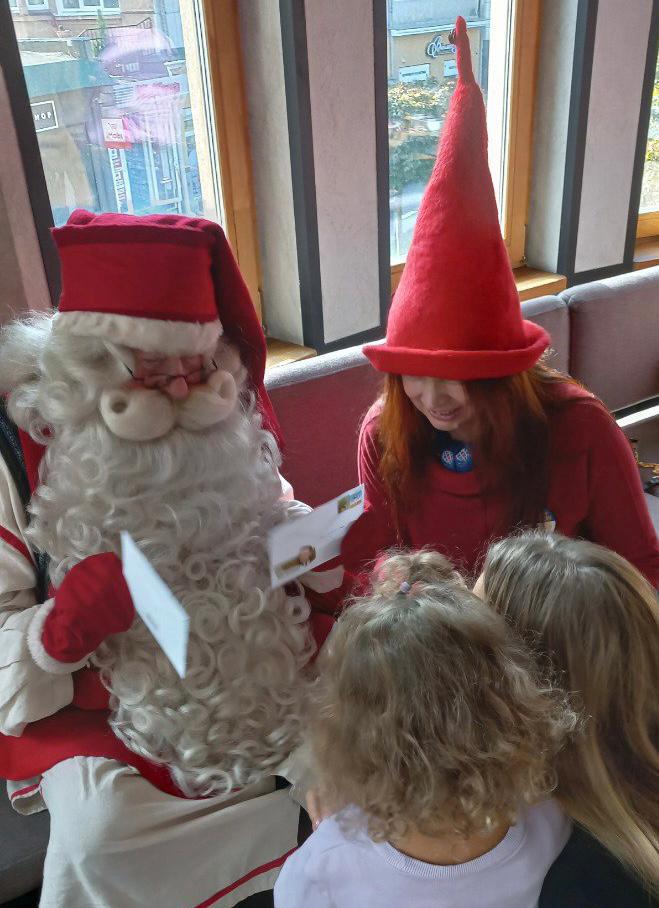 We settle on a couch. Pavichenko brings out her iPad and tells me about a club project, dubbed Healthy Future of Ukraine, which provides psychological support for children and their families. "Ukrainian children have suffered tremendously during the war," she says. "Many children have been forced to leave their homes, and their families are separated. Their fathers have joined the army, and their grandparents have fled to other cities."
In early October, her club, along with the Rotary clubs of Uzhgorod-Skala, Uzhgorod, Rakhiv-Center of Europe, Ivano-Frankivsk, and Rivne, partnered with the Rotary Club of Rovaniemi Santa Claus in Finland to sponsor a Santa spectacular. A Santa Claus from Lapland dropped in on multiple Ukraine cities. Children, including orphans and those displaced from their homes, greeted him enthusiastically.
"We asked children to write letters to Santa about their dreams and to draw pictures of their dreams," she explains while she shows me some photos from the visits. "During Santa's visit, they presented their letters and drawings. It was a wonderful experience. It will stay in their memory for a long time."
In one city, Russian missiles sent Santa scurrying to a bomb shelter, but they didn't halt his visits. "We are proud of our brave friend," says Pavichenko, "and we thank him for his Rotary service."
Friday, 8:30 pm, Old Town
The medieval and Renaissance facades are dimly lit — a necessity given the city's shell-shocked power grid — and most windows are boarded up, but tonight the vast square in front of the Lviv National Opera theater is abuzz with activity. Mykola Stebljanko and his wife, Olga, also a member of the Rotary E-Club of Ukraine, have taken me out to see the city's nightlife, and we're strolling through Old Town, the historic center of Lviv and part of a UNESCO World Heritage Site. A large crowd of youngsters are gathered around a street singer sharing a melancholy Ukrainian song about (as Olga explains) a mother mourning her son who died on the battlefield.
About 50 feet away, college-age revelers hold hands and dance in a wide circle to a lively tune played by an acoustic guitarist.
"Everything seems so surreal and at the same time normal," I say, but before Stebljanko can reply, I spot shocking evidence that nothing here is normal. On the side of a street sit several burned-out Russian tanks, their wheels warped and partially melted. A nearby sign indicates that they were destroyed in a battle on Kyiv's outskirts.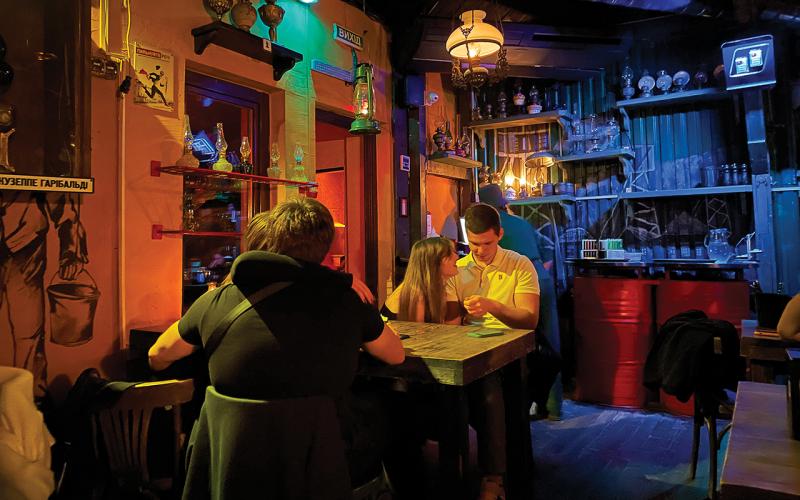 We slip into Saints Peter and Paul Garrison Church, a Baroque-style building where colorful murals adorn the vaulted ceiling. Since the church is now under the care of the military chaplains of the Ukrainian Greek Catholic Church, people visit the church to hang photos of the war dead: Ukrainian soldiers, young and old, who only a year earlier had been farmers, merchants, or tradesmen. Among the aisles were photos of war orphans – children whose fathers had fallen in battle. In front of the altar, two women dressed in black kneel in prayer. One is sobbing. I freeze in the presence of her pain. Numb, I walk slowly from the church trying to process the consequences of this war on innocent lives.
By the time we take our seats at a candlelit restaurant, we have only an hour before curfew. Over dinner, Stebljanko, who grew up in Crimea, chats with me about life after the occupation by Russia in 2014. "We could no longer talk freely in public places because someone might report us to the authorities," he says. "Russian intelligence officials tried to infiltrate my Rotary club." The dire situation prompted him and his wife to relocate to Odesa in southwestern Ukraine.
Over the past year, Odesa was enduring constant rocket attacks. Sometimes, Olga and their dog, Yurasik, had to huddle in the bathroom, the safest place in their apartment. And yet, the couple keep their optimism. When I ask if he would consider leaving Ukraine, he replies, "No, this is my home, and I want to stay and help." He reminds me that his name, Mykola, a Ukrainian variant of Nicholas, means "victory of the people."
Olga offers a toast: "Victory of the people of Crimea and Ukraine."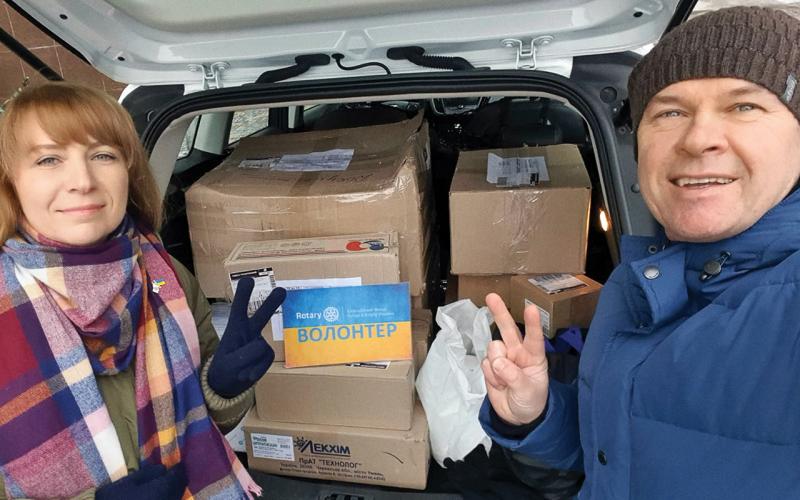 Saturday, 2 p.m., Lviv
We have returned to the opera house to celebrate the 30th anniversary of the founding of the Rotary Club of Lviv, though technically it's a celebration of the club's re-founding. Chartered in 1935, the club, the first in the city, was disbanded during World War II; today's club was readmitted in 1992.
I speak with Sergii Zavadskyi, a past governor of District 2232 and a member of the Rotary Club of Kyiv-City. He's eager to tell me what Rotary is doing in Moshchun, a once-picturesque village outside of Kyiv that was almost totally obliterated by Russian forces.
Zavadskyi's club banded together with the Rotary Club of Ivano-Frankivsk and the charitable organization UA Dream to establish the Moshchun recovery project. They were joined by the Rotary Club of Kyiv-Sophia and assisted by disaster response grants from The Rotary Foundation and contributions from Rotary clubs and districts in several other countries.
The first modular house was installed in June for Lyubov Topol, who lost her home and her only son when a bomb landed next to their house. Soon, more modular houses arrived for Topol's neighbors and other families. Flipping through the photos on his phone, Zavadskyi tells me, "We strive to revive this ancient village, providing local residents with a decent life, including a roof over their heads, walls, and heat."
Sunday, 6 a.m., do pobachennya (goodbye)
It is still dark when Bodnar and Polonskyy pick me up at Lviv Hotel to drive me to the Polish city of Rzeszów. Before we say goodbye — do pobachennya — Polonskyy flashes a three-finger salute, used often in the days of Ukrainian independence movement in the 1990s and repeats the words spoken by Ukrainian president Volodymyr Zelenskyy two months earlier: "We used to say 'peace.' Now we say 'victory.'"
This story originally appeared in the March 2023 issue of Rotary magazine.
The Rotary Foundation Trustees in January voted to establish a Ukraine Response Fund to address
the humanitarian crisis caused by the war.