6 tips for starting a Rotaract club on your campus
When Taylor Huie arrived to start her first year at Duke University in fall 2017, she was surprised to learn that the campus didn't have a Rotaract club.
After all, Rotary's program for young leaders started just 120 miles away in Charlotte, North Carolina, USA. And Rotaract clubs did exist on many nearby campuses.
Huie grew up attending meetings of the Rotary Club of St. Joseph & Benton Harbor, Michigan, USA, with her mother, Jackie, a club member and the founder of a student mentoring program that has helped hundreds of teenagers clarify their career aspirations. Huie had already helped the Interact Club of St. Joseph High School grow to more than 140 members and served as its membership chair for three years and president for one year. She also took part in two Interact service trips to the Dominican Republic to install water filters.
Given her background, it was only a matter of time before Huie launched Duke's first Rotaract club. More than 360 students responded to her Facebook invitation to join. In September, the Rotaract Club of Duke University received its charter.
"Because my family is so involved in Rotary, I feel like Rotary is part of who I am," Huie says. "The idea of going off to college and not having Rotary was beyond my comprehension."
The biomedical engineering major offers advice on how to start a university-based Rotaract club and what appeals to college students.
1. Start with Rotary clubs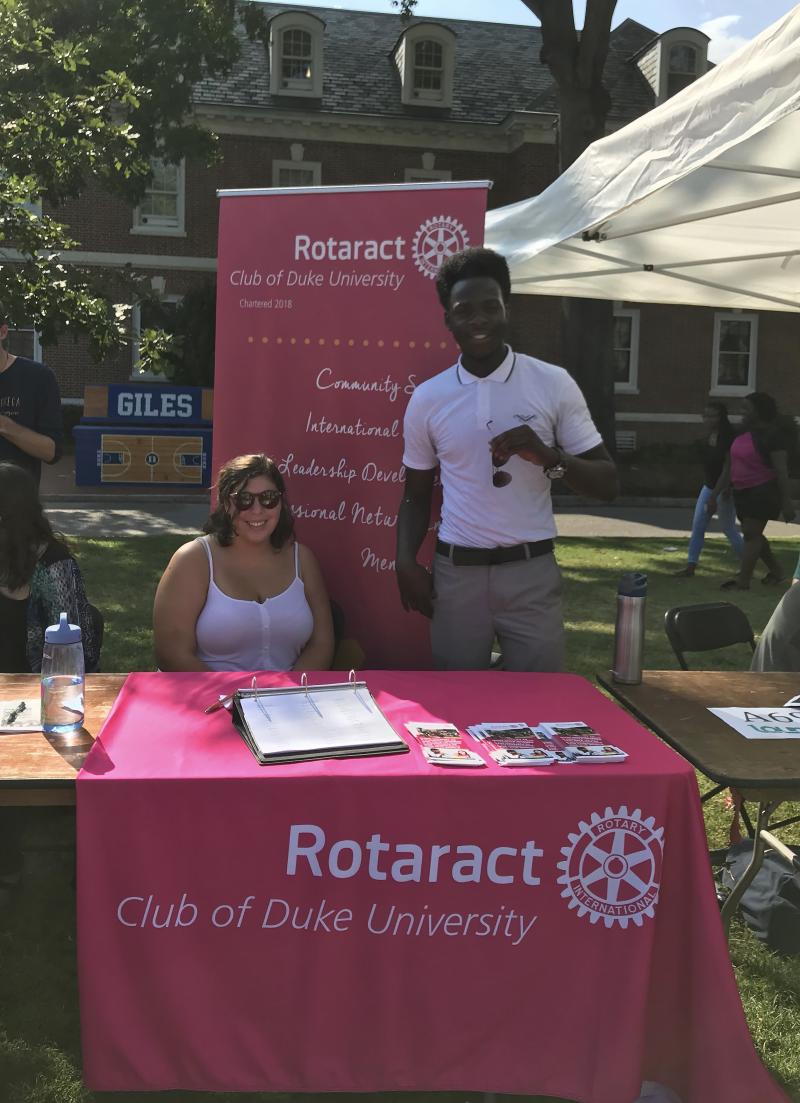 Huie spent her first year at Duke getting to know the campus and the city of Durham, where the university is based, before filing paperwork to charter a club. She also attended meetings of several local Rotary clubs and connected with a member of the Rotary Club of Durham who agreed to serve as the new club's adviser.
Huie says working with the local Rotary clubs gave her the foundation she needed to approach the university. "It shows you've done work behind the scenes; you already have support."
2. Recruit an executive board
Having talked about Rotaract extensively with friends and classmates, Huie recruited a classmate who expressed interest in being vice president. And she asked friends she knew she could trust to serve as treasurer and secretary.
"I think it would be very difficult — if not impossible — for a person to do this on their own," she says.
3. Prepare
During the summer between her first and second years at Duke, Huie read the Rotaract Handbook, the standard club constitution, and the recommended bylaws. She had her executive board read them as well. Huie already knew a lot about Rotary after having served as an Interact officer, but she spent time on Rotary.org adding to that knowledge and learning more about Rotaract.
"You want to present your ideas in the best light possible," she notes. "If someone has questions, you want to know how to answer them. It also shows you're invested."
4. Use social media
"Facebook is a really good resource for connecting people with Rotary," Huie says. She used Duke's Facebook pages for first- and second-year students to post her initial invitation to join. Her executive board also used Google Hangouts to spur further interest and answer questions. Huie says it's important to make it clear what your club will do and how people can join.
5. Use time wisely
The Duke Rotaract club's meetings are working meetings, where members split into groups to discuss projects and club business.
"It's important for college students, or young adults in general, to feel like they're spending their time wisely," she says. "They want to be actively engaged in doing something to better themselves and their community."
6. Promote networking and mentoring
Give members opportunities to network and find mentors. These are two benefits young adults seek, Huie says. The Duke University Rotaract club is working with Rotary and Rotaract clubs in the area to plan a career fair and may even launch a mentoring program like the one Huie's mother started in St. Joseph.
"It's not every day you have a club that connects you to 1.2 million people in the world who are all motivated to change the world for the better," says Huie.
Interested in joining Rotaract?
Already a member?