Somali refugee spreads peace as Rotary fellow
Manitoba honors Rotary Peace Fellow for public achievement
Refugees who come to Winnipeg often end up living in areas that are predominantly inhabited by indigenous people.
"Newcomers do not know much about the indigenous life and heritage and, without that knowledge, the first thing they encounter is people who are poor and stereotyped by the mainstream community," says Abdikheir "Abdi" Ahmed, a 2011-12 Rotary Peace Fellow and immigration partnership coordinator for the Social Planning Council of Winnipeg. "Indigenous people may see immigrants as encroaching into their neighborhoods. There is tension between both groups."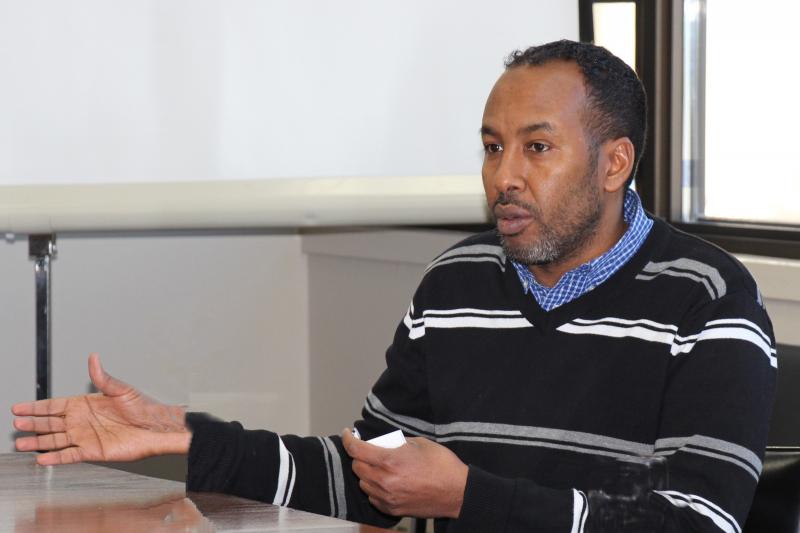 Ahmed works to smooth relations, helping them see they have more in common than what divides them. "Integration is a two-way process," he says.
In recognition of his work, Ahmed received the Order of the Buffalo Hunt, one of the highest honours for public achievement issued by the Manitoba legislature, in January 2016.
"I never thought what I was doing had this significance," he says. "But I don't look at what I have done. I look at what needs to be done to bring about better living standards for people."
Ahmed, 37, may understand the needs of immigrants better than most.
Originally from Somalia, he and his family fled the conflict there and settled in Kenya when he was a child.
My hope is that in the next 20 to 50 years, if we have more Rotary Peace Fellows around the world who are speaking the same language and taking on a leadership role to create an interconnected world, things will change.

Abdikheir "Abdi" Ahmed

As a young adult, he moved to Canada as part of the national resettlement program. He began working with refugee children who were struggling in school while attending the University of Winnipeg, where he earned a degree in international development in 2007.
After graduation, Ahmed began working at the Immigrant and Refugee Community Organization of Manitoba.
He learned about the Rotary Peace Centers program from Noëlle DePape, a colleague who had earned her master's degree at the University of Queensland, Australia, through the fellowship.
After Ahmed completed his own peace fellowship at Queensland, he and DePape worked together to develop a curriculum for a summer course that they teach to high school students at the Canadian Museum for Human Rights, part of a Rotary District 5550 (Manitoba and parts of Ontario and Saskatchewan) program called Adventures in Human Rights.
"We help them view the world from the perspective that everyone's rights are equal and understand the idea of building a community where everyone's rights are respected and each person is given a fair opportunity," he says.
In addition to his work in Winnipeg, Ahmed serves on the board of Humankind International, an early childhood learning center that he co-founded at the Dadaab refugee camp in Kenya with two Somali friends who also immigrated to Winnipeg. He says it serves 150 children with four teachers, and he hopes to expand it to accommodate the many children who have to be turned away.
Despite the suffering he has witnessed and the daily conflicts he works to resolve, Ahmed is optimistic about the prospects for peace and the potential of the peace centers program.
"My hope is that in the next 20 to 50 years, if we have more Rotary Peace Fellows around the world who are speaking the same language and taking on a leadership role to create an interconnected world, things will change," he says. "I also hope we can find an opportunity for Rotarians and past peace fellows to collaborate on projects in a more defined way."
Ahmed and his wife, Saadi, have three sons. He says their oldest, Mohamed, 9, dreams of playing in the NBA and says that with the money he earns, he will build houses for the homeless people he sees on his way to school.
Ibrahim, 7, wants to be a firefighter so he can save people. One-year-old Yussuf has not announced any career plans yet.
Support peace and celebrate the Foundation's centennial
To mark this year's centennial of The Rotary Foundation, the Trustees of The Rotary Foundation have set a goal to register 100 new Arch Klumph Society members worldwide, including seven from Canada.
Prospective donors who wish to see evidence that their contributions can make a difference need look no further than Abdi Ahmed, whose Rotary Peace Fellowship was funded through an endowment from an Arch Klumph Society member who wishes to remain anonymous.