Named after the sixth president of Rotary, the Arch Klumph Society recognizes The Rotary Foundation's highest tier of donors — those who have contributed $250,000 or more during their lifetime.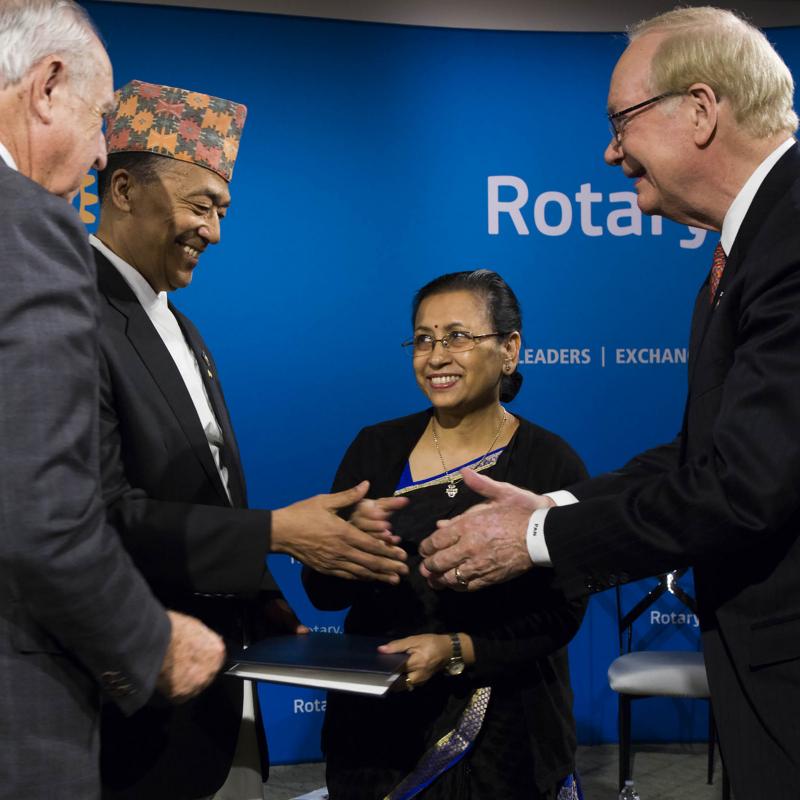 Membership
Membership in the Arch Klumph Society is lifelong. Each member has the opportunity to have his or her portrait placed in the Arch Klumph Society Gallery, located on the 17th floor of Rotary International World Headquarters in Evanston, Illinois, USA. Portraits are etched on glass plaques to create a stunning display of our Foundation's most valued supporters. Members will also have their profiles included in an interactive display, plus receive pins, pendants, and several other benefits commensurate with their generosity.
Induction and elevation ceremonies
Society members can choose to be inducted in one of several ways:
At a multi-day ceremony with other inductees at Rotary International World Headquarters
At a ceremony with local Rotary leaders during a Rotary institute
At a ceremony during the Rotary International Convention
Other induction options may be made available each year at the discretion of the trustee chair.
The Rotary Foundation now also offers elevation ceremonies to honor those who have achieved a higher recognition level within the Arch Klumph Society. These ceremonies take place in conjunction with other Arch Klumph Society inductions and provide another opportunity to celebrate these special donors' continued generosity.
Arch Klumph Society recognition levels
$250,000-$499,999: Trustees Circle
$500,000-$999,999: Chair's Circle
$1,000,000-$2,499,999: Foundation Circle
$2,500,000-$4,999,999: Platinum Trustees Circle
$5,000,000-$9,999,999: Platinum Chair's Circle
$10,000,000+: Platinum Foundation Circle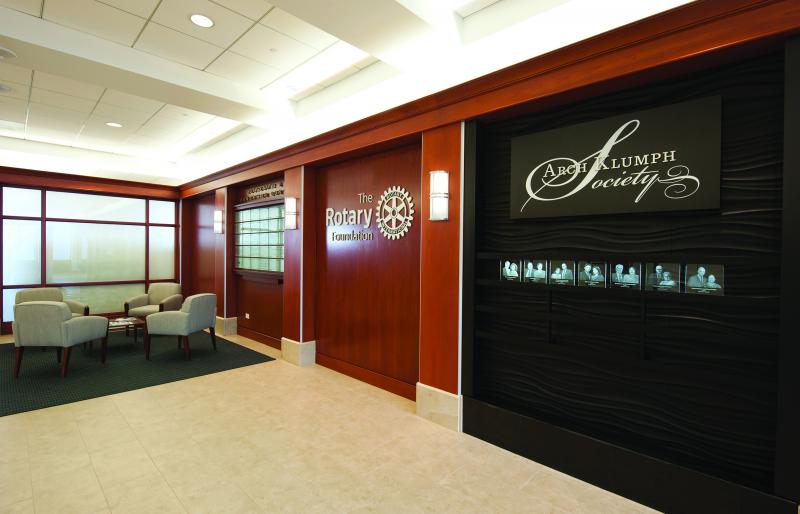 Arch Klumph Society Circle of Honor
Current Arch Klumph Society members who give an additional $250,000 or more can designate someone to be an Arch Klumph Society Circle of Honor member. Donors may consider recognizing a child, grandparent, parent, sibling, or friend.
Arch Klumph Society Circle of Honor members are eligible for the following benefits:
Their portraits and names added to the Arch Klumph Society interactive display at Rotary International World Headquarters
Their names listed in the Annual Report and Arch Klumph Society publications
An Arch Klumph Society universal pin or pendant
Access to the Arch Klumph Society lounge at the Rotary International Convention
What your giving supports
Your giving promotes peace, fights disease, provides clean water, saves mothers and children, supports education, and grows local economies through grants that:
Bring peacebuilding seminars to 200 teachers and 1,300 students in Uganda.
Distribute insecticide-treated mosquito nets and medical services that help prevent malaria in Mali.
Train teachers who are establishing an early-childhood education center in South Africa.
Provide water filters, toilet blocks, and hygiene training to prevent fluorosis in a community in India.
Fund a scholarship for a medical professional to research ways to minimize mortality rates among premature babies in Italy.
Protect children around the world from polio.