A solar energy divide
Rotary and Habitat bring rooftop solar to low-income homeowners
By Amy Hoak
The Habitat for Humanity home that Amber Cox moved into in 2020 not only provided a new, comfortable living situation for her and her son — it also helped keep the family's energy bills low.
That's because their duplex in Virginia's Shenandoah Valley came with a perk: rooftop solar panels, installed shortly after she moved in. The technology produces enough energy to greatly reduce her electric bill and create wiggle room in her budget. "It pretty much covers what would be my electric bill about three quarters of the year," Cox says.
Even in the wintertime, when the heat is running and sunlight is less abundant, she saves about $40 a month. This, in turn, makes it easier for her to spend on activities for her 9-year-old son, like registration fees for the swim team or a weekend trip to the zoo. Among residents of affordable housing, she's one of the fortunate few with solar power.
While the cost of solar panels has plummeted, the technology has not reached everyone equally. Low-income families, which stand to benefit the most from the savings, are among those with the least access to renewable energy. Barriers include high upfront costs, difficulty accessing loans, and disqualification for tax credits.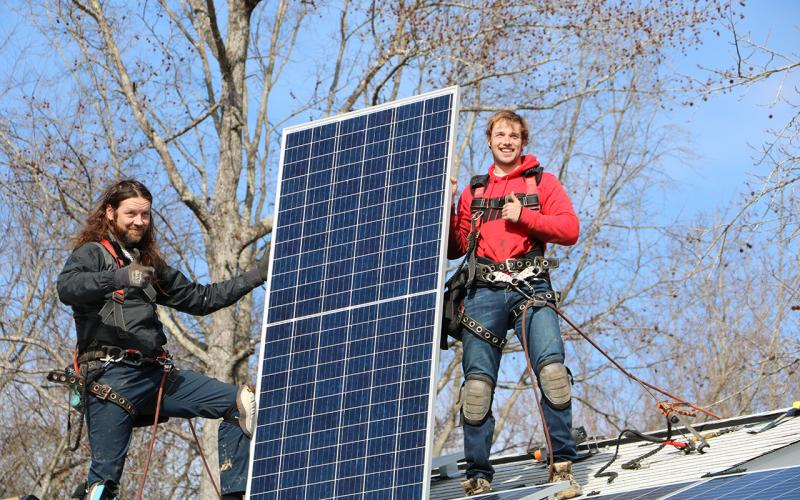 By the numbers
$25,000+

Potential savings over the life of a solar system

3,000

Tree plantings needed to equal the benefits of one solar rooftop

$110,000

Median household income of solar adopters in the U.S.
Environmental justice advocates in the U.S. have pointed to the disparity as an example of how people of color, who often endure more pollution in their neighborhoods, higher rates of asthma, and some of the greatest impacts of climate change, are also shut off from climate solutions. The civil rights group NAACP is among those pressing for greater access to solar power in communities with large percentages of Black or Hispanic residents.
Through their service partnership, Rotary International and Habitat for Humanity International are trying to shrink that solar equity gap, an effort that can have a lasting impact on families and communities. Habitat is a global nonprofit that improves living conditions in more than 70 countries, including by removing hurdles to affordable, adequate housing for families.
"There's such a thing as energy poverty," explains Liz Henke, of the Rotary Club of East Chapel Hill, North Carolina. "The energy bill is such a high percentage of disposable income for low-income people. If you can help decrease that power bill, you can help interrupt that cycle of poverty. It means families can afford shoes, buy better quality food, and all that goes back into the economy."
Since 2020, Henke's club has helped the local Habitat affiliate raise more than $330,000 for solar panels. She recruited a student intern who helped solicit the donation of 100 solar panels from Strata Clean Energy in Durham, North Carolina.
As a member of the Environmental Sustainability Rotary Action Group's Renewable Energy Task Force, Henke also helped produce a guidebook, with support from Habitat and Rotary, to advise other clubs in the U.S. how to make solar a reality for low-income homeowners in their locations. The ESRAG guide educates readers on the basics: Rooftop solar uses photovoltaic panels to convert sun rays to electricity, cutting the expense of drawing power from a utility. And power companies pay homeowners for energy that isn't used and is fed back into the grid, which can further offset monthly electric bills. The installation of a 5.4-kilowatt solar system can save a homeowner $50 to $150 a month in electricity costs. The guidebook also covers practical topics including tax credits and rebates, grants, fundraising, and donations of equipment, labor, and expertise.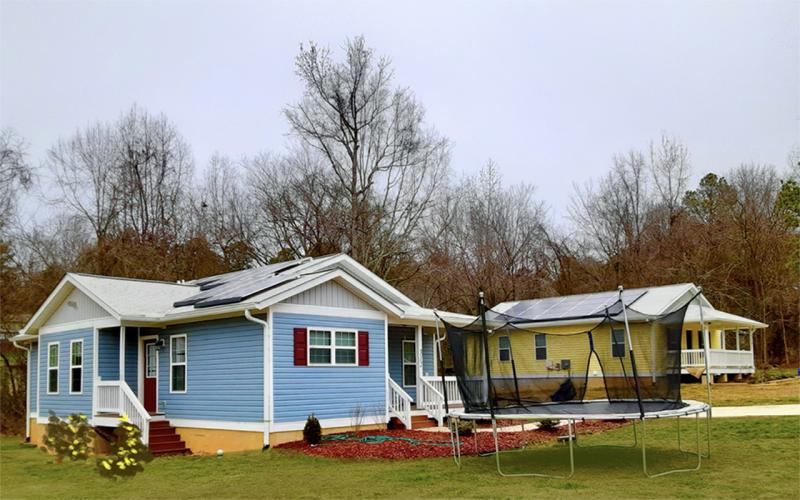 Because of the high upfront investment, Habitat affiliates have had to navigate a patchwork of funding sources, which tend to shift and fluctuate over time, says Beth Wade, director of land acquisition and project development for Habitat of Cape Cod, Massachusetts. The partnership with Rotary could help, she says. "This [partnership] has the potential to stabilize funding because it may provide a new group and a new pool that we can go to when there aren't state funds," Wade says. "We live right in liberal Massachusetts, progressive Massachusetts. And even here, the funding ebbs and flows."
Already, there are Rotary/Habitat solar projects being pursued in places including upstate New York, Delaware, Minnesota, Virginia, Massachusetts, Georgia, North Carolina, Ontario, and Côte d'Ivoire, Henke says.
"It used to be, if you're going to put solar on a house, you really needed to be a tree-hugger, you needed to be willing to actually pay a premium for energy that was zero carbon," says John E.P. Morrison, executive director of NC Clean Future, an initiative that promotes clean energy, air, and water and land preservation in North Carolina. Today, once the system is in place, maintenance costs are minimal and the electricity is almost free — as long as you can pay for the system upfront, he adds.
The full cost of residential rooftop solar, including installation, dropped 64 percent between 2010 and 2022, according to the National Renewable Energy Laboratory, part of the Department of Energy. But many tax breaks helping bring down costs favor higher earners. Homeowners with lower incomes often don't pay enough in taxes to benefit from the rebates.
But a law approved last year allows non-taxpaying entities to get the same 30 percent rebate on solar installations as taxpayers, Henke says, so organizations like Habitat can direct the savings to the homeowners. It's a way to begin to bring equity to solar energy.
"We're significantly reducing the energy burden of these families. We're contributing to the generational wealth of these families," says Jeff Heie, director of GiveSolar, a nonprofit organization that helps other nonprofits and homeowners with lower incomes gain access to solar energy. Homeowners can save an estimated $25,000 over the life of a solar system, he says.
Heie and others hope that putting solar on Habitat homes could have a ripple effect on the homebuilding industry, with more developers equipping homes with the technology. The Habitat project shows that if it can be done for low-income homeowners, anyone can do it, he says.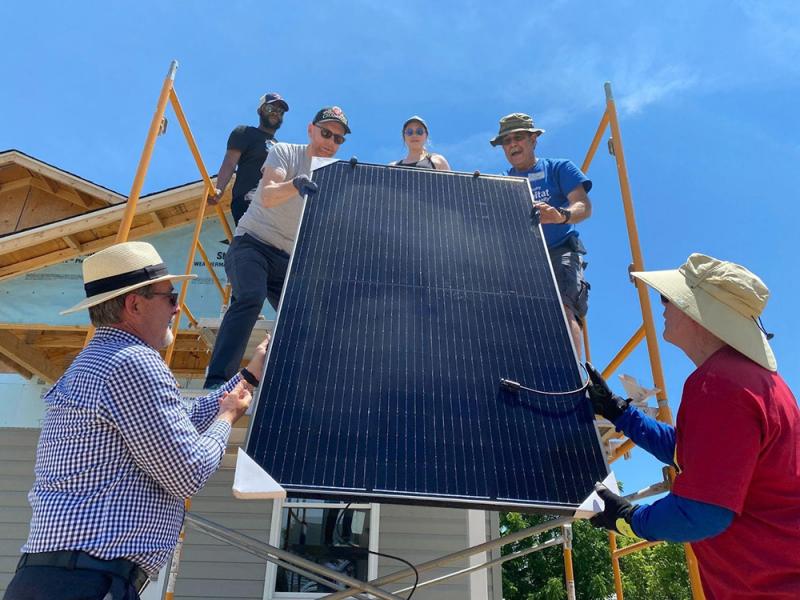 To reap the full benefits of solar power, it's best to plan for an installation when the home is built. Homes need to be oriented for direct sunlight, and in the Northern Hemisphere the roof plane should face southward for maximum exposure. Building the homes with the proper electrical infrastructure is also helpful. "Most houses don't have electrical wires running up to the roof," Morrison says. "It's much easier to put that wiring in when the house is being built, as opposed to try to retrofit it later."
An expansion of rooftop solar is also an important path to meeting climate goals. The impact of one 5.4-kilowatt rooftop solar system is the equivalent of planting 3,000 trees or not driving about 300,000 miles, according to the ESRAG guidebook. "Rotary members, for the environment, like to plant trees. If we plant 50 trees on a Saturday morning, we've worked really hard," Henke says. "If you put up solar panels, that's the equivalent of planting thousands of trees that do not need to be tended, watered, or mulched."
Amber Cox is encouraged that more people are getting access to solar energy. "Once upon a time, the only people that could afford solar maybe didn't have the same amount of need that we do," Cox says. "We've come so far with solar. It does make for a hopeful future."
This story originally appeared in the September 2023 issue of Rotary magazine.
The Solar for Habitat Guidebook can show your club how to make rooftop solar available to new Habitat homeowners.