Young Ugandan Activist Speaks Out About Climate Change in Africa
Vanessa Nakate, a 24-year-old climate activist from Uganda, made international headlines after the World Economic Forum's 2020 meeting in Davos, Switzerland. But the story wasn't what she said about the climate crisis. The story was that her name and photo were missing from media coverage of the event.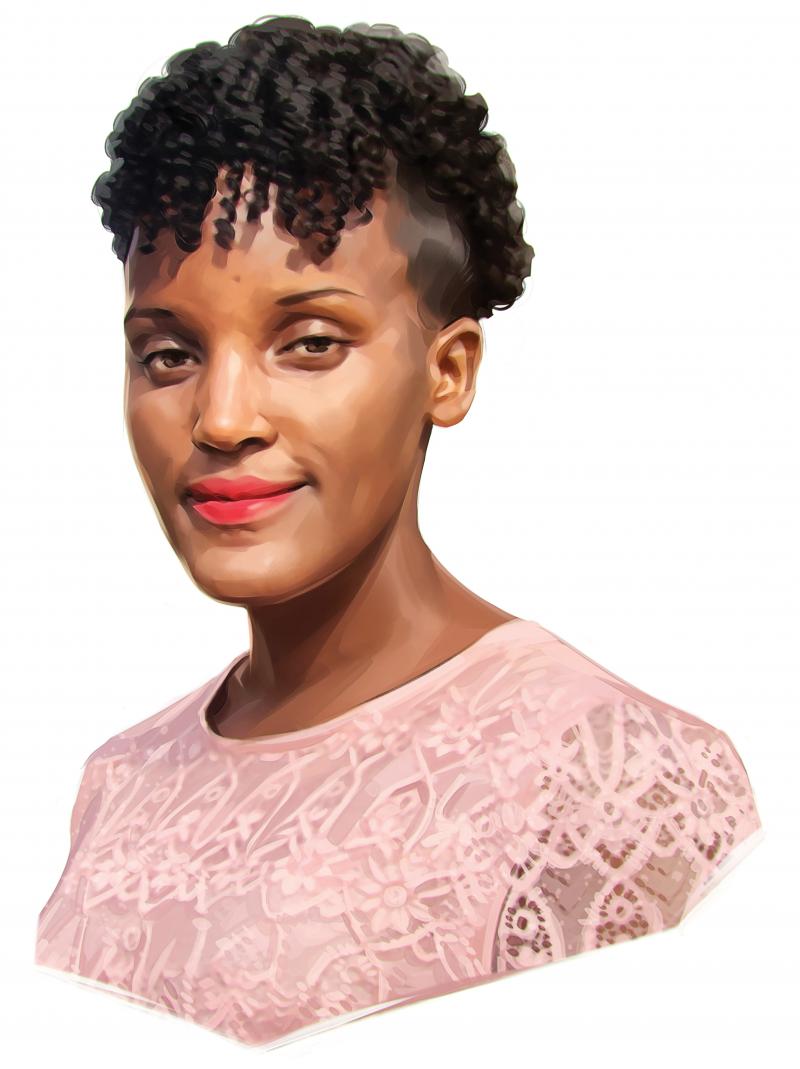 Nakate was one of five young climate activists, including Time magazine's 2019 person of the year, Greta Thunberg, who had participated in a press conference at the event. But the photo that the Associated Press released to global news outlets included only the four activists from Europe; Nakate, the only Black climate activist in the group, had been cropped out. A video that she made in response went viral, and Nakate has since made it a personal crusade to amplify voices that are not being heard in the climate movement.
"Being cropped out of that photo changed me. I became bolder and more direct in how I talk about the climate crisis and racism and how I articulate the many ways families are being impacted right now," she writes in her book, A Bigger Picture: My Fight to Bring a New African Voice to the Climate Crisis, which is being released on 2 November. "I decided, from my perspective as a young African woman, that I would dedicate as much of my time as possible to addressing the many interlocking facets of the climate crisis, environmental justice, and gender discrimination — and to do so without apology or fear of erasure."
Nakate asserts that voices sharing real experiences are there, but aren't being listened to or amplified.
"Everything regarding what we were experiencing in my country and what we were seeing on the continent of Africa had come out of my mouth, but it never actually reached people."
"I don't have full knowledge of what our fellow activists are seeing unfold in their countries, in Kenya or India or South Africa. I may have known that Zimbabwe faced a water crisis, but I didn't know how valuable water was until I talked to an activist from there."
Although the African continent is responsible for a mere 3 percent of global CO2 emissions in recent decades, Africans are suffering from brutal effects. Nakate's home of Uganda has experienced floods, landslides and droughts. A locust invasion throughout East Africa devastated food resources. Rising lakes contaminated water resources while others shrunk to 1/10th their size from 50 years ago.
"We cannot have climate justice if some people are being left behind. We cannot have climate justice if the most affected communities are not being listened to."
On her path to becoming a climate powerhouse, Nakate was influenced by her father, Paul Mugambe, a longtime Rotary member. As president of the Rotary Club of Bugolobi in 2017-18, Mugambe helped coordinate a five-year project, Mission Green, in which clubs in District 9211 (Uganda and Tanzania) planted trees in communities across their district. (In photos from the 2019 United Nations climate talks in Madrid, where she was invited to speak, Nakate was wearing a Mission Green polo shirt that her father had given her.)
"Watching my dad as a leader of Mission Green sowed a seed that made me decide to be a voice of change," she tells Rotary magazine. "His courage and his action inspired me to find my voice and to stand up for what I believe is important and what is needed in society."
100.00

Number of people who died in the Sudans as a result of floods in 2020.
Galvanized by the tree-planting project, Nakate decided to embark on an environmental project of her own as she finished her degree in business administration from Makerere University in Kampala. As she researched the challenges that people in her community were facing, she was surprised to discover that climate change was at the heart of many of them. In January 2019, she began protesting at public sites around Kampala, demanding climate action as part of the global Fridays for Future movement begun by Thunberg in Sweden a few months before. Nakate later founded the Rise Up Movement as a platform for African voices in the global climate change discussion. On the grassroots level, Nakate has also worked to install solar panels and eco-friendly stoves in schools.
Nakate emphasizes the importance of including local voices during Rotary projects to provide a sense of accountability and community involvement but also to ensure a project continues once the project team leaves.
"When community members are involved in the implementation, they're not just receiving the project, they're also receiving education about the project. Then when you leave, there are people who can still manage that project so that it can continue to sustain the community."
Nakate encourages Rotary members to use their platforms to raise awareness of the climate crisis and share the work being done.
1300.00

Number of people left dead as a result of Cyclone Idai in March 2020 with many more missing.
"Every activist has a story to tell, every story has a solution, and every solution can change a life."She also suggests supporting the grassroots projects that activists are doing in their communities. "It doesn't matter how small a project or activity is. If I'm doing something, and you're doing something, and another person is doing something — if millions of us are doing projects in our communities — if we put them together, we will change the world. "
Interestingly, Nakate notes that girls and women are disproportionately affected by the climate crisis. In some countries, when climate disasters cause families to lose everything, male children are prioritized for school and the girls have to drop out. This increases risk of early marriage, as well as being the primary providers-traveling long distanced to collect food and water for their families, exposing them to disease and gender violence.
"Surely this is what Rotary International means — to be people of action," Nakate said in a speech at the 2021 Rotary Convention. "So let's stop talking and start taking action. And the action must start today."
The extended Q&A version of this story originally appeared in the November 2021 issue of Rotary magazine.
---
Related content
How Rotarians are already fighting climate change
Rotary scholars and peace fellows put expertise into helping environment