Rotary projects around the globe
September 2023
By Brad Webber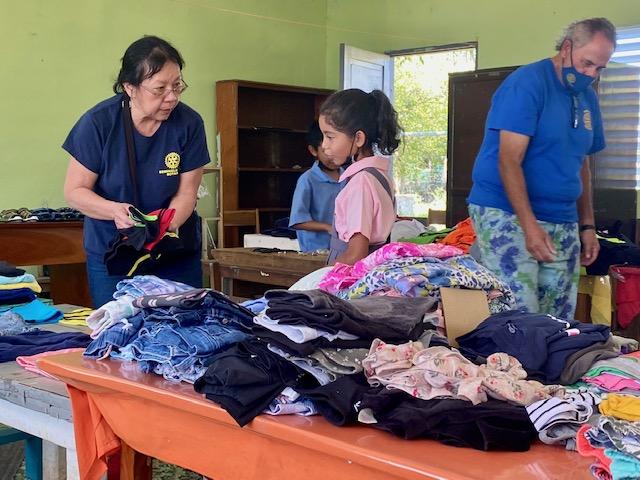 Belize
Since 2014, members of the Rotary Club of Seminole Lake, Florida, have ventured on service trips to Belize with a focus on the welfare of children: constructing school playgrounds and providing educational assistance, clothing, and medical screenings. "The kids had a recess period but little for them to do," says David Buzza, a past club president. Three years ago the club forged ties with the Rotary Club of Belmopan, Belize. In February, Rotary members helped construct a seventh playground in Belize and helped hand out 1,500 pieces of new clothing, along with toiletries and backpacks. The Florida Rotarians added to the Belmopan club's existing wheelchair distribution project with a May shipment of 30 wheelchairs.
United States
The Indian River Lagoon along Florida's Atlantic coast is home to some 3,500 plant and animal species. In January, District 6970 and the Rotary clubs of New Smyrna Beach and Edgewater introduced a tide pool exhibit in the Marine Discovery Center in New Smyrna Beach. The display is home to horseshoe crabs, sea stars, sea urchins, hermit crabs, marine snails, and other small oceanic creatures. "Having that opportunity to see the animals up close is a very engaging experience," says Chad Truxall, the center's executive director. "It's been fun for us to have this additional tool to share the story of the Indian River Lagoon." A district grant provided $20,000, the New Smyrna Beach club devoted $10,000, and the Edgewater club another $5,000 toward the cost of the exhibit, representing just a portion of the financial and volunteer contributions Rotarians have made to the marine center over the past decade.
3.00

of 5

Share of Belizean children under age 15 who live in poverty
98.00

Endangered and threatened marine species found in U.S. ocean waters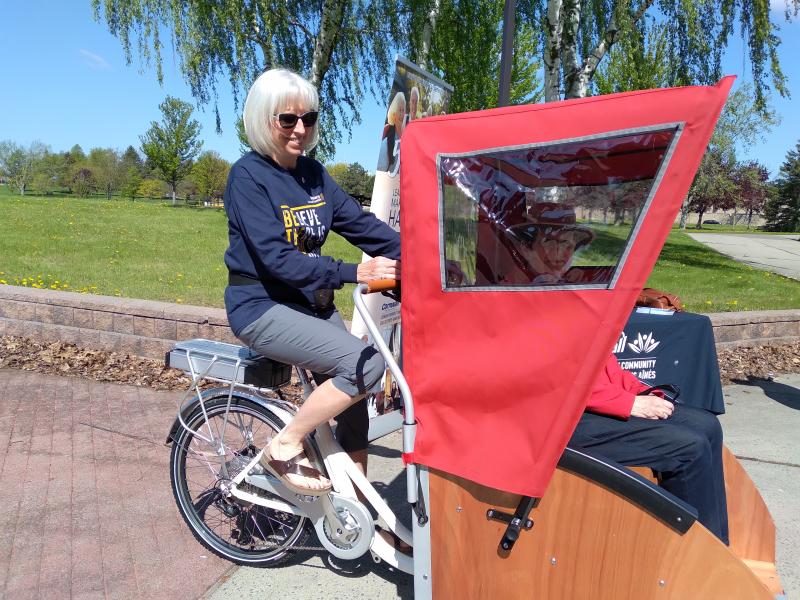 Canada
The pandemic's toll on older people struck especially close to home for the Rotary Club of Cornwall Sunrise in southeastern Ontario. "Until COVID, our club met at a seniors residence, and the need for the residents to be able to get out was made clear to us," says club member Elizabeth "Bette" Miller, a past governor of District 7040. To ease the isolation of the town's older population, the Cornwall Sunrise club teamed up with the Rotary Club of Cornwall and their city government to introduce Seniors on Wheels tours on three-wheeled cycle rickshaws. Volunteers pedal seniors around on seasonal tours along the St. Lawrence River. "The trishaw is used primarily by local seniors who would otherwise be unable to enjoy the beautiful scenery," says Miller, whose club contributed an initial CA$3,000 (US$2,500) for the project. "The routes for the trishaws follow the bike paths with stops at points of interest, many of which are projects Rotary has partnered on with the city." Volunteers and their passengers covered a cumulative 300 miles last year.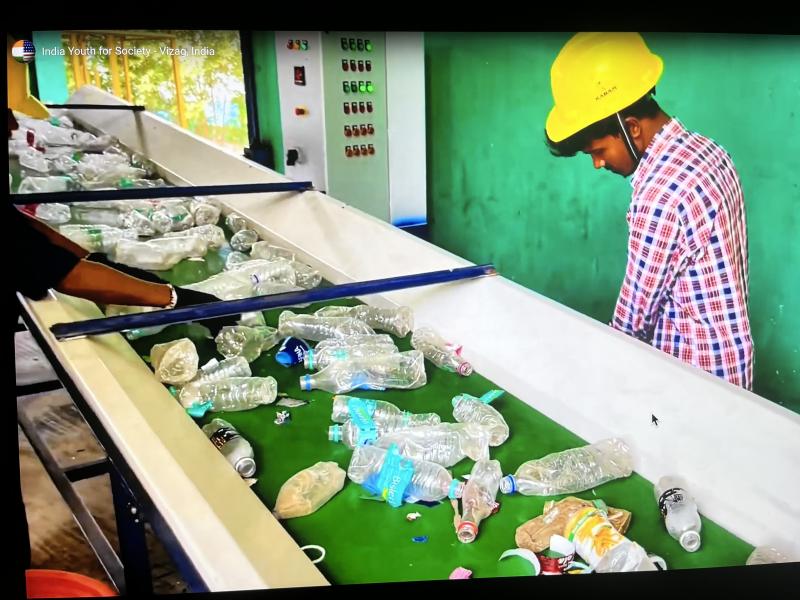 India
In Visakhapatnam, along the Bay of Bengal, Rotary members launched an innovative plastics recycling and youth employment project. Participants from the nonprofit India Youth for Society collect plastic bottles from drop-off locations and beaches and process the plastics into small chips that are sold to recyclers. The nonprofit's goal is to make the operation self-supporting. About eight young people were working on-site as the processing plant scaled up production in June, and as many as 25 people eventually could work at the facility. The roughly $120,000 project is supported in part by a global grant sponsored by the Rotary clubs of Lake District Moinabad, India, and Naperville Sunrise, Illinois, with contributions from other Rotary clubs in the United States and India. Among its accolades is an award from the American Academy of Environmental Engineers & Scientists. "I wanted to get the academy's feedback and make [the project] more robust using their suggestions," says Prakasam "Prakash" Tata, a retired environmental engineer and a member of the Rotary Club of Naperville, Illinois. "But lo and behold, I heard, 'You won the grand prize.'"
16.00

%

Portion of Canada's seniors who say they experience social isolation
450.00

years

Estimated time for a plastic bottle to degrade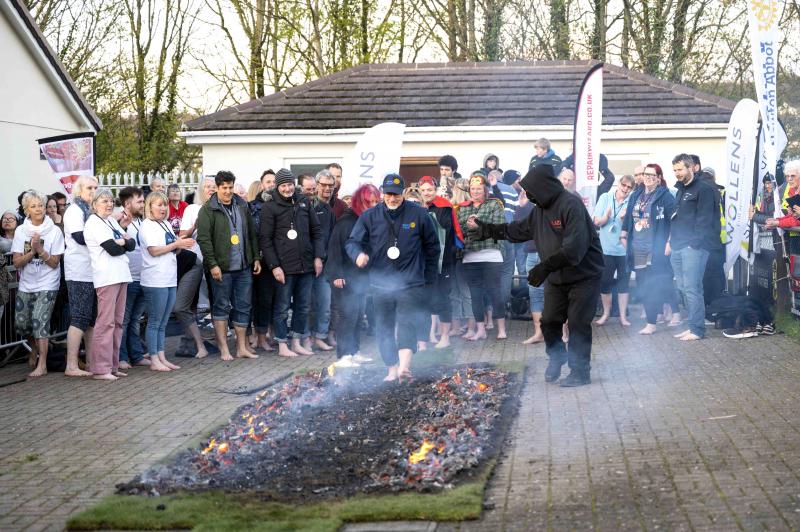 United Kingdom
Some people will walk through fire for a good cause — literally. More than 50 participants hotfooted across wood embers during a fire walk charity event in April sponsored by the Rotary Club of Newton Abbot. The sizzling jaunts, to taiko drumbeats, raised more than $11,000 through sponsorship pledges for charities. The club brought in a professional fire walking company to stage the event. Organizers offered a "motivational psychology fear-busting seminar" before the challenge. The secret? Walk in a controlled, fast manner, says Past Club President Phil Millichap. He and 2022-23 Club President Jeremy Newcombe were among the Rotarians who put their feet to the fire. "Top tip: If you fall over, which one lady did, get up quickly," Millichap advises.
This story originally appeared in the September 2023 issue of Rotary magazine.