Rotary Projects Around the Globe
March 2022
by Brad Webber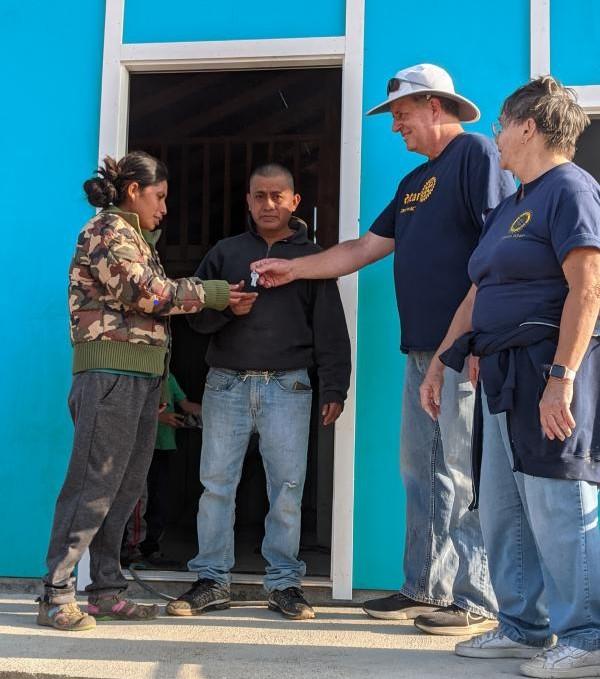 Mexico
About 150 Californians from District 5340 joined members of five District 4100 clubs in Baja California to raise six houses (and partially build another) for families in El Trébol, a rural community near the U.S.-Mexico border. Project Mercy, a San Diego nonprofit, installed cement slabs and cut much of the lumber in advance of the daylong burst of energy on 4 December.
"It was awesome to see the two districts come together to help these people in need get a leg up in their lives," says Kim Muslusky of the Rotary Club of Rancho Bernardo Sunrise (San Diego). The $52,000 project was funded by Rotary members.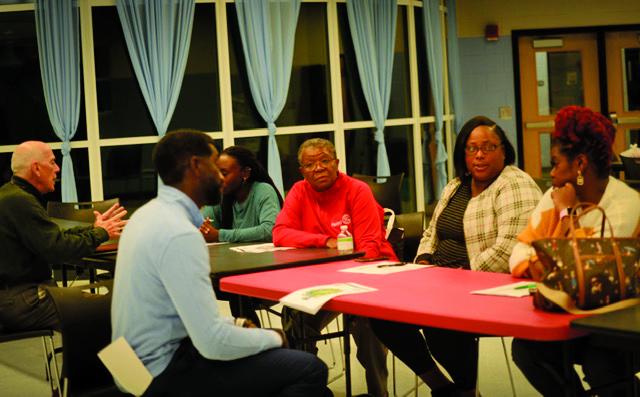 United States
Racial tension and sustained protests after the fatal shooting of a Black man by a sheriff's deputy in August 2017 led to soul-searching in Thomasville, Georgia. Recognizing inequities in safety, education, and economic opportunity, local officials created a task force and looked to a trusted source of inspiration and knowledge — area Rotarians — to help tap the hidden potential of the community.
In early 2019, Spark Thomasville, a business incubator, assembled its first class of a dozen budding businesspeople, drawing from minority communities. Members of the Rotary Club of Thomasville, including André Hadley Marria, governor-nominee of District 6900 and Spark's current director, stepped up with workplace acumen and a $1,500 district grant. Six club members regularly mentor the participants, who aim to succeed in such fields as video production, beauty and nail salons, and catering. The result: nearly 30 entrepreneurs and 10 full-time businesses and counting.
"One of the real stars is a husband-and-wife team who started grilling barbecue pork ribs at their home and selling them to their neighbors. They've progressed to having their own restaurant," says Michael Bixler, another club member and coach in the program, which focuses on financial literacy, basic bookkeeping, and communication skills.
20.00

million

homes in Mexico owned outright
36.00

%

of Black-owned businesses with employees are owned by women, compared with 19% for all businesses with employees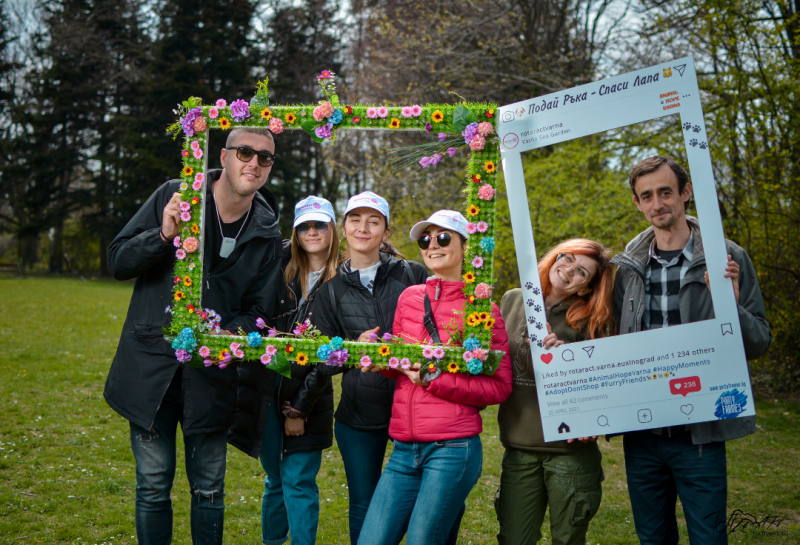 Bulgaria
Publicizing the plight of stray dogs and urging prospective pet owners to consider adoption, the Rotaract clubs of Varna and Varna Euxinograd International teamed for an event that featured 10 sociable dogs from a local shelter. The Lend a Hand — Save a Paw festival drew about 200 visitors, some with their own furry wards in tow, to the Sea Garden park in April 2021, reports Viktoria Harizanova, a project coordinator from the Rotaract Club of Varna, based in the Black Sea resort, Bulgaria's third largest city.
"The clubs prepared activities, a professional photographer, a dog training lecture, a handmade leash workshop, and entertaining games for all ages," Harizanova says. The endeavor was overseen by about 10 Rotaractor volunteers and personnel from the Animal Hope Varna shelter and Presi Vet, a clinic that offers discounted spaying and neutering. Sales of greeting cards, leashes, and magnets, coupled with donations, raised more than $1,200 to fund about 45 spay/neuter procedures.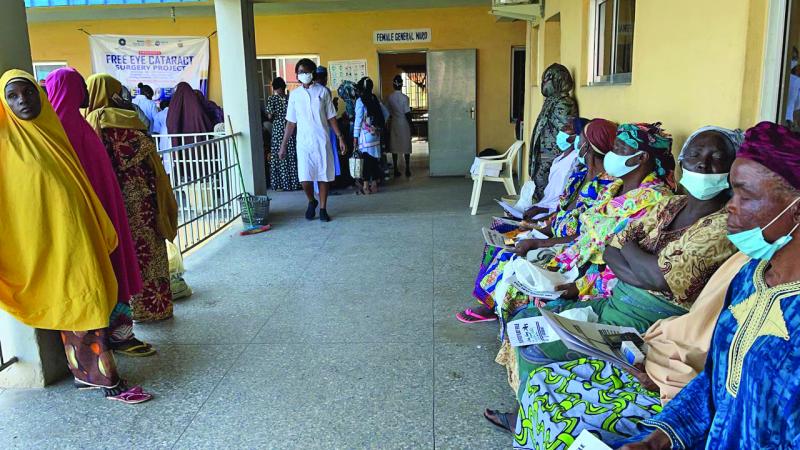 Nigeria
Despite constraints forced by the COVID-19 pandemic the past two years, the Rotary Club of Lagos Island has provided more than 5,000 cataract surgeries through its vision camps, including 400 in October, since the project began in 2017.
"The members who visit the venue look over the files of patients, greet the patients, and interview them to make sure that all the treatments have gone well and that they were all provided with a fully free eye operation," says club member Hiro Rupchandani of the Mission for Vision, which is scheduled for this month in Lagos as well as in Kano, more than 500 miles northeast. The club also arranges lodging and meals for the patients around their surgeries during the two-week drives. The $80 cost per surgery is subsidized by businesses, club members, and their friends.
45.00

%

global cases of blindness caused by cataracts in people aged 50 and older
2.00

billion

monthly logged-in YouTube viewers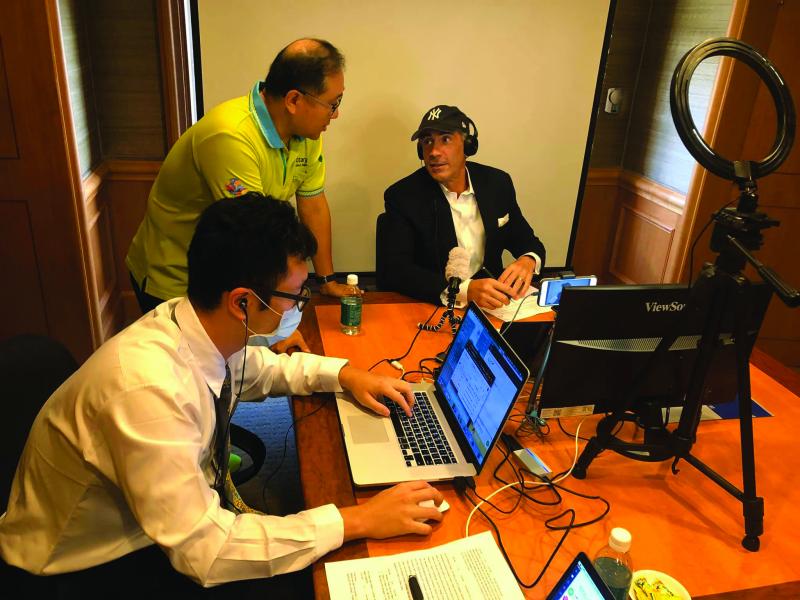 Taiwan
After COVID-19 struck, the Rotaract Club of Taipei saw an opportunity to use online analytics and video editing software to promote itself and help members connect amid severe curbs on social gatherings.
"YouTube is a great tool to let more people know who we are around the world," says club member Eric Lu. "We couldn't host physical events, so we had a meeting to brainstorm about how to still make people know us," he says. To spread the word, the group has recorded videos of guest speakers on topics including international relations and overseas work — major areas of interest for the club's 17 members. Eleven of them filmed interviews about their experiences on the job and in Rotaract. Two potential members contacted the club after watching the videos. "The online marketing works," Lu says.
This story originally appeared in the March 2022 issue of Rotary magazine.
---
Related content
Rotary projects around the globe - February 2022
Rotary projects around the globe - January 2022