Rotary Projects Around the Globe
December 2021
by Brad Webber
United States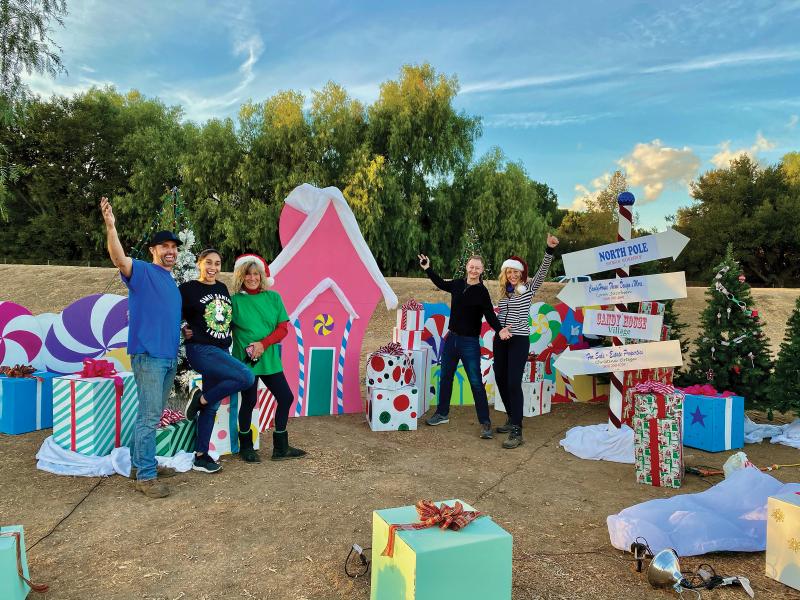 When the COVID-19 pandemic forced the Rotary Club of Westlake Village, California, to halt its annual street fair, the club rebooted the event — with a seasonal shift. The members worked with the local park district to stage a drive-in presentation of the family comedy Elf on an inflatable outdoor movie screen. They used PVC pipes to assemble a twinkle-lights entry tunnel and painted oversized candy canes and presents to create a holiday village. "We put the icing on the cake: We did the marketing, we dressed up, we did the props," says Erin Culbertson, the club's president-elect. The event proved so successful that the club hosted two more drive-in movies; a European-style holiday marketplace is slated for this month.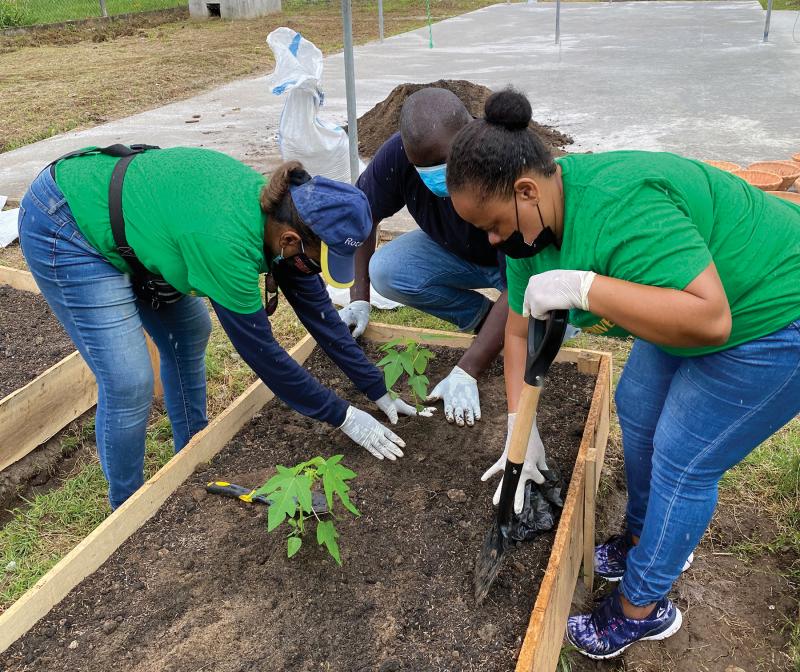 Guyana
Chartered in September 2020 as a cause-based club with an environmental focus, the Rotary Club of Garden City (Georgetown) has created a garden at the Cheshire Home, a residence for about 30 adults and children with disabilities in the village of Unity. About two dozen members of the club spent several months making plans, clearing land, digging drains, and overseeing construction of the garden, which includes a wheelchair-accessible shade house designed to protect tomatoes, herbs, and leafy vegetables from the tropical sun. The $7,000 project was funded through a $5,000 grant from District 7030 and a takeout-meal fundraiser. The garden will eventually reduce the residence's food bill while helping the people who live there to gain agricultural skills, says club member Elizabeth Cox.
305.00

Drive-in theaters in the U.S. in 2019
17.00

%

Agriculture's share in Guyana's GDP in 2020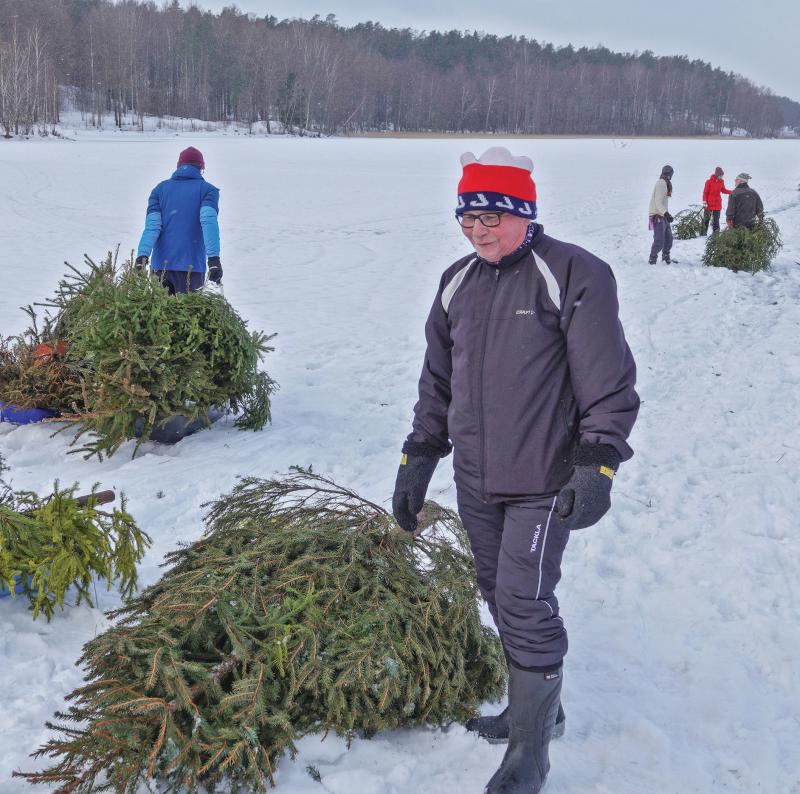 Finland
Every year, about 1.4 million trees, mostly spruce, are brought into Finnish homes and decorated for Christmas Eve. After the holidays, many are chopped up to fuel the family woodstove or collected for incineration at energy plants. The Rotary Club of Lappeenranta-Saimaa came up with an eco-friendly alternative: sinking the trees into Lake Saimaa — one of the largest freshwater lakes in Europe — to provide spawning habitat for perch, pike, and other fish. The practice, suggested by club member Kari-Matti Vuori, a limnologist, also fosters "a water purification system" that supports organisms like algae, fungi, and other beneficial microbes, says Kaapo Pulkkinen, a club member and past governor of District 1430. "The response was surprising. We got over 600 trees," Pulkkinen says, adding that experts will follow the project's progress and report on the results.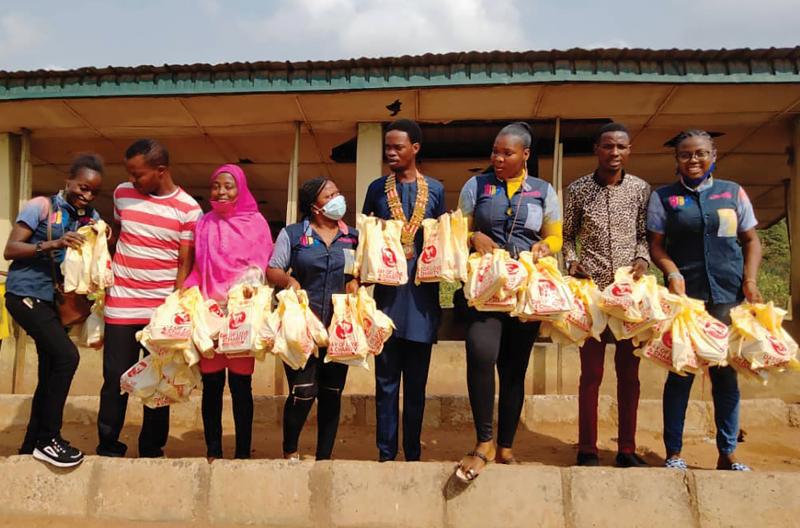 Nigeria
District 9110 Rotaractors teamed up to deliver pantry staples and toiletries to a correctional facility in Ogun state. Members of the Rotaract clubs of Iju-Ishaga and Ijebu-Ife, with support from a Rotaract district committee, organized the distribution of goods, which included beans, cassava flour, packaged water, tissue, bathroom slippers, toothpaste, toothbrushes, detergent, and soap. Afterward, the Rotaractors served meals at a nearby shelter that houses people in need. Also taking part in the effort were the Rotaract clubs of Abeokuta, Lekki Phase 1, and Ota.
13710.00

Islands in the Lake Saimaa water system
29.30

million

Nigerians who are malnourished
Australia
The Rotary Club of Port Macquarie West, with help from other clubs in District 9650, collected 107,886 socks in their attempt to set a world record. In June, after a monthslong campaign, Rotary members converged on a field outside a shopping center and spent two days pinning the socks along rows of clothesline. At Rotary magazine's press time, the 39-member club was awaiting confirmation of the feat from Guinness World Records. In addition to drawing attention to Rotary's work, the venture raised about $30,000 from sponsors and community donors, with the funds given to organizations whose focuses include education, mental illness, youth homelessness, and military veterans. The socks were to be turned over to nonprofits and a textiles recycler.
This story originally appeared in the December 2021 issue of Rotary magazine.
---
Related content
Rotary projects around the globe - November 2021
Rotary projects around the globe - October 2021