Rotary Projects Around the Globe
October 2022
by Brad Webber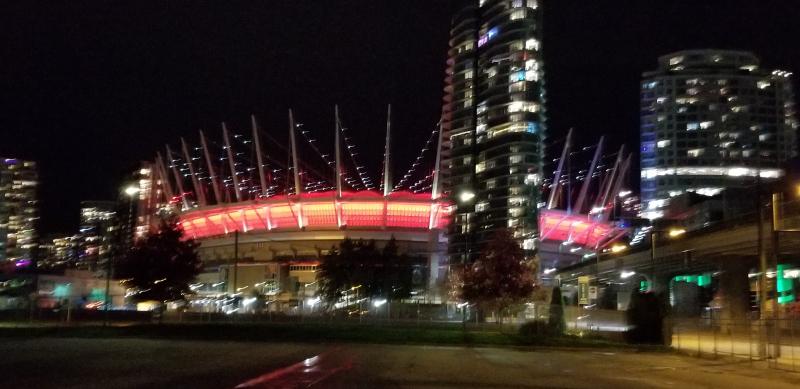 Canada
Vancouver Rotarians plugged in to their local connections to spotlight End Polio Now in British Columbia. Three landmarks — BC Place Stadium, the geodesic dome of Science World, and the City Hall clock tower — were set aglow for World Polio Day in 2021. Ron Suzuki, a member of the Rotary Club of Vancouver Sunrise and a retired city recreation director, used his connections to line up support from city leaders, including Mayor Kennedy Stewart, who recognized the day by proclamation. As a college student in the early 1970s, Suzuki undertook fieldwork in the polio wing of a hospital. "I got to know all the patients and was inspired by their courage and how they coped with this horrible disease," Suzuki says. "Till this day I am still haunted by the sounds of the machines that helped them breathe."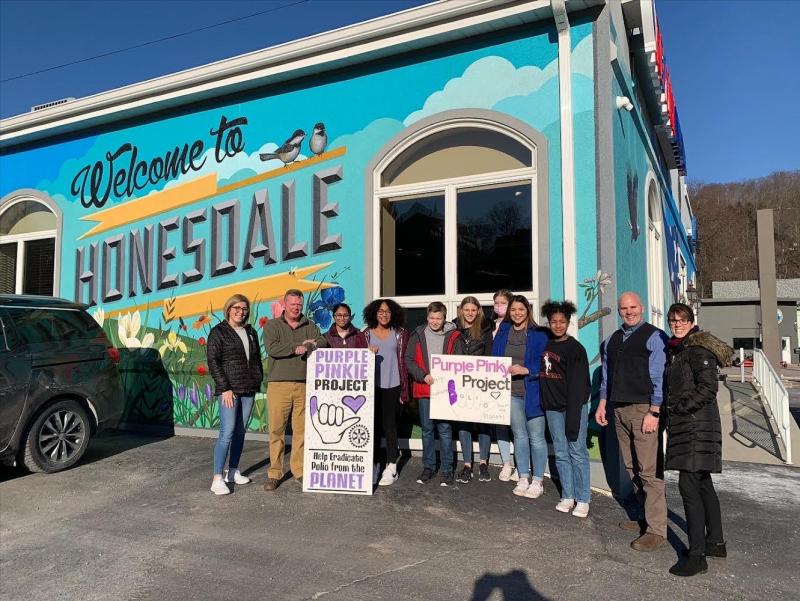 United States
The Interact club at Honesdale High School in Pennsylvania held its Purple Pinkie Project in February to spread the word about polio eradication. Club members went live on the radio, canvassed local businesses for contributions, and solicited dollar donations in exchange for coloring pinkies purple during school lunch breaks and basketball games. The club raised $1,000, and members of the Rotary Club of Honesdale added $500 for the cause. An online "twinning" with the Interact Club of Chubby Cheeks Spring Valley in Goa, India, allowed the clubs to exchange tips on matters purple pinkie and beyond. "These students are networked and organized," says Brian Fulp, the Interact club's adviser, "and the community responds through donations."
19

94.00

:

Polio declared eliminated in the Americas
18

56.00

:

Aniline synthetic dye for the color purple invented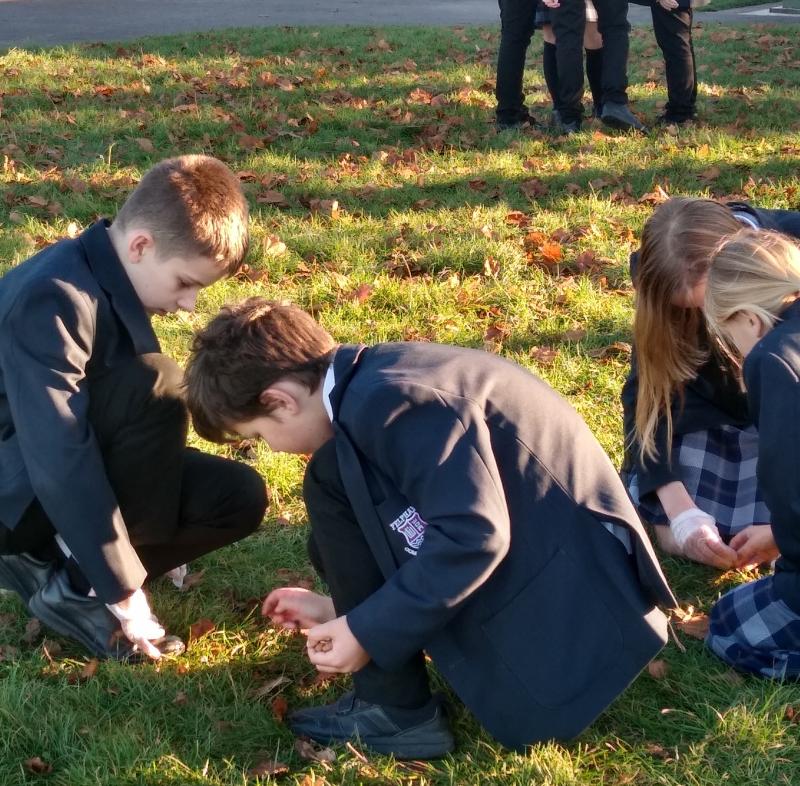 United Kingdom
In October 2021, staff and students of Felpham Community College in West Sussex planted more than 4,000 crocuses provided by the Rotary Club of Bognor Regis as part of Rotary International in Great Britain and Ireland's annual Purple4Polio campaign. In February, as the flowers began to bloom, the college convened students from the ecology club and other school groups for a tea party. "This was a chance to have a hot drink and some homemade sweet treats, celebrate the crocuses coming into bloom, and thank our students for the hard work they put in above and beyond their day-to-day learning," says Michelle Kelly, a deputy head teacher. The Bognor Regis club and the school have partnered on the project for more than 10 years.
Nigeria
Seven Rotary clubs and two Rotaract clubs in the southern Nigerian state of Delta took steps in October 2021 to heighten vigilance in a country certified polio-free the year before. The Polio Walk, organized by the Rotary Club of Effurun, attracted nearly 100 participants. The walkers — many clad in red, blue, yellow, and purple End Polio Now T-shirts — strolled, socialized, beat drums, and tooted horns along a roughly 2-mile route, says Michael Enehizena, past president of the Effurun club. "It was a huge success as flyers and car stickers were given out and placed on cars," Enehizena adds. The Rotary clubs of Effurun City Centre, Effurun Gateway, Effurun GRA, Ekpan, Osubi, and Ovwian, as well as the Rotaract clubs of Effurun and Petroleum Training Institute (PTI), united for the event.
100.00

:

Approximate number of crocus species
21.00

,425:

Reported cases of paralytic polio in Nigeria from 1980 through 2021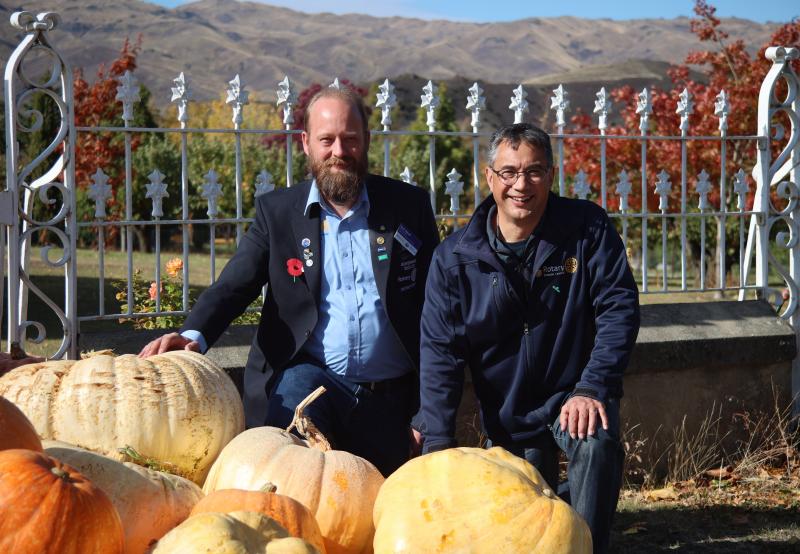 New Zealand
Seeking a hallmark project to boost attention and money for PolioPlus during his year as governor of District 9980, Nick Wood picked pumpkins — a variety called the Atlantic Giant, to be specific. Fifty-five Rotarians, family members, and friends competed to grow the greatest gourd from plants that Wood started and distributed beginning in late October of last year. The goal: "to have fun, and this was heaps of fun," Wood says. The grand weigh-in in late April required a forklift when the Rotary Club of Wanaka's winning pumpkin tipped the scales at more than 357 pounds. With sponsors donating a set amount for each kilogram, the competition yielded more than US$31,000 at current exchange rates, topped with a District Designated Fund contribution of about $6,200, all matched 2-to-1 by the Bill & Melinda Gates Foundation. "The biggest success was the almost doubling of our club and personal contributions to polio from the previous year," says Wood.
This story originally appeared in the October 2022 issue of Rotary magazine.
---
Related content
Rotary projects around the globe - September 2022
Rotary projects around the globe - August 2022
As Rotary and its partners mark World Polio Day on 24 October, we're highlighting a few of the ways Rotary members and their communities have advanced the fight over the past year. Register your club's World Polio Day participation at endpolio.org/register-your-event.