Rotary members lead effort to transform childbirth care in Mongolia
Julie Dockrill, recipient of Rotary's People of Action: Champions of Health, was part of a team of midwives in training health care professionals as part of a comprehensive well-being program that's saving mothers and babies
by Ryan Hyland
When Julie Dockrill was approached by the Rotary Club of Waimate, New Zealand, to train medical workers in Mongolia in safer childbirth practices, she wasn't sure how much of a difference she could make — despite her 20 years of experience as a midwife and childbirth educator.
At the time, Dockrill wasn't very familiar with Rotary's work, nor was she aware of the high infant mortality rate in Mongolia, an Asian country located between Russia and China. But she agreed to participate if it meant saving the life of even one child.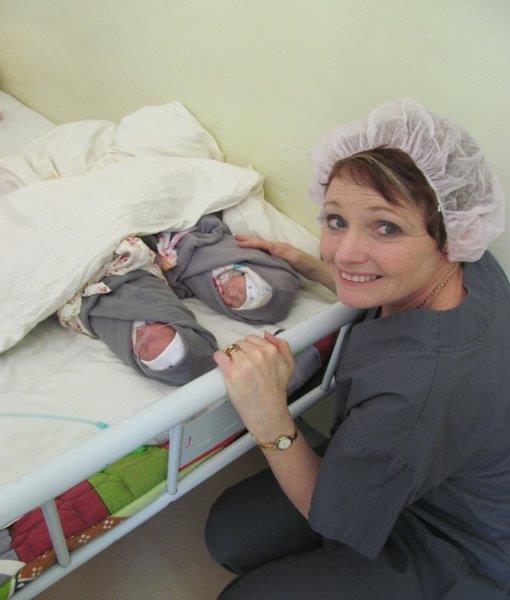 Eight years later, the project's success has exceeded her expectations. Dockrill, now a member of the Rotary Club of Timaru, says she never imagined that the work the team began in 2013 would lead to the adoption of a nationwide health care framework that has contributed to the steady drop in Mongolia's maternal and infant mortality rates.
The project, facilitated and managed by Waimate club member Gary Dennison, was originally conceived as an initiative to supply clean water to a remote area in Mongolia. Plans shifted when a community assessment determined that the terrain meant a water well wasn't feasible.
Dennison explored alternatives. He learned through Rotary connections in Mongolia that maternal and child health services and updated and safer childbirth practices were needed. So his club and the Rotary Club of Ulaanbaatar, Mongolia, devised a new plan: a four-phase project in which a vocational training team would offer childbirth education to health care workers.
Dockrill, who came recommended through a colleague, was tasked with helping a five-person team, led by Rotarian Samantha Dunne, of midwives from Australia, Mongolia, and New Zealand, and developing training materials for more than 100 university students and midwives, nurses, and other health care professionals in Mongolia.
The maternal and infant mortality rates in Mongolia were falling, but mothers and infants were still dying at alarming rates. In 2011, the government made a commitment to reduce the infant mortality rate to 15 out of every 1,000 live births, which would be a drastic reduction from its 2009 rate of nearly 27 deaths per 1,000 live births. Comparatively, the infant mortality rate in New Zealand that same year was just five deaths per 1,000 live births.
Causes of death frequently involved asphyxia, respiratory distress, and congenital defects, but Dockrill says the problem really came from poor prenatal care.
"Before the childbirth education course was embedded, there were only standard visits to hospitals and clinics for pregnant women," Dockrill says. "The care was just focused on the physical well-being of the mother. The information mothers were given was very basic."
Dockrill focused on topics that weren't being discussed with expectant mothers, such healthy living breastfeeding, and contraception — all important to keeping mothers healthy. And when mothers are healthy, their children are more likely to be healthy. According to Dockrill, the health and survival of a mother directly affects the likelihood that her child will live to age two.
It's overwhelming to know that you may have played a small part in saving the lives of hundreds of mothers and babies.

Julie Dockrill
Member of the Rotary Club of Timaru, New Zealand
So Dockrill and the team were hoping to help health professionals take "a holistic approach — not just a physical approach" and see people come forward earlier with health problems. She adds, "If one child or mother was saved by what we shared, I considered that a success."
Participants, who arrived with notepads and pens expecting a standard lecture course, received copies of Dockrill's training manual translated into Mongolian and took part in interactive activities with plastic baby dolls and proper anatomical models.
One exercise, in which Dockrill discussed a technique that slows the labor process, drew lots of questions. The translator explained that general practice in Mongolia calls for labor to be as quick as possible — which can mean dangerous methods of hastening the baby's arrival. "Explaining that it's fine if the mother takes a rest, and that patience in childbirth is OK and healthy, that was new," Dockrill says. Students were open to new ideas and enthusiastic, she says. "We had an incredible experience. We had fun, we laughed, we bonded."
The course culminated in an evaluation of participants' knowledge and a ceremony awarding them certificates endorsed by the local ministry of health. "This was an empowering moment for many of the participants," Dockrill says.
Inspired by the project's impact and the breadth of Rotary's work in maternal and child health, Dockrill joined her local Rotary club shortly after returning home.
295000.00

Women who died worldwide in 2017 from causes related to pregnancy and childbirth; most of these deaths were preventable
20.00

percent

The decrease in health and social services for women and children due to COVID-19
3.00

x as likely

The chance that pregnant women will deliver early with COVID-19 compared to those without the disease
80.00

million

Children under a year old worldwide who will miss out on vaccines due to pandemic
The project's second phase in 2015 involved Amarjargal Luvsandagva, a midwife at a hospital in Ulaanbaatar, visiting New Zealand for a month to observe pre- and postnatal health care practices. Luvsandagva shadowed Dockrill in hospitals and clinics. Since then, Luvsandagva has participated in trainings and seminars around the world and shares her knowledge with colleagues in Mongolia.
During the third phase in 2016, when the training team returned to Mongolia with updated materials, developed by Dunne, Dockrill, and others, the reach of the project became apparent. Upon arriving, Dockrill learned that at least a half dozen Mongolian TV news networks were covering the trip.
Dockrill credits the partnership with the Ulaanbaatar club and other clubs in Mongolia for the media attention and believes the project could not have been successful without Mongolian members who arranged transportation and translation and advocated for the curriculum to government authorities.
"Their connections throughout the country are why the project exceeded expectations," Dockrill says.
In this third phase, the team trained more than 300 health care workers — including obstetricians and other doctors — through an expanded, three-day childbirth education course and a one-day emergency skills clinic. Participants discussed how they would incorporate what they'd learned into their practice, which Dockrill calls "a huge deal for the sustainability of the project."
The team were also able to bring equipment — fetal monitors, hand-held Doppler scanners, syringe pumps, induction pumps, and more — to Mongolia and provide basic training to those using it.
During the fourth phase in 2018, follow-up trips expanded the program further into rural and hard-to-reach areas, making the training available to even more health care workers.
The updated 100-page training manual, created by Dunne and helped developed by Dockrill, was endorsed by the Mongolian Ministry of Health and is now adopted nationwide as the standard curriculum for maternal and infant care, covers topics such as immunization, breastfeeding, pain relief, diet, exercise, and when to call a doctor. The ministry has also made childbirth education mandatory for expectant mothers, who need to attend at least three classes to qualify for a new government payment program. In 2019, the training manual was even translated and adopted for use by the government of Nepal.
The success of the project contributed to the Mongolian government exceeding its 2011 goal of reducing the infant mortality rate to 15 out of every 1,000 live births. The latest data from 2019 puts the rate is 13.4, and it's expected to keep declining.
Dunne, a member of the Rotary Club of Macedon Ranges, Australia, adds: "You can spend your life in health doing amazing, acute and critical work, maybe even being a busy fool, but nothing has the power to change a whole health care system like education, prevention is easier than cure."
On World Health Day, 7 April, Rotary honored Dockrill as one of six People of Action: Champions of Health, an award that recognizes those who try to improve health outcomes at home and across the globe. "I never dreamed of this," says Dockrill, who also credits her colleagues on the vocational training team and the sponsor Rotary clubs for the project's success. "The dedication and tireless work from members like Samantha and Gary made this success a reality. It's overwhelming to know that you may have played a small part in saving the lives of hundreds of mothers and babies."
Rotary makes high-quality health care available to vulnerable mothers and children so they can live longer and grow stronger.