Rotarian treks to the top of the world
Though he grew up in the Netherlands, a nation that lies partly below sea level and has no mountains, Olivier Vriesendorp has long dreamed of high-altitude climbing. As a teen he was inspired by a National Geographic article about a Himalayan expedition. "I was very impressed by the men who climbed under extreme conditions where few people had ever been," says Vriesendorp, who in May successfully completed an expedition to the top of Mount Everest.
A member of the Rotary Club of Amstelveen, Vriesendorp, 47, didn't just climb Everest; by summiting the world's highest peak, he reached his goal to climb the highest mountain on each of the world's continents, known as the Seven Summits.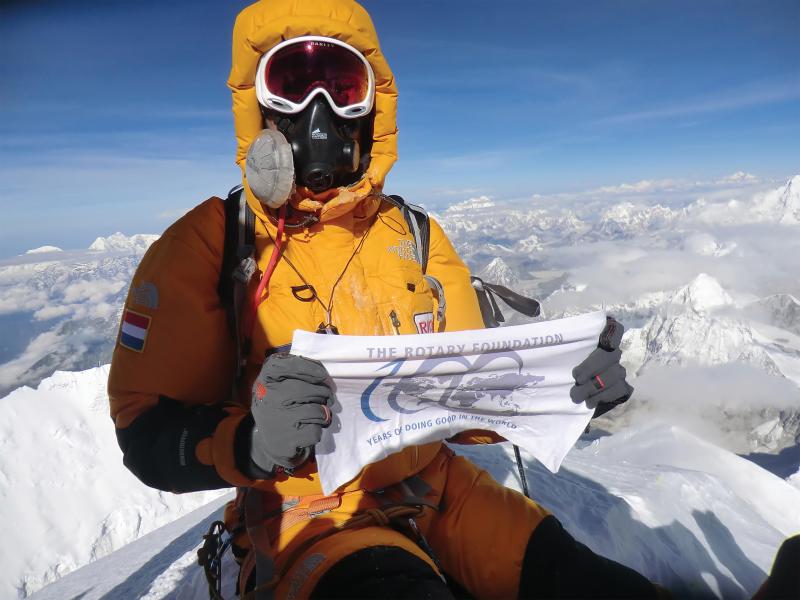 The father of two was already in excellent shape from climbing the first six summits, but he upped the training for Everest. For eight months he did daily cardio and core work, and on weekends typically hiked 15 miles with a heavy backpack. For six weeks before the journey, Vriesendorp slept every night in a special tent breathing oxygen-reduced air to minimize the risk of altitude sickness during the climb.
He traveled to Tibet in early April. The expedition team spent weeks adjusting to the mountain's low oxygen conditions. Summit Day (21 May) lasted 18 hours and was the most challenging part of the climb, with extremely steep, exposed sections. "It's super cold and you really need to be careful that fingers and toes don't freeze," he explains.
Vriesendorp, who had Rotary patches sewn to his down suit, also carried a Rotary Foundation flag and took it out when he reached the summit, where he enjoyed 15 minutes standing on top of the world. (He couldn't leave the flag because it would have been blown away or destroyed by 125 mph winds that whip the summit most of the year.)
Says Vriesendorp of his latest accomplishment: "As a father of eight-year-old twin boys, I hope that what I did will inspire them and make them see that if you set a clear goal – any goal, it doesn't need to be climbing – and you are determined to achieve it and prepared to work hard for it, you can."
–Anne Stein
• Read more stories from The Rotarian