Rotary gives $53.5 million to help eradicate polio
EVANSTON, Ill. (Jan. 25, 2018) — With 22 confirmed cases in 2017 to date, and just one case in 2018, the world is on the brink of eradicating polio, a vaccine-preventable disease that once paralyzed hundreds of thousands of children each year.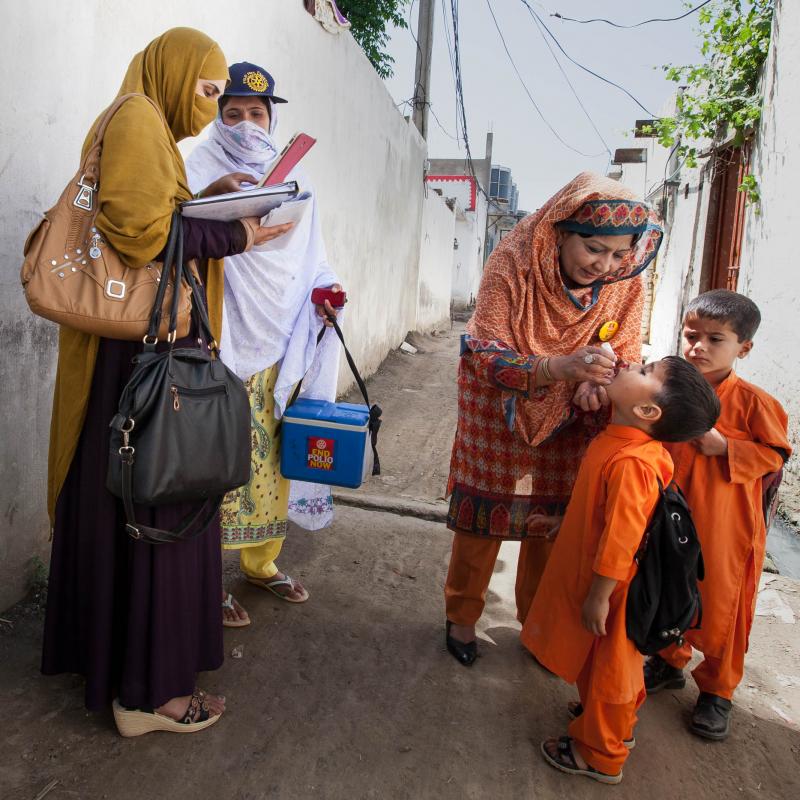 Rotary is giving $53.5 million in grants to support immunization and surveillance activities led by the Global Polio Eradication Initiative (GPEI).
More than half of the funds will support efforts to end polio in two of the three countries where polio remains endemic:
Afghanistan: $12.03 million
Pakistan: $19.31 million
Further funding will support efforts to keep 10 vulnerable countries polio-free:
Cameroon: $1.61 million
Central African Republic: $428,000
Chad: $2.33 million
The Democratic Republic of Congo: $6.48 million
Ethiopia: $1.82 million
Iraq: $2 million
Niger: $1.71 million
Somalia: $3.29 million
South Sudan: $835,300
Syria: $428,000
An additional $731,338 will fund research to be conducted by the World Health Organization (WHO), and another $518,000 will go toward technical assistance in West and Central Africa.
While significant strides have been made against the disease, polio remains a threat in hard-to-reach and underserved areas and conflict zones. Despite a historically low case count, as long as a single child has polio, all children are at risk, which underscores the need for continued funding and political commitment to eradication.
Rotary has committed to raising $150 million over the next three years, which will be matched 2-to-1 by the Bill & Melinda Gates Foundation, yielding $450 million for polio eradication activities, including immunization and surveillance.
Rotary started its polio eradication program PolioPlus in 1985, and in 1988 became a partner in the GPEI, along with WHO, UNICEF, and the U.S. Centers for Disease Control and Prevention. The Bill & Melinda Gates Foundation later became a partner. Since the initiative launched, the incidence of polio has plummeted by more than 99.9 percent, from about 350,000 cases in 1988 to just 22 confirmed cases in 2017 (as of 25 January). Rotary has contributed a total of more than $1.7 billion — including matching funds from the Gates Foundation — and countless volunteer hours to protect more than 2.5 billion children in 122 countries from polio.
About Rotary
Rotary brings together a global network of volunteer leaders dedicated to tackling the world's most pressing humanitarian challenges. Rotary connects 1.2 million members of more than 35,000 Rotary clubs in over 200 countries and geographical areas. Their work improves lives at both the local and international levels, from helping families in need in their own communities to working toward a polio-free world. Visit Rotary.org and endpolio.org for more about Rotary and its efforts to eradicate polio. Video and still images are available on the Rotary Media Center.
###
Contact: Audrey Carl, audrey.carl@rotary.org, 847-866-3424
---