Our Clubs
Knowledge network: Using member expertise and connections to grow
This club develops presentations on a particular subject - conflict, migration, and refugees - to help other clubs improve their projects
by Vanessa Glavinskas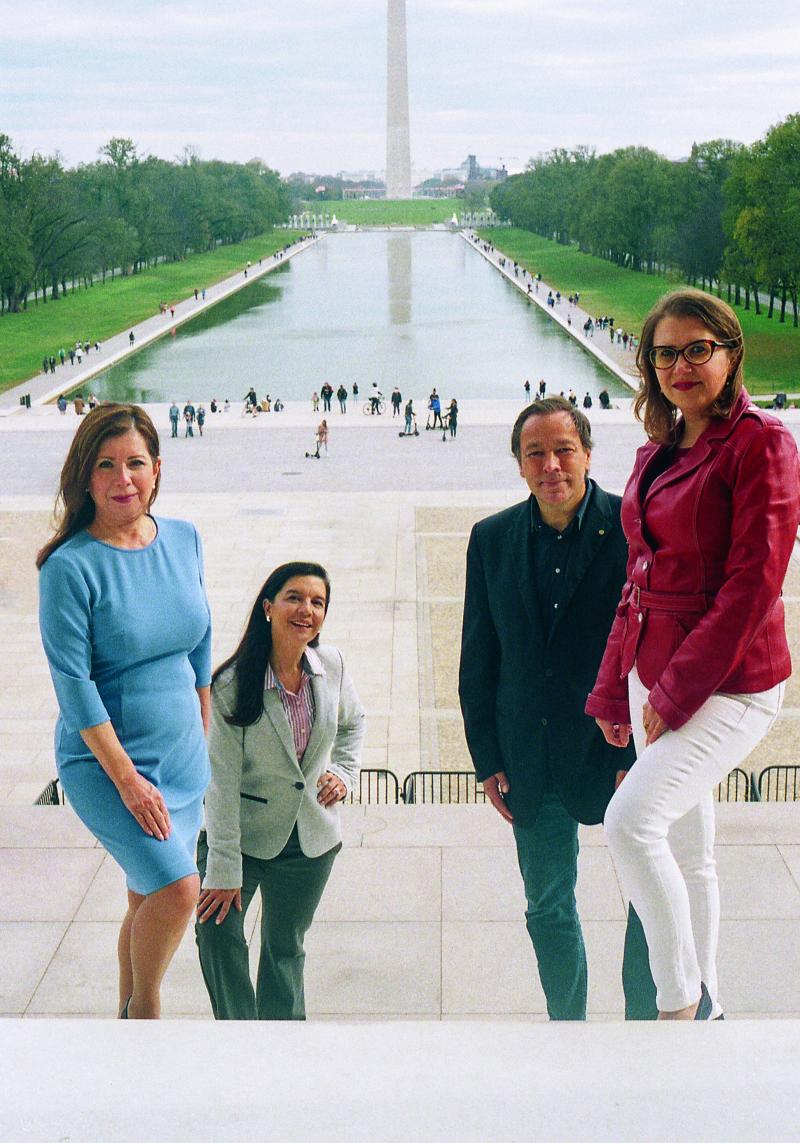 Quentin Wodon, an economist at the World Bank, joined Rotary to share his expertise, to network, and to help others. He has remained a member because he enjoys it. "I have been a Rotarian for 10 years," says Wodon. "My father was a Rotarian, and I was a Rotaractor in Belgium. I also did Rotary Youth Exchange, so I've known Rotary for a long time."
Wodon, who was a member of the Rotary Club of Capitol Hill (Washington, D.C.) and before that the Rotary Club of Washington, had been thinking about starting a club unlike any he had been a part of before. "I wanted to make it a knowledge club," he explains. "In Rotary, we have a lot of goodwill. But, by nature, it's extremely decentralized." That decentralization, he says, makes it hard to share best practices and evaluate effectiveness. He thought that if a club could focus on collecting information and disseminating reports, it would not only help other clubs improve their projects, but also enhance Rotary's authority among other international development organizations.
With this vision in mind, Wodon formed the Rotary Club of Washington Global a year ago with 38 members. "We accept both local members and members all over the world who join us online," he says.
The first meeting was held in person for members in the Washington area, with others joining via videoconference, but when the coronavirus pandemic prompted stay-at-home orders, the club switched to all-virtual meetings. That hasn't stopped its growth. "We're already at more than 50 members," says Manuela Mot, who serves as the club's membership chair and who, like a number of other members, works at the World Bank. "I think we actually got many members because of COVID-19. People want to feel that they belong somewhere right now."
Interested in making a difference in your community? That's what Rotary clubs do. Learn more about the many ways to get involved or find a club near you.
The club recently hosted a series of events on conflict, migration, and refugees, highlighting the expertise and connections of its members, many of whom work in international development. Those connections paved the way for the club to co-host, with the Organization of American States (OAS), an online conference on migration and refugees in June 2020. "We are trying to bring together the strength of Rotary with the strength of the institutions that we work for," says member Lara Bersano, who works for the Trust for the Americas, which is affiliated with the OAS.
While most Rotary clubs bring in a diverse roster of speakers to their meetings, the Washington Global club spends months developing a series of presentations that delve into a particular subject. Members solicit expert speakers, host webinars, and then put together a detailed report on the topic. Their first report focused on migration and refugees; the second examined education. "We aim to serve as a knowledge club or small think tank for Rotarians," Wodon says.
This model has proved attractive to younger professionals. "Many of our charter members are people under 40," Mot notes, and many are Rotary alumni. Mot, who is originally from Romania, is a former Rotary Peace Fellow. Bersano grew up in Argentina, where she participated in Interact, Rotaract, RYLA, and Rotary. "Many of our members are people who have benefited from Rotary in the past," Mot says. "They now want to give back to the community and help Rotary."
Low dues and flexible attendance options have also helped bring in younger members. Dues are set at $250 per year, with a $50 discount for members under age 35. The current membership rolls include people based in countries including the United States, Canada, France, and Uganda who work at organizations that include the World Bank, the Inter-American Development Bank, OAS, and USAID.
In 2019, Manuela Mot spent a month evaluating World Bank investments on the Philippine island of Mindanao, an area that has experienced conflict since the late 1960s. "Development is possible even in conflict-affected areas," she says. "The main target of the program was not only to build roads, but to have the factions make decisions together."
Mot observed how bank-funded infrastructure projects brought to the table Muslim and Christian stakeholders who in other circumstances might have been at war with each other. By working together on projects that would benefit everyone, the groups began to see one another in a new light and to build trust.
Mot gained the peacebuilding skills she puts into practice working for the World Bank through a 2009-11 Rotary Peace Fellowship at Duke University and University of North Carolina at Chapel Hill; she was the first Romanian to take part in the program. She's a member of the recently chartered Rotary Club of Washington Global, D.C.
The club sponsors a small community-based satellite club in Maryland where members can take part in local projects. Members are also working on the new Rotary Action Group for Refugees, Forced Displacement, and Migration – which was approved in November 2020 – and on a fellowship being formed for Rotary members interested in global development.
"Refugees are of interest to our members because they need support in every one of the seven areas of focus," Wodon explains. "It's also an issue that's going to get worse and worse."
Initial interest in the action group has been strong, and Wodon hopes the group will eventually serve as a kind of consultancy for clubs organizing projects that help refugees. "Knowledge is as important as funding," he says. "That's why the action groups are so important. They are Rotary's way to provide expertise." The new fellowship will provide a networking opportunity for members who work in global development, as well as a way to share information.
The swift growth of the Washington Global club is a testament to the commitment of members like Rose Cardarelli, who is new to Rotary but has already recruited three other members. "I think we have a responsibility to reach out, because people are interested but don't know how to approach the organization," she says. Cardarelli, who runs a nonprofit that focuses on education, is also Rotary International's new representative to UNICEF in New York City.
"Starting a new Rotary club is not like riding a bike. The people and the issues are different every time," says Bersano, who has previously helped to charter a Rotaract and a Rotary club. "But what's the same is the vision of Paul Harris. We are friends and help each other, and then we go out and help our community."
• This story originally appeared in the February 2021 issue of Rotary magazine.
---
Related content
6 humanitarians honored for their work with refugees
---