Rotary Day at the UN filled with peace champions and workshops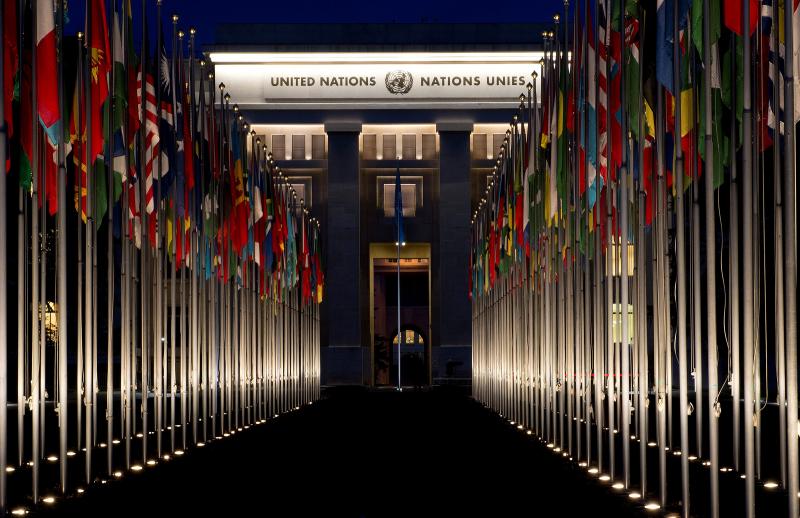 The Palais des Nations in Geneva, built as the headquarters for the League of Nations, remains an enduring emblem of humanity's hope for global peace, making it an ideal setting for this year's Rotary Day at the United Nations on 11 November.
Underscoring this year's theme — Peace: Making a Difference — the event will include workshops devoted to sustainability and peace, as well as a workshop on education, science, and peace, designed by and for young leaders.
A variety of speakers will contribute to the discussion, including Rotary International President Ian H.S. Riseley; Rotary Foundation Trustee Chair Paul A. Netzel; Walter B Gyger and Claudine Wyssa, the representatives of Rotary International to UN/Geneva; and Dr. Mohanned Arabiat, president of Generations for Peace.
Rotary General Secretary John Hewko will introduce each of the People of Action: Champions of Peace. They are:
Jean Best, Rotary Club of Kirkcudbright, Scotland
Taylor (Stevenson) Cass Talbott, Rotary Peace Fellow, Portland, Oregon, USA
Ann Frisch, Rotary Club of White Bear Lake, Minnesota, USA
Safina Rahman, Rotary Club of Dhaka Mahanagar, Bangladesh
Alejandro Reyes Lozano, Rotary Club of Bogotá Capital, Colombia
Kiran Singh Sirah, Rotary Peace Fellow, Tennessee, USA
Other highlights will include a polio-tulip-planting ceremony, updates on polio eradication, and closing remarks from Edwin Futa, dean of the Rotary Representative Network.
Peace partnership
Rotary Day at the UN culminates Geneva Peace Week. That event's organizers include the Institute for Economics and Peace, a global think tank that uses data-driven research to analyze peace and quantify its economic value.
This summer, the institute and Rotary announced a strategic partnership that will pair the two organizations' individual strengths — empirical research and community connections — and focus them on resolving conflict and achieving peace.
On 8 November, as part of Geneva Peace Week, the institute will join the Geneva Centre for Security Policy in hosting a panel discussion, "Building the Evidence for Better Prevention." Staged at the Maison de la Paix, it will systematically evaluate conflict prevention and peacebuilding methods in the context of a research framework.