A Changing Rotary for a Changing World
This report to the convention is an update on what the Secretariat has accomplished this year and how we continue to work hard to serve you — our members — so you can continue to serve your communities.
From Rotary International General Secretary John Hewko
Building a stronger Rotary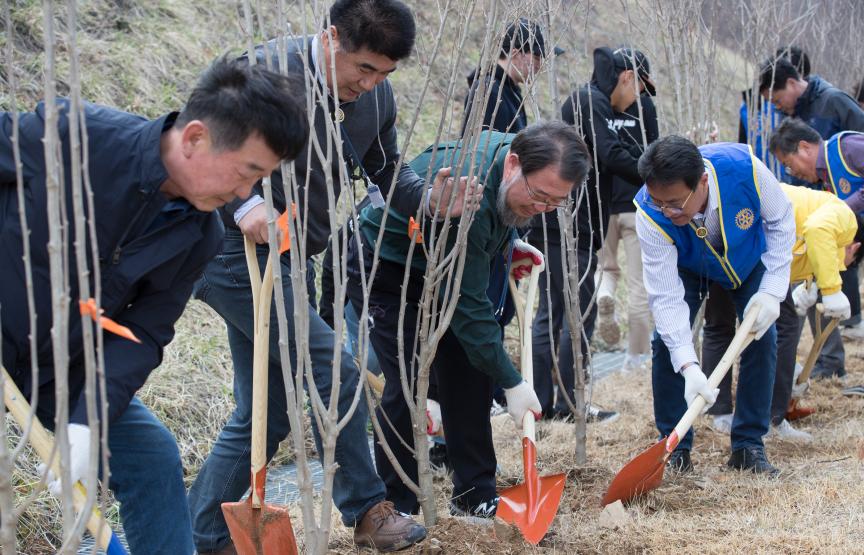 Rotary's long-term membership strategy aims to attract a diverse set of new leaders who share our commitment and vision for creating lasting change while also making the club experience more engaging so even more of our current members stay.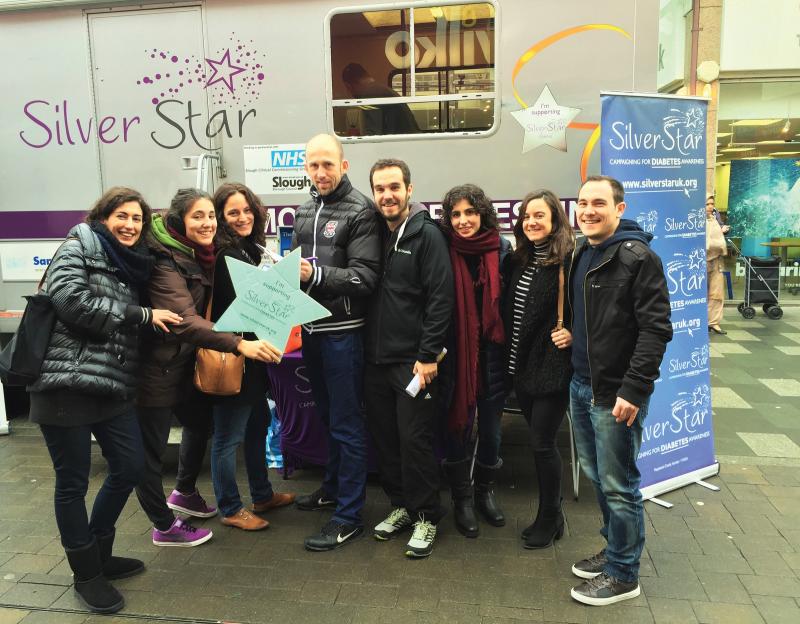 The first step to strengthening Rotary is to adapt to today's realities and challenges, so we remain relevant to current and prospective members.
Many clubs are implementing innovative ways to involve members and the community in Rotary. Whether they do it by creating new membership types, starting new clubs that accommodate busy schedules and different interests, or thoughtfully reexamining the style and frequency of their meetings, these clubs are discovering the value of changing to meet the diverse needs of today's business, community, and civic leaders. To explore and find your own innovative solutions visit rotary.org/flexibility for examples, FAQ, and other resources.
The manage membership leads program helps Rotarians connect with prospective members, relocating members, and those referred by current Rotarians. We received more than 15,000 membership inquiries this year, which resulted in about four new members joining Rotary each day.
Working closely with Rotaract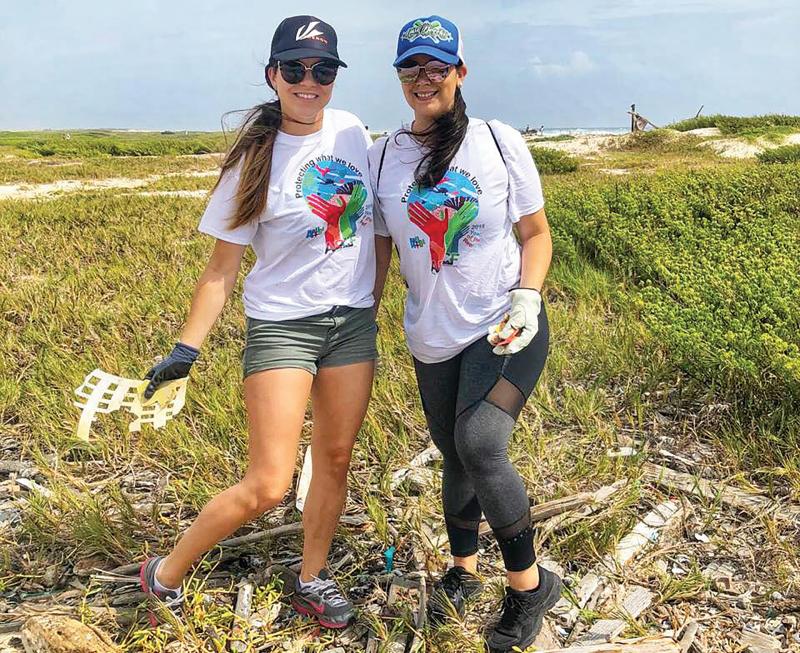 To extend Rotary's impact far into the future, we need to invest in the Rotary leaders of tomorrow. Nowhere is the passion for Rotary's future more visible than in our Rotaract clubs. In more than 9,000 clubs worldwide, Rotaractors demonstrate Rotary's values and passion for leadership, service, fellowship, diversity, and integrity.
This past year, RI President Barry Rassin challenged us to expand Rotaract membership and embrace every Rotaract club. This push resulted in the creation of 863 new Rotaract clubs.
You can help grow Rotary and strengthen connections with young leaders. Review the Rotaract Handbook, take an online course about starting a Rotaract club, or watch the Growing Rotaract webinar.
165210.00

Rotaract members
(Data as of 1 May 2019)
The digital experience
Part of improving the Rotary experience is making sure that members have the tools they need to run their clubs, learn new skills, apply for grant funding, and quickly, securely, and easily contribute to The Rotary Foundation.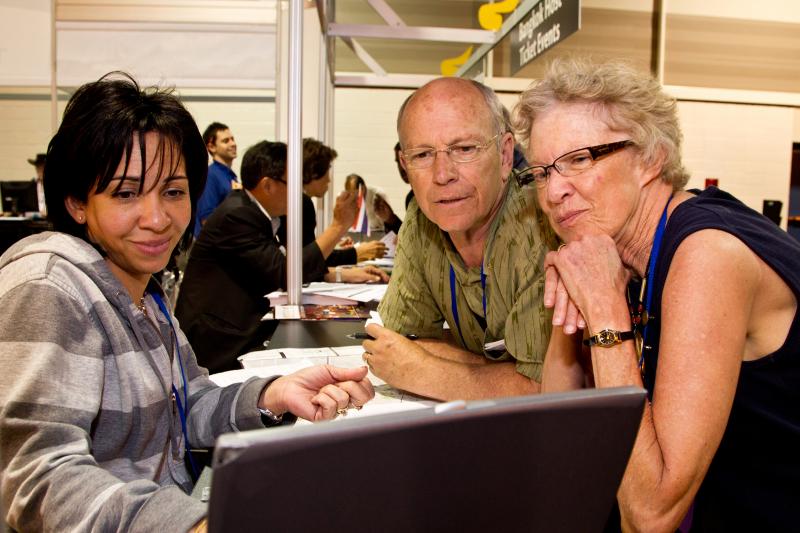 We listened to ideas from members and enhanced several online tools to better meet members' needs. Tools that now offer a better user experience include:
Building on the success of these projects, we have already started enhancing other digital tools:
Peer-to-peer online giving will empower Rotary's donors to raise money for The Rotary Foundation on social media. Soon, you'll be able to use your personal and social networks to raise funds to honor important events like birthdays or participation in athletic events.
My Rotary will be easier to navigate and search from any device. Club and district leaders will be able to manage their information quickly and easily while staying connected with Rotary. This will allow you to focus on what matters: serving your clubs, your members, and your community.
Serving our communities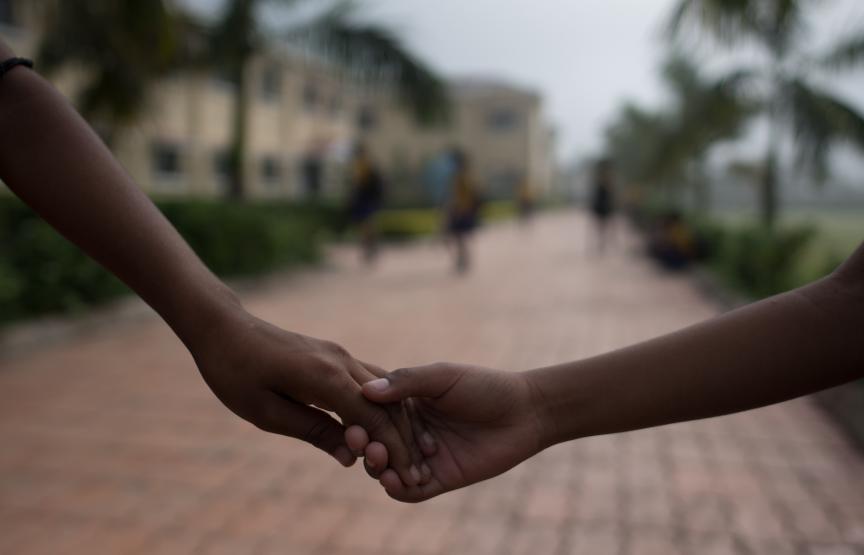 Rotarians are people of action, motivated to make their communities better by making a direct and lasting impact through service. Through our six areas of focus and our fight to end polio, Rotary continues to create lasting and positive change.
Making progress to end polio
Working with our partners, Rotary has made incredible progress to end polio despite enormous challenges. We're optimistic that we can finish the job, but getting to zero cases is going to take even more perseverance.
Nigeria has remained polio-free since 2016. We're employing new ways to reach more children in some of the most difficult places to deliver the polio vaccine, like Pakistan and the Lake Chad region in Africa.
World Polio Day continues to gain momentum as a global day of awareness and advocacy. On 24 October, clubs proudly highlighted their contribution to polio eradication by organizing more than 4,200 community events in more than 100 countries to educate and engage the public.
In Egypt, Rotary members took over the streets of Port Said for a run, a car rally, and a blood donation drive. In Spain, the Rotary Club of Córdoba hosted a World Polio Day fundraiser and donated 50 specially equipped bicycles to polio survivors. And in Brazil, hundreds of members worked alongside the Ministry of Health to promote polio immunization throughout the country, helping vaccinate more than 11 million children.
Funding your global projects
Rotary clubs and districts worldwide show great enthusiasm for global grants, as the number of applications and approvals increases year after year. During this Rotary year, 1,117 global grant applications had been approved, with total funding of $79.7 million (as of 1 May). Worldwide, 90 percent of districts and 13 percent of clubs are participating in global grants to make the world better through sustainable projects. In addition, 451 district grant applications were approved — representing 83 percent of districts worldwide — to support more than 12,000 activities.
As part of our focus on project sustainability and impact, any club or district that applies for a global grant to support a humanitarian project or a vocational training team are required to conduct a community assessment. These assessments help our members understand the community they wish to serve and what it needs, forge stronger relationships with community partners, and clarify what success would mean for that community and the beneficiaries. These assessments make all the difference in a project's long-term success, or sustainability.
Our regional grants officers continue to help all Rotary members apply for and start their projects. Grant officers can review ideas, advise on the project's eligibility for a grant, share resources, outline what is needed for the application, and ultimately save clubs and districts a lot of time.
$

7.10

mil

in mothers and children project grants
$

2.80

mil

in peace project grants
$

16.50

mil

in water, sanitation, and hygiene grants
$

10.60

mil

in education and literacy grants
(Data as of 1 May 2019)
$

32.70

mil

in disease prevention and treatment grants
$

9.80

mil

in growing local economies grants
Supporting The Rotary Foundation

We set a comprehensive fundraising goal of $380 million for the year. Thanks to the generosity of our donors, as of 30 April, Rotarians and friends of the Foundation had raised $318 million toward this goal.
For the 11th consecutive year, the Foundation received a four-star rating from Charity Navigator, the leading independent charity evaluator in the U.S. This rating placed the Foundation among the top 1 percent of charities evaluated by Charity Navigator.
This year, The Rotary Foundation established the Rotary Disaster Response Fund. Districts that have been affected by a disaster can now use Rotary disaster response grants to support their own projects or work with established relief organizations to help their communities recover. Districts should work closely with officials and local groups to ensure that the funding will meet a specific community need.
Partnering for impact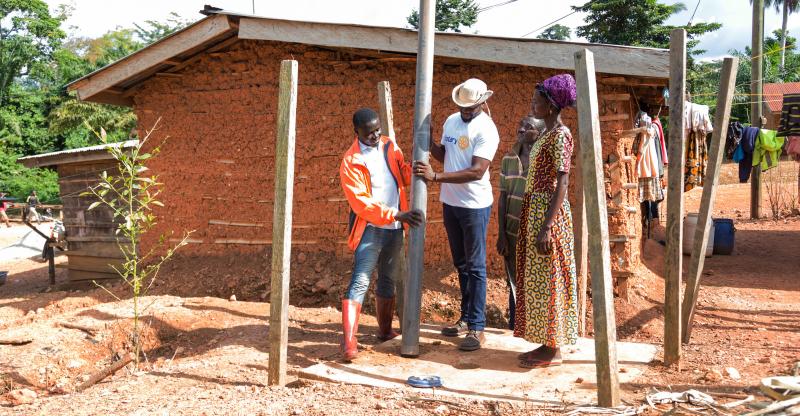 Rotary has developed partnerships with many organizations, expanding our reach and opportunities to serve.
This year, we've signed agreements to renew or extend our work with several organizations, including the U.S. Peace Corps, Ashoka, and ShelterBox. Working with our partners, our members have been able to plan effective and sustainable projects that fill the needs of their communities.
Working for peace
Each year, Rotary awards up to 100 fully funded fellowships for dedicated leaders who want to study at one of our peace centers. For programs that started in 2019, we had more applicants than ever before — a 44 percent increase from last year. Nearly 600 qualified applicants were interested in studying peace and conflict resolution. There are now 98 fellows studying at Rotary Peace Centers in Australia, England, Japan, Sweden, Thailand, and the U.S.
The Rotary Peace Centers professional development certificate program, a three-month course in peace and conflict resolution, will become a one-year program that emphasizes peace, development, social impact, and leadership. We are working to establish certificate program centers in four priority regions around the world by 2030. The first center will be open by 2021.
Telling our story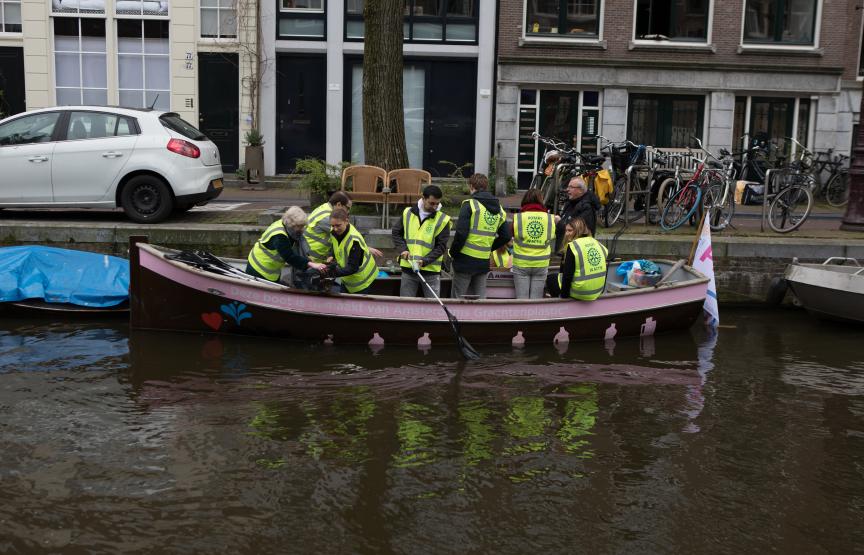 Around the world, clubs and districts are sharing compelling and impressive stories about all the ways that Rotary members are people of action, as part of our worldwide effort to raise awareness and understanding of Rotary. By positioning ourselves as people of action, we show the public that Rotarians have the unique experience, vision, connections, and drive that enable them to make an impact. It also illustrates how we bring our vision to life.
This year, the campaign grew and built momentum as we added creative materials, including a new video and photos, additional templates for print ads, and social media posts that feature powerful new action verbs.
The Rotary Brand Center is the key online tool that helps clubs create their own visual and digital materials. During this Rotary year (as of 1 May), more than 230,000 visitors had come to the Brand Center to download 150,000 ads, resource guides, images, and other assets to help them tell the story of the impact they're making.
In response to member feedback, we're updating the Brand Center to make it easier to download brand assets, templates, and other resources for telling Rotary's story.
Through the power of virtual reality, we are helping potential supporters and members experience the power of Rotary. In October, we introduced our newest virtual reality film, "Two Drops of Patience." This immersive film shows viewers what it takes to vaccinate children against polio. Virtual reality has given us a creative way to engage potential and current donors, members, and the public.
Rotary in the media
Engaging social media
This year, we used our social media channels to inspire conversation, show examples of our impact, and engage supporters in our work. We did this by:
Launching a new video series, Field Notes, which takes viewers around the world to see how our members are people of action
Traveling with Jeffrey Kluger, an award-winning journalist from Time magazine, and documenting details of his trip of a lifetime to Nigeria to visit and participate in the polio eradication efforts
Creating interactive videos on such topics as travel as a force for peace with Rick Steves and astrophysics with Fabio Pacucci
The future of Rotary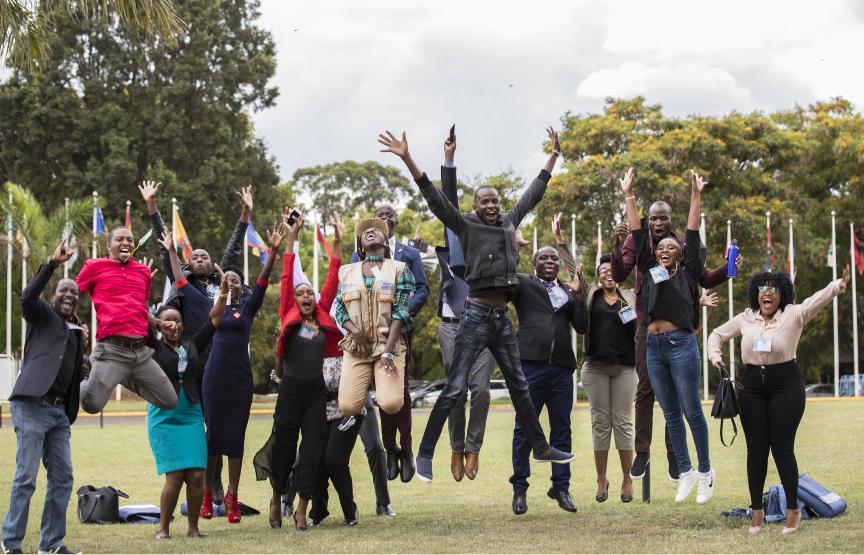 Rotary members have a vision for the future. And all people of action know that turning a vision into reality requires a thoughtful, strategic plan of action.
In June 2018, the RI Board of Directors and Rotary Foundation Trustees approved four new strategic priorities and objectives that will be the foundation of our next strategic plan. This plan sets the framework for our future so that we can continue to thrive as a respected, dynamic organization that advances communities worldwide.
We officially launch the strategic plan on 1 July, with a five-year strategic horizon. We plan to keep you informed and engaged every step of the way.