Where are they now?
---
Changing health care in sub-Saharan Africa
By Kate Silver
Hear Gregory Rockson speak at the 2023 Rotary International Convention in Melbourne.
Growing up in Ghana, Gregory Rockson always figured he'd become a doctor. At least, that's what his parents expected.
"There's this African thing," he says, "where every family wants at least one of their children to be a medical doctor."
The youngest of five, he believed that medicine was his calling. But in college, he embarked on a global and academic adventure, supported in part by a Rotary Ambassadorial Scholarship, that revealed a different path — one where he would make a bigger impact than a single doctor ever could.
His college adventure began in perhaps the most unlikely of places for an 18-year-old from West Africa: Fulton, Missouri, population 12,000.
His sister had encouraged him to attend college abroad and offered to pay for it. At the time, Rockson was going through a Winston Churchill phase, and the British prime minister had given a famous speech about the Iron Curtain in Fulton on the campus of Westminster College, where there's now a museum in his honor. "There was all this history and excitement about history in one place," says Rockson. He enrolled in 2009, expecting to go the pre-med route.
As part of the core curriculum, he took an early U.S. history course and loved it. "I was the best student in the class, which was very weird for a Ghanaian," he says with a laugh. It changed everything. With the encouragement of his professors and his adviser, Carolyn Perry, Rockson realized he did not want to become a doctor, which would mean spending another decade in school. Instead, he switched his major to political science and pursued every opportunity he could find: He served as a legislative intern for the New York State Assembly, participated in a Public Policy and International Affairs fellowship at Princeton University, completed an internship at the Center for American Progress in Washington, D.C., and interned at a think tank in San Francisco.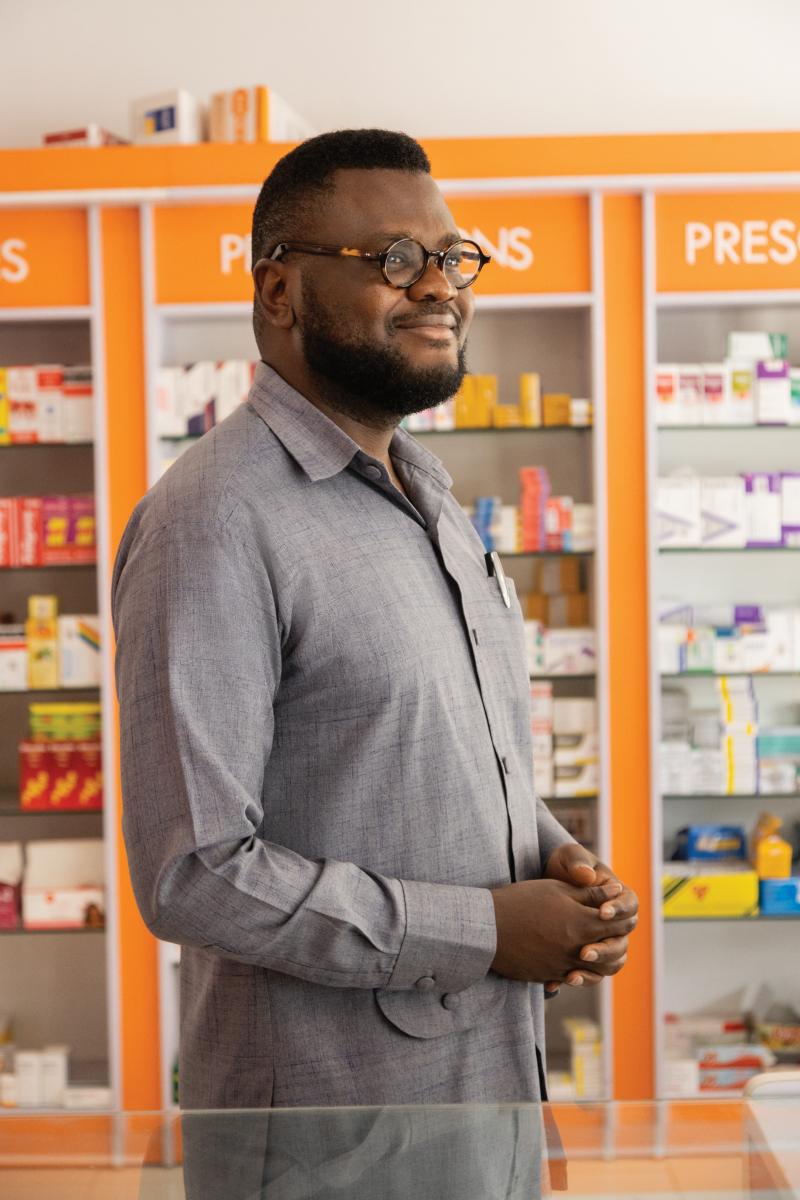 Between those programs, he came across another opportunity, the Rotary Ambassadorial Scholarship. He applied through the Rotary Club of Fulton and was soon bound for Denmark, where he would attend the University of Copenhagen, hosted by the Rotary Club of Copenhagen International. There, he organized an initiative called Six Days of Peace in reference to the Six-Day War between Israel and its Arab neighbors in 1967. The initiative, which included a meeting between Israeli and Palestinian diplomats, garnered so much attention that Rockson was selected to join the World Economic Forum's Global Shapers Community and invited to speak at the organization's annual meeting in Davos, Switzerland. He didn't know it at the time, but he was laying the groundwork for his career.
When Rockson graduated from Westminster in 2012, his mind was on fire. The U.S. — and the San Francisco Bay Area, where he'd spent time working — was in the middle of a tech revolution, and he was eager to use his newfound skills and network to solve problems, starting with health care challenges in Ghana.
Growing up, Rockson suffered from a number of medical conditions and spent a lot of time in the hospital. His mother, a teacher and the family's main breadwinner, borrowed money from friends to afford his medicine. As Rockson grew older, he learned that cost wasn't the only challenge. The drug supply chain was broken. Pharmacies often couldn't keep critical medicines in stock, and there was no pricing transparency or infrastructure connecting patients, hospitals, and pharmacies. A doctor could prescribe a medication to a patient, and the patient would visit multiple area pharmacies in hopes that the medicine was in stock and not too expensive; at one pharmacy a drug could cost twice as much as at another, because there was no pricing regulation.
At 22, he co-founded mPharma to improve the drug supply chain by working with a network of pharmacies to negotiate better prices from pharmaceutical companies and make drugs available where and when patients need them. "If consumers have access to information, that allows them to decide not to be a customer of a particular business," he says. "Businesses feel that, and it forces them to change."
To help fund the business and gather advice, Rockson reached out to contacts he'd met at the World Economic Forum. They immediately saw the potential. In time, some major pharmaceutical companies did as well, along with other investors. Today, through mPharma, more than 1,000 hospitals and pharmacies in nine African countries have helped more than 2 million people save on medications. "Without the Rotary scholarship that took me to Copenhagen, none of this would have happened," says Rockson.
Gregory Rockson
PPIA Junior Summer Institute Fellow, Princeton School of Public and International Affairs, 2011
Rotary Ambassadorial Scholar, University of Copenhagen, 2011-12
Bachelor's in political science, Westminster College, 2012
It was just the start. Through his work with mPharma, Rockson saw that people were using pharmacists for basic health needs. "The pharmacist is actually the most accessible health care worker in the community," he says. His next idea: What if people could see a doctor or nurse within their neighborhood pharmacy, similar to clinics at CVS or Walgreens? His team launched a franchising model in 2018 called QualityRX, which invests in renovations so that pharmacies can provide complimentary health care via a nurse and virtual doctors, and patients simply pay for prescriptions. "Today, we've become the largest operator of community pharmacies in sub-Saharan Africa," he says, "and we deliver medical care to over 250,000 patients each month."
Rockson is as modest as they come, even as his work is heralded internationally, with honors and awards from Bloomberg, the Skoll Foundation, the Bill & Melinda Gates Foundation, and most recently, Rotary with its Alumni Global Service Award. "My life journey has always been about people who've taken bets on me, who have seen things in me I didn't even know about myself," he says. "Even when I didn't think I was worthy of their support, they still gave me that support because they saw something in me I didn't see."
Now, he works to find that spark in others. "We have well over 1,200 employees in the company, and it has always been my joy taking the young, new employees and giving them opportunities to grow," he says. "Because that has been the story of my life."
But perhaps his greatest joy is the impact that he's had on the health of friends, family, and hundreds of thousands of people in Africa. He says his aging parents are two of his most important patients. "We have two programs for chronic disease management, and my mom and dad were among the first patients enrolled," he says. "I always tell people, I am the No. 1 user of my own services."
He may not be a doctor. But he has no regrets.
This story originally appeared in the May 2023 issue of Rotary magazine.
---
Related stories
Aiding accessibility: Ronald Kasule