Called by a cause: Rotary Club of Mental Health & Wellness
By Dinah Eng
Over the years, whenever Maribel Khoury-Shaar's Rotarian husband suggested she join Rotary, the busy doctor declined. But when she learned that a Rotary club dedicated to mental health and wellness was forming, she jumped on board.
It came at just the right time for the primary care physician. After the pandemic started, most of her patients were anxious and depressed, and she was getting burnt out as a health care provider. "This club reinvigorated my life because I was around like-minded people who wanted to do the right thing," says Khoury-Shaar, president of the Rotary Club of Mental Health & Wellness in District 5280, which covers parts of Los Angeles County in California. The club meets online and welcomes members to join from anywhere in the world. Its current members include professionals in the mental health field and others who hold the issue close to their hearts.
The club, chartered last May during Mental Health Awareness Month in the U.S., is one of the first cause-based Rotary clubs to focus on mental health and wellness and was the idea of Guity Javid, the 2021-22 governor of District 5280. It's one of a growing number of cause-based clubs around the world.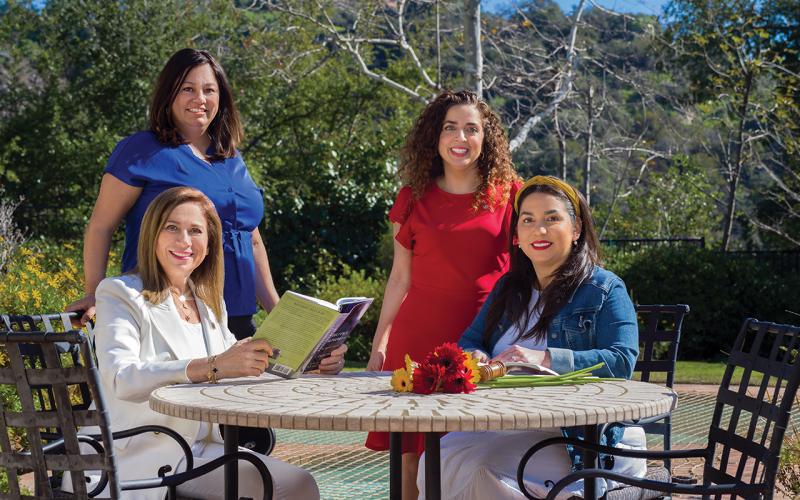 The year before Javid's term, the district had already chartered one cause-based club, District 5280 Rotarians Fighting Human Trafficking. Javid identified three other causes that were personal priorities and helped launch these clubs: Mental Health & Wellness, Rotarians for Environmental Action, and Rotarians in Service for Equality (R.I.S.E.), which focuses on LGBTQ+ concerns.
"I was pleasantly surprised at the number of Rotary spouses who might never have joined Rotary, but for these causes," Javid says. "We also attracted younger members. Mental health has been a huge crisis during the pandemic. People were isolated, and many turned to alcohol and drugs to cope." Eliminating the stigma associated with mental health is a priority, she adds.
Mental health and especially the issues of depression, anxiety, and suicide have caught the attention of Rotarians worldwide. In addition to the new club, there is a Rotary Action Group on Mental Health Initiatives as well as a partnership between Rotary International in Great Britain and Ireland and the nonprofit Bipolar UK.
While the Mental Health & Wellness club is relatively new, members have launched notable initiatives, including an effort to award $5,000 in scholarships annually to students pursuing graduate-level work on mental health. Members assembled and distributed coping kits containing stuffed animals, supportive cards, and other items to children with burn injuries. And they promoted mental health and wellness among school-age children through the Inspiring Kindness initiative, a collaboration with other clubs, schools, and the Alex Montoya Foundation.
Another priority is serving military veterans, including by helping refurbish an American Legion post in Glendale, California.
Club member Marisol Chianello, an attorney in Glendale, became the point person for that project. She joined the club because she's dealt with mental health issues herself and wanted to create resources for others, she says. Her husband is a Gulf War veteran, and when one of his friends told her about the American Legion post's challenges, she immediately wanted to help.
"Half of the space had to be rented out for income to survive," Chianello says. "The other half was used for storage and was filled with uniforms, medals, and military memorabilia. With support from other district clubs, we cleaned it up and reopened the space." The location now has a space where veterans can seek calm and, eventually, referrals to resources to improve their mental health. Chianello says the American Legion is working with the club to determine how Rotary can help maintain the site.
Club President-elect Judith Verduzco, a therapist in Glendale, was also drawn to join because of the club's focus. Like Khoury-Shaar, Verduzco has a Rotarian husband who encouraged her to become a member.
In addition to building on projects underway, Verduzco says her focus will be on suicide prevention and partnering with organizations that provide mental health services and promote awareness of the issue. "As a clinician, I encourage my clients to call 988 in the event of a crisis," she says, referring to the national Suicide and Crisis Lifeline modeled on the 911 system and launched last year.
According to the Centers for Disease Control and Prevention, the number of suicides in the United States increased 4 percent from 2020 to 2021, after declines in 2019 and 2020. "My vision is to call attention to the magnitude of the problem," Verduzco says.
She is interested in research on community gardening's mental health benefits. She plans to collaborate with other cause-based clubs and cities in Los Angeles County to create what are known as tranquility gardens, to try to provide peace and hope to underserved communities.
"We've done a lot in a short period of time," Verduzco says. "We meet virtually twice a month, but outside of that, I want to create opportunities for fellowship and service. Mental health affects everyone, and this club is a great way to get friends involved so that we can stay connected while doing good."
This story originally appeared in the April 2023 issue of Rotary magazine.
Members of the Rotary Action Group on Mental Health Initiatives strive to improve the mental health of our communities and build friendships.