Our clubs
4 questions about ... attracting young people to Rotary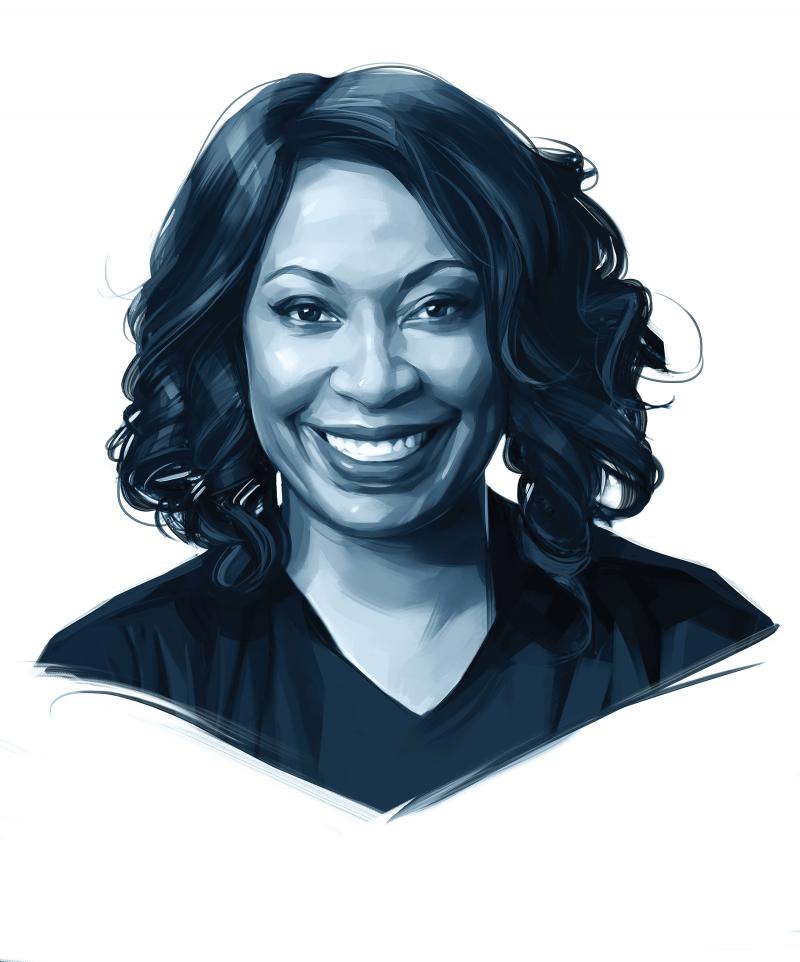 with LaShonda Delivuk
President, Rotary Club of Lynchburg-Morning, Virginia
1. You're 28 years old, and you joined Rotary when you were 23. Why did you get involved?
I live in a city where we really value community service. I heard about service clubs that way. At my Rotary club, we look to the community to let us know where the needs are, so we change our beneficiaries every year. I liked that we were actively involved in meeting the needs of the moment rather than being boxed in to one thing.
I also really liked that there were so many different types of people in the room that I wouldn't normally meet. Our former and current city manager are both in our club. I would not ordinarily have an opportunity to talk to the city manager, and now they are my friends. There are so many opportunities to be mentored by members of the club, people who are much further along in their journeys as CEOs and upper management. My husband and I had just started our business, and I have learned so much about entrepreneurship from people in the room.
2. How can Rotary clubs reach more young people?
I think many people just don't know about it. I have gotten in the habit of telling my friends about Rotary and what we are up to. I try to post about it on my personal Facebook wall. Word of mouth is extremely powerful; do projects that get you excited so that you naturally want to talk about them with your friends.
Millennials don't like to be talked at. They want you to talk with them and have a dialogue. Take people out for coffee – whether millennial, middle age, or older person. Talking with people is never going to go out of style.
3. Your club has grown from 40 to 60 members in the past four years. What can struggling clubs do differently?
We can't expect a vibrant club when we only invest in it on our meeting day; we have to have Rotary experiences outside of the meeting. People weren't going to service projects, because they didn't know when they were. We started to send email newsletters and post on our website and social media. We also have printed versions of things. You have to make sure you communicate in enough ways that everyone is reached.
We helped members find more opportunities to be with each other. I just added a page to our website called "Support a Rotarian." Often our members are part of fundraisers on their own, so it makes it easy for members to support each other.
We need to stop worrying about the numbers and worry about the people behind the numbers. If clubs return to family and fellowship, they will be fine. Celebrate life's events like getting into college or a promotion at work, and thank people for showing up. We have pregnant women, people with kids, and people with grandkids. We had so many people have their first child that we made Rotary onesies and gave them away. We are giving and serving, but it's not the main motivator; the motivator is that we have a community here and we, as a community, have a desire to serve.
4. What role should young people play in a club's member recruitment strategy?
People are more than numbers and labels. I'm cautious of elevating any age group, because we are all important. If we are recruiting recent retirees, these people are incredible, have lived full lives, and have money to give. Millennials are just one piece of the puzzle. Rotary attracts service-minded people, whatever their age.
• Illustration by Viktor Miller Gausa. Read more stories from The Rotarian