3D printers to the rescue
Rotary members join 3D print enthusiasts to make personal protective equipment in short supply due to the COVID-19 pandemic
An army of hobbyists and educators equipped with 3D printers are producing face shields and other personal protective equipment (PPE) to help frontline health care workers battle the coronavirus.
Among them are two Rotary members, who are using their knowledge and resources — along with their Rotary connections — to tackle the shortage of PPE caused by the COVID-19 pandemic.
"Rotary gives us a unique opportunity to connect with others throughout the world. Once someone gets an idea, we have the means to get it funded and act on it."

— Jay Givens

Scott Franklin, a professor of mathematics and computer science at Wayland Baptist University in Plainview, Texas, USA, brought home his university's four 3D printers and is creating about 24 face shields a day. The Rotary Club of Plainview, of which he's a member, has supported his efforts through grants, donations, and encouragement.
Meanwhile, Jacob Lasorso, who teaches 3D printing design at Suncoast Technical College in Sarasota, Florida, USA, created a home workshop with six 3D printers he assembled from his school and others and is producing close to 48 face shields a day. His initiative is supported by members of his Rotary Club of Venice Sunrise in Florida.
The 3D printing process uses a special printer to create a three-dimensional object from a computer-aided design (CAD) model, usually by successively adding material layer by layer. The material varies but is most commonly a plastic filament that's sold in rolls and resembles the line on a weed trimmer. Both Franklin and Lasorso use polylactic acid filament, which is eco-friendly and affordable at about $25 a kilogram.
Short time-lapse video of Lasorso's printer creating a visor
---
The advent of lower-priced 3D printers made it possible for many more enthusiasts to buy them and make 3D objects, and for smaller schools and colleges to create 3D printing labs. All these new printer owners, enthusiasts, and instructors have filled the internet and social media with communities of makers who post their designs online.
Because of the shortage of personal protective equipment, these communities have been creating and sharing their designs for face shields and other medical gear. The U.S. National Institutes of Health (NIH) has partnered with other U.S. agencies and leaders in the 3D print industry to curate some of these designs into an online collection to encourage production. Many of these designs have been reviewed, tested, and approved for clinical use when higher grade equipment is not available.
Lifesaving hobby
Franklin found the design he is printing off this online collection. He was on break at Wayland Baptist University when he realized classes would shift entirely online, and obtained permission to bring all four of the university's 3D printers home.
Franklin admits that his initial motivation was to have something to do while in isolation. But after seeing social media posts on the maker groups he belongs to about using 3D printers to create personal protective equipment, he knew he could do more.
The MakerBot Replicator Plus, a more advanced printer in Franklin's arsenal, can complete two of the thin plastic rims per cycle, while the other three machines print one. A full cycle takes about an hour and a half. For the part covering the face, Franklin is using transparency film pierced with a 3-hole punch which attaches to knobs on the rim.
An event like the pandemic happens and through Rotary you have such a broad spectrum of expertise and mission-mindedness. There are people looking for new ways to serve and make the world better.

— Scott Franklin

"We don't use transparencies anymore in our classrooms. We all have projectors," Franklin says. "So we had stacks of unopened boxes in the math department. It's an appropriate choice for the front because it can be reused and disinfected."
Wayland's library also donated seven boxes of transparency film. Franklin's children, including his daughter, Emily, a member of the Wayland Rotaract Club, helped punch holes and assemble the face shields. The Plainview Rotary Club is applying for a district grant to purchase another $3,000 printer. After the need for protective equipment wanes, the Rotary club will donate the printer to the Rotaract club to use for service projects.
In addition to its financial support, the Rotary club is using its connections to help with distribution. The local hospital administer and a nurse are members of the club, and supplied health care workers there with shields. The wife of Wayland University's president is involved with a local hospice, and through the hospice, the club learned that about 30 nurses from Lubbock, Texas, traveled to New York City to help with the pandemic there. The club sent shields as part of a care packet.
"Rotary gives us a unique opportunity to connect with others throughout the world," says Jay Givens, president of the Plainview Rotary Club. "When someone gets an idea, we have the means to get it funded and act on it."
Working day and night
In Florida, Lasorso also uses transparency film in his PPE. Suncoast Technical College, where he works, donated 1,000 sheets. The design he is using, which the NIH approved, includes a visor that prevents splatters from going up and over the transparency sheet. Elastic bands, which he found on the handicrafts website Etsy, secure the visors around the back of people's heads.
Like Franklin, Lasorso got permission to bring the college's 3D printers home at the start of the stay-at-home order. He and the county's certified technical education director obtained several more printers from nearby schools that agreed to lend them. His setup prints four visors a machine every 12 hours. Because of the amount of time it takes, Lasorso sets them to print overnight, and starts a new cycle every morning.
"We fall asleep and hear the 3D printers on the other side of our house," says Lasorso's spouse, Mallory, who also is a member of the Venice Sunrise club. "It's like white noise at this point."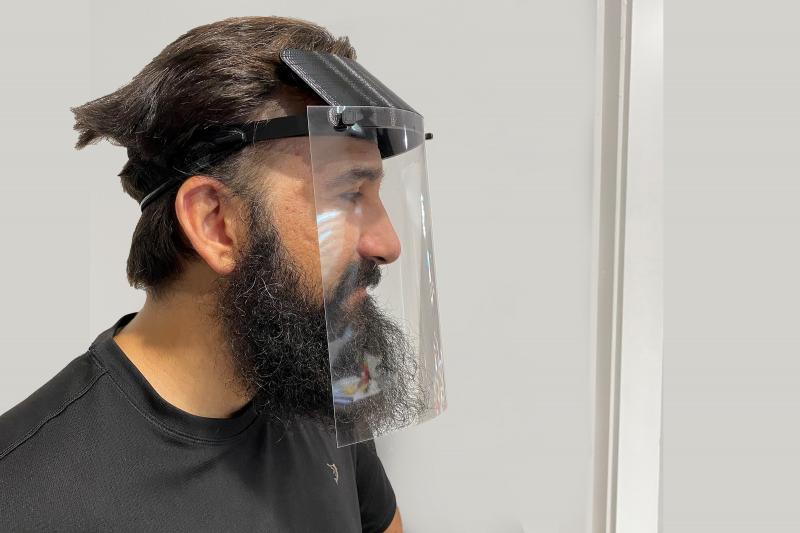 Mallory created a Google form that she posted on Facebook for people to request face shields. Using connections through the club, they've distributed visors to medical offices and clinics. They also sent several to firefighters in Tampa, Florida, and 20 to the son of a club member who runs several nursing homes in Las Vegas, Nevada.
The Venice Sunrise club has paid for additional materials, supplies, and maintenance parts to keep production going. In addition to personal donations, they received $4,000 from the Charles and Margery Barancik Foundation, which supports causes in Florida and Chicago, Illinois.
Mallory says she and her husband didn't join Rotary for the networking. But the connections they've made through the club are a big part of what they enjoy and what makes their club effective.
"Whatever reason you join, it's the common desire to do good in the world that holds us together," she says.
Franklin agrees: "We all have the same heart for service, the same heart to make our community a better place. An event like the pandemic happens and through Rotary you have such a broad spectrum of expertise and mission-mindedness. There are people looking for new ways to serve and make the world better."