Italian club uses expertise to aid in coronavirus fight
Members help launch site so merchants can sell goods, organize supplies to make sanitizer, and provide food to health care workers.
by Ryan Hyland, Rotary International
While Italy has been largely locked down to fight the coronavirus, members of the Rotary Club of Morimondo Abbazia have galvanized support — and a measure of hope — for people and businesses reeling from the effects of the pandemic.
Their efforts are addressing both immediate and long-term needs: donating meals to health care workers, organizing a supply chain to get the ingredients for liquid sanitizer, and helping businesses that depend on in-person commerce move their operations online.
We are obviously in an unprecedented time. In the spirit of Rotary, we again used our network and expertise to help communities.

– Pier Metrangolo, member of the Rotary Club of Morimondo Abbazia, Italy

Italy has been hit hard by COVID-19, the illness caused by the coronavirus, with more than 183,000 cases and 24,000 deaths, mainly in its northern region. The government took sweeping action in early March, essentially prohibiting all movement of people in the northern region and closing all nonessential businesses. Soon after, it expanded those restrictions to the entire country.
Italy's economy will be badly damaged, with small and medium-sized businesses affected the most. Club members in Morimondo, a town in northern Italy near Milan, wanted to help shops and merchants through the crisis.
Delivering lifeline for businesses
Club member Davide Carnevali, co-founder of an information technology firm, proposed an initiative that would involve the club and the company, Mitobit. They would work together to create an e-commerce platform where small and medium-sized businesses could promote, sell, and deliver their products.
In Italy, where only 10 percent of all businesses sell goods online, the website gives these merchants an important boost now and in the future. "We want to change their whole approach to their business that will be sustainable long after the shutdown," Carnevali says.
The club and Mitobit launched the site, Consegnacasa, meaning "home delivery," during the second week of March. Mitobit developed and designed the site, and the club members handled legal support, communication, and promotion. The site offers merchants free advertising to showcase their goods and offers customers an easy online payment system and delivery service.
One of the biggest challenges for Italy is what happens after the pandemic ends … We wanted to do our part in setting them up for success when things get back to normal.

– Rotaractor Alina Dorosenco

Carnevali says the first deliveries began in early April. The club outlined safety measures for merchants to take during deliveries, including wearing masks and gloves and, if possible, avoiding in-person contact with customers.
Members also worked with the Rotaract club that Morimondo Abbazia sponsors to contact businesses that already had some online or social media presence, such as a Facebook page, even though the companies weren't conducting business online. Rotaractors developed a social media strategy to communicate directly with these merchants. The club also created social media lessons to help business owners learn more about advertising on Facebook, Instagram, Twitter, and other channels.
"One of the biggest challenges for Italy is what happens after the pandemic ends. No one really knows what the future holds for businesses. We wanted to do our part in setting them up for success when things get back to normal," says Alina Dorosenco, president of the Rotaract Club of Morimondo Abbazia. "We don't have much money, as a Rotaract club, but we have social media and technical skills that will help shops modernize their business."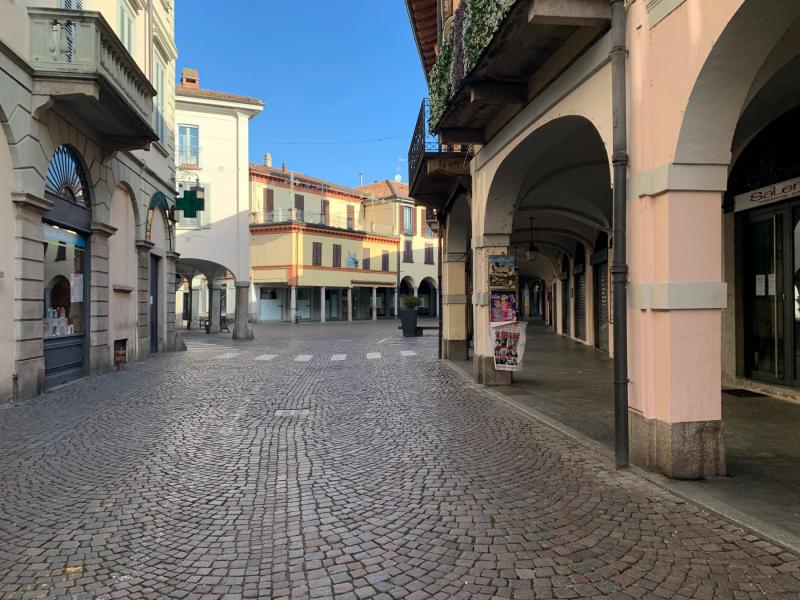 About 20 merchants have started using the site so far — businesses from Morimondo to Milan to nearly as far south as Rome. "We don't have a limit," Carnevali says. "We want this to grow to help as many businesses as possible. This is just the start." He estimates that 60 percent of the merchants on the site will be food-related, 20 percent will be personal goods like clothing, and the rest will be other businesses like pet stores and jewelers.
Supporting frontline medical workers
The Rotary club of Morimondo Abbazia has been supporting health care workers as well as businesses. Member Pier Metrangolo, a professor of chemical engineering at the Polytechnic University of Milan, learned that the university was going to produce desperately needed hand-sanitizing liquid and he looked for ways the club could help. It was difficult, because of the shutdown, to find the ingredients that the World Health Organization suggests using. He and fellow club members contacted their business associates and acquaintances to create a network of manufacturers that help supply the ingredients and distribute the product.
"We are obviously in an unprecedented time. In the spirit of Rotary, we again used our network and expertise to help communities," Metrangolo says.
The club also donated money to help the university continue producing sanitizer. The school makes up to 5,000 liters (1,320 gallons) of the liquid each day and distributes it to local hospitals, the Red Cross, police officers, and a prison. Metrangolo says the university recently received a license to produce masks. "Our club will continue to help in any way we can. This emergency needs Rotary," he adds.
At a local nursing home, health care workers made what Metrangolo called a heroic decision, opting not to go home but to stay at the facility to try to stem the spread of the virus and keep caring for patients. The club donated nearly $3,000 to help feed the staff until it's safe for workers to go home. Once a week they buy pizza for the staff and residents. When the Rotary Club of Helsinki –Finlandia Hall, Finland, a twin club of Morimondo Abbazia, learned about the initiative, it donated $550 toward future meals.
Members of the Morimondo Abbazia Rotary club admit that not meeting in person has been difficult, but the energy and resourceful spirit of the club have not waned. Carnevali says most of the club's 40 members attend the weekly online meetings.
"We miss seeing each other in person, but there is a lot of enthusiasm during our online meetings because we know we have to help bring hope to those suffering," Carnevali says. "This is a dark time for Italians, but we will persevere."