Kenyan Rotarians take action to prevent spread of COVID-19
Rotary clubs in East Africa are forging partnerships to provide hand washing stations and food in areas where social distancing is a luxury that few can afford
by Arnold R. Grahl , Rotary International
Almost 80 percent of the population in Nairobi, Kenya, lives in informal settlements where it's not unusual for families of day laborers to live together in one house. Surviving day to day on the meager wages they typically earn as shop clerks, construction workers, or domestic employees, as many as eight people cook, do homework, eat, and sleep in these tight quarters.
In short, social distancing is a luxury that many poor Kenyans can't afford.
"If the [COVID-19] pandemic hits here, like it has in North America and other places, it will be just catastrophic" because of the inability to social distance, says Geeta Manek, a Rotary Foundation trustee-elect and member of the Rotary Club of Muthaiga, Kenya. "We're working very hard, through preventative measures, desperately trying to keep this thing away from us."
Shortly after the World Health Organization declared COVID-19 a pandemic, Joe Otin, governor of Rotary District 9212 (Eritrea, Ethiopia, Kenya, and South Sudan), formed a districtwide response team. Chaired by Nairobi-East Rotarian Joe Kamau, the team is working with clubs across the district to provide hand washing stations, deliver food to families who have lost jobs, and raise money for personal protective equipment.
"The world needs Rotary more now than ever before."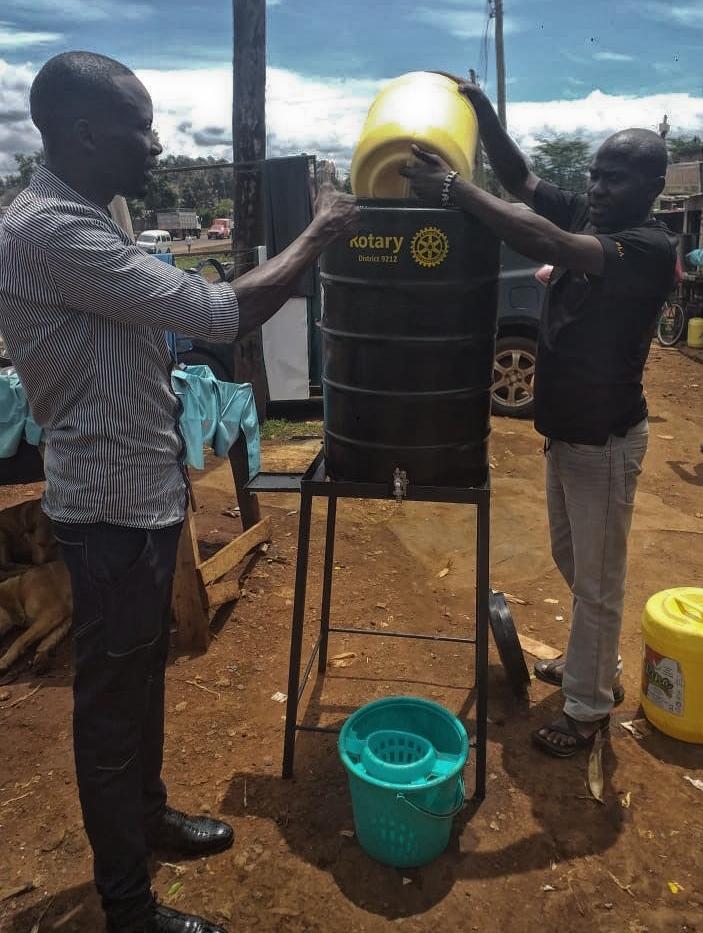 "When [Kamau] asked what we wanted to do first, we said let's go with hand washing stations," says Manek, a member of the response team.
Manek led a fundraising effort in Ethiopia and Kenya that raised more than $21,000 within 20 days. Prime Bank in Kenya offered to match all contributions 1-to-1. The team used the money to purchase 100 water tanks and then persuaded the supplier to donate an additional 100. The 100-liter tanks rest on metal stands and have brass taps at the bottom and ledges for soap. The response team has distributed these hand washing stations in Kilifi, Mombasa, and Nairobi and is now working with national health departments to decide who to help next. The tanks are being refilled by trucks, but local authorities are also discussing ways to pipe in water.
The Rotary Community Corps, groups of non-Rotarians who work alongside Rotary members on service projects, are teaching people effective hand washing techniques, counting the number of times people come back to wash their hands, and collecting other data. Clubs are also partnering with Shofco, a grassroots organization that provides critical services, advocacy, and education for girls and women in Kenya's urban slums, to monitor the stations.
The response team is also using the stations to ask people coming to wash their hands for information about families who are short of food. Manek says work-from-home orders made it impossible for day laborers to earn a living. Clubs have distributed packages of sugar, maize meal, rice, lentils, salt, and soap.
Clubs have distributed packages of sugar, maize meal, rice, lentils, salt, and soap.
---
Purchasing personal protective equipment for frontline health care workers has been more difficult. Manek says they've been able to negotiate with vendors and donors to get some surgical masks and gowns, but supplies are scarce and much of it is available only by airlift, which makes it too expensive.
If there is a positive side to the crisis, it's been the way it has energized Rotarians and attracted the attention of partnering organizations.
"We've been the first ones on the ground," Manek says. "We're getting invitations from corporate partners like banks and insurance companies who are seeing what we're doing and want to work with us."
$

21000.00

Amount Manek raised in 20 days in Kenya and Ethiopia

200.00

Initial number of tanks distributed

100.00

Liter capacity of water tank
Manek has been most involved in her home country of Kenya, but she says Rotarians have been active in Eritrea, Ethiopia, and South Sudan as well.
"Through this initiative, we've come across so many partners we didn't know existed, or if we knew they existed, we would just have let them do their thing and we do our thing," Manek says. "Now, people are coming to us. They want a credible partner. They don't want to give money to a big pot and not know where it's going. All these values we have been sharing with the world are paying off."
Says Otin, "the embodiment of Rotary clubs and their ultimate purpose is to embrace and support communities in need, and thus the world needs Rotary more now than ever before."