World Rotaract Week: Scale models
Access to Foundation grants will help Rotaractors broaden their impact
By Frank Bures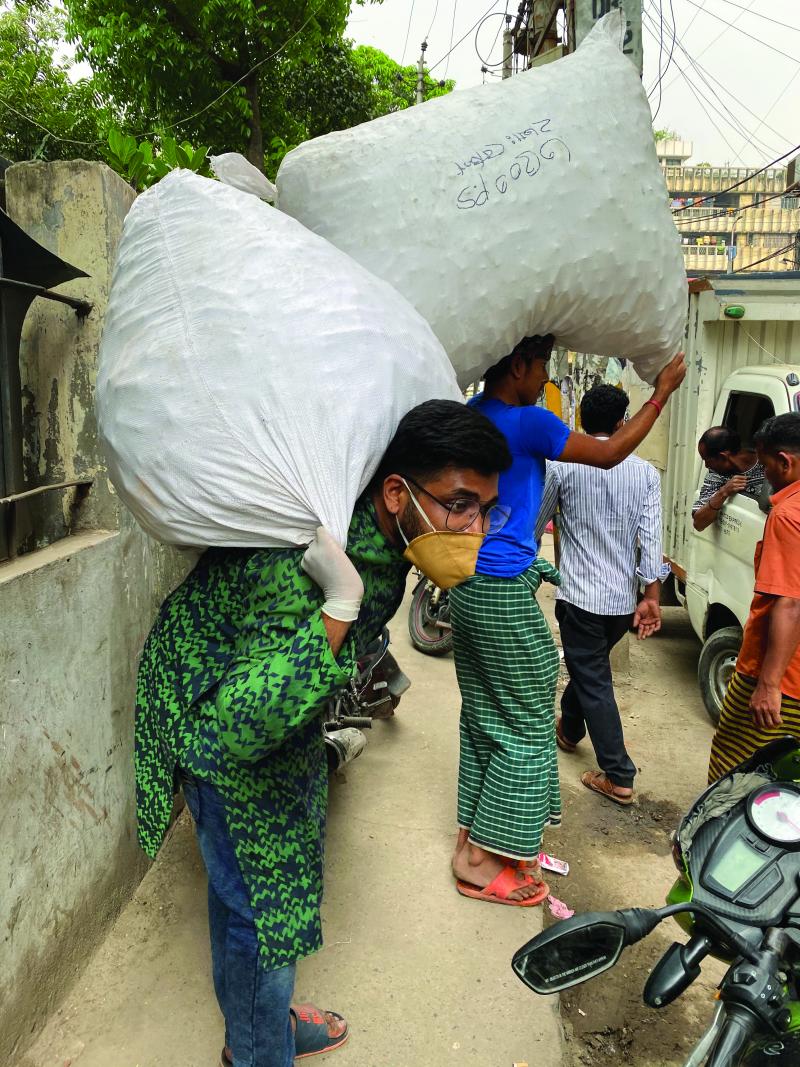 In 2018, Rotary International President Barry Rassin was visiting Turkey for a district meeting. His hosts took him around to see some projects — but to his surprise, they weren't Rotary club projects. They were projects of Rotaract clubs.
One was a course that Rotaractors had developed for incoming university students to help them navigate life on campus. Another was a program at a local hospital, where the club members brought in a new game each week to play with the children. "It was fantastic," Rassin recalls of that effort. "It was changing the whole attitude of the kids in the hospital."
Afterward, Rassin got to thinking: Why were Rotaract clubs considered a program of Rotary, when many of them were doing the same kind of work as Rotary clubs? "To me that was a waste of resources," he says. "These people understood Rotary. They wanted to be part of it, but they wanted to do it their own way. They loved the service we do to make the world a better place."
Rassin proposed that Rotaract be promoted to a type of membership, and today, nearly a quarter-million Rotaractors around the world are members of Rotary. What's more, as of 1 July, Rotaract clubs will also be able to receive Rotary Foundation grants.
This is an important development, says Sarah Grosse-Vollmer, a member of the Rotaract Club of Saarbrücken, Germany, "because if you look at Rotaract worldwide, we are doing quite big projects." For example, when Grosse-Vollmer was the 2020-21 Rotaract representative for District 1860, the district's Rotaract clubs worked with its Rotary clubs on a global grant to develop youth projects in the Rarieda region of western Kenya. Their efforts helped provide a business program with microcredit training, family planning, gender-based violence prevention, and menstrual supplies.
"Originally, we only wanted to do a small project, to make a place where people can do some sports or have fun," Grosse-Vollmer says. "But after we talked about the global grant, it just got bigger." In the end, members visited about 60 Rotary clubs around Germany to talk about their idea, and raised over $100,000.
The Saarbrücken club also does projects locally, including providing blankets for a local homeless shelter and supplies for women who have suffered domestic abuse. "In Rotaract, we are more focused on hands-on projects because most of the time we don't have money to just finance a project," says Grosse-Vollmer.
Apply for Rotary grants
Global grants are a powerful tool for creating change in the world, though the process can be daunting. "At first I was overwhelmed," says Sarah Grosse-Vollmer. She recommends that Rotaractors interested in applying for global grants get help and guidance from a Rotary Foundation regional grants officer. Doris Grimm also has a piece of advice: "Don't underestimate the documentation that's needed."
While a Rotaract club can now sponsor a global grant, the other sponsor must be a Rotary club. The Rotaract club also must have previously partnered with a Rotary club on a global grant. "The most important thing with global grants is that you know The Rotary Foundation training, work together with Rotary clubs, and know the needs of the communities," says Santiago Gómez.
Rotaract clubs also now have access to district grant funds. Managed by Rotary districts, district grants support activities locally and abroad that benefit communities in need and align with the mission of The Rotary Foundation. Rotaract clubs can contact their district leaders for more information about how they can participate in district grants.
More information about global grants
Grant officers by district
Doris Grimm, who is also German, was living in Spain when someone told her about Rotaract. "They said, 'You're going to meet friends. You're going to improve your Spanish. And you're going to do something good in the world as well,'" she says.
Grimm went to a meeting and was struck by a project the club was working on in the village of Gambasse, Guinea-Bissau. "They built a school there," she says. "They built a nutrition center. And it was sustainable. It wasn't just that they came, gave money, and left again. I was so impressed by Rotary, and Rotaract, that I joined."
After she returned to Germany, Grimm joined the Rotaract Club of Mannheim. And when she moved abroad again, she maintained her connection to Rotaract. She was a member of a club in Switzerland and later advised a new club in North Carolina.
Growing up in a small city in Colombia, Santiago Gómez had been a member of Interact. When he moved to Bogotá for college, he helped found the Rotaract Club of Bogotá Bicentenario. There, he and his fellow Rotaractors worked with the Rotary Club of Bogotá-Santa Barbara to secure a global grant for a Positive Peace program. Through the program, they have conducted workshops to train young people across the country in leadership, Rotaract and conflict prevention, and conflict resolution skills.
Recently, Gómez joined the Rotary Club of Bogotá Centenario, and he is working on another project to help women who were victims of conflict start a clothing company.
Like many of his peers, he has retained his membership in his Rotaract club and thinks Rotaract's new status is a major step forward. "I think it is an opportunity to increase trust between Rotarians and Rotaractors," he says.
Grimm, who now belongs to the Rotary Club of Hockenheim, Germany, also has some insights into the difference between Rotaract and Rotary clubs. "In my experience, there are a lot of prejudices on both sides," she says. "If you ask Rotaractors why they don't want to join Rotary, they say people just sit there and don't do anything. And Rotarians think Rotaractors are too young and don't have any experience. I think both are wrong."
Gómez agrees that there are changes to be made on both sides. "I think our Rotary clubs need to be more flexible," he says. "Some Rotary clubs here in Colombia keep traditions that are not really necessary right now. And Rotaractors need to change their mentality, too, because the administration of Rotaract clubs and Rotary clubs is too different."
Rassin and others hope elevating Rotaract will help to bridge that gap. "We want to give Rotaractors a greater feeling of respect and inclusion, so they feel integrated into the organization," he says.
Rotaract clubs connect
There are 26 multidistrict information organizations, or MDIOs, that operate within Rotaract. They come in different sizes with different focuses, but are integral to the organization.
What is an MDIO? Perhaps the best description comes from the Rocky Mountain Rotaract MDIO, which covers territory from the southern tip of Texas to the mountains of Montana: "[An MDIO] is, in essence, the Rotaract equivalent of a Rotary zone: it supports Rotaract districts and clubs within the MDIO by providing Rotaract-focused training, resources, guidance, and networking opportunities to Rotaractors and Rotarians."
Some MDIOs cover huge swaths of territory. Others are smaller and more focused. "The German MDIO is more into district training," says Doris Grimm, "while the European MDIO celebrates the spirit of Europe and open borders and overcoming prejudices."
MDIOs form a crucial link between the Rotary districts and Rotaractors, and they provide leadership training and online resources, organize MDIO-wide service projects, and host an annual conference.
By the numbers
10,000+

Rotaract clubs

179

Countries and geographic areas

230,000+

Members
Rotaractors can now stay in their clubs past age 30, which will provide greater stability and institutional memory. And the enhanced sense of belonging may mean more young people join Rotary clubs as they move on in their careers and lives. Either way, Rotaract will be viewed differently than in the past. "I think Rotary sees that we can do big things," Gómez says. "And this is the real support that we needed."
"For Rotarians, I think there's a learning curve," says Grimm. "How do they handle their Rotaractors now? It's not like they're children who we're going to teach something to. We're talking about equal partners. And finding out what that equality is, that's still a journey we're on. But I think they will be amazed at the potential in Rotary with having those Rotaractors, especially those who will apply for a global grant."
"Some say Rotary is very elite, and Rotaract is very free and open," says Grosse-Vollmer. But to her, they don't seem so different. "Rotaract is a nice way to enter the Rotary family," she says.
Show the world how Rotaract is making a difference during World Rotaract Week, 7-13 March.
Find more information on MDIOs.
---
Related content
Rotaract Clubs: Guide for our members