Visit Rotary International World Headquarters
Rotary is a global network of neighbors, friends, leaders, and problem-solvers who unite to take action against the world's most persistent problems.
You can discover how Rotary creates lasting change when you visit One Rotary Center in Evanston, Illinois, USA. Explore our history and our vision for the future through interactive exhibits and guided tours.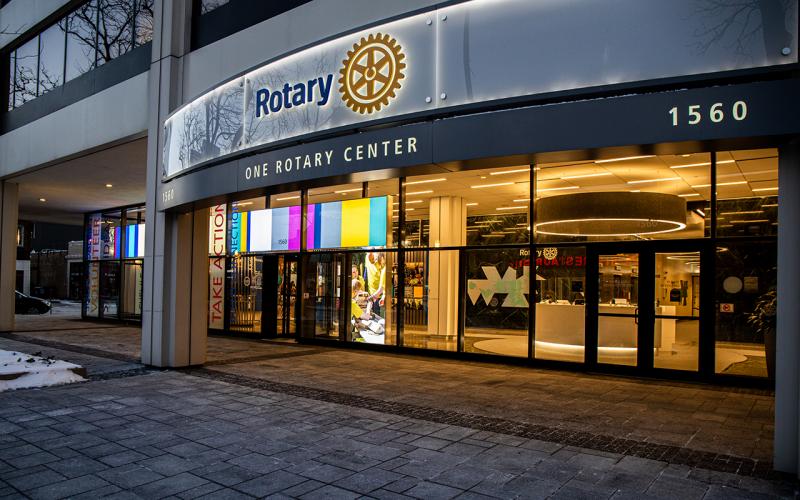 Rotary in Action exhibit
Rotary's people of action use their passion, energy, and expertise to address needs in their own communities and around the world. Explore the exhibit in our lobby to learn about these challenges, how the Rotary network acts to solve them, and how you can get involved.
The exhibit is free and open to the public 09:00-17:00 Monday-Friday and 08:00-12:00 Saturday, except on major U.S. holidays.
Guided Tours
Free 45-minute tours of Rotary's headquarters take you beyond the lobby. They're available Monday-Friday, 09:30-11:30 and 13:30-16:00. Tours are given in English, French, German, Italian, Japanese, Korean, Portuguese, and Spanish.
These guided tours include:
Room 711, a reproduction of the office where the first Rotary club meeting was held in downtown Chicago
An exhibit that showcases how The Rotary Foundation helps members turn ideas into action
The Arch Klumph Society Gallery, which honors major contributors to the Foundation
An interactive space that features Rotary milestones, leadership, and our vision
The Rotary boardroom and the offices of our senior leaders
Tours are open to Rotary members and the public. Individuals and groups of fewer than 10 people should request a tour at rotary.org/tours at least three business days before a visit. For groups of 10 or more, write to visitors@rotary.org at least 30 days in advance.
After your tour, you can visit the One Rotary Center gift shop to purchase a souvenir of your visit.
Can't make it in person? Take a peek inside these spaces with our virtual tour.
Conference Rooms
Our first- and third-floor conference rooms are available to rent for meetings and events. They have wireless internet, a state-of-the-art audiovisual system, and interpretation equipment. Catering is also available.
Rotary clubs and districts: Write to visitors@rotary.org to learn more about hosting events at One Rotary Center. Please contact us at least 60 days before the event.
Our spaces are also available to other organizations. From a corporate conference to the latest documentary screening or leadership panel, One Rotary Center offers the flexibility and functionality needed for a successful event. Please place inquiries through the office of the building.
Explore Evanston and beyond
While you're here, experience local attractions that make our area special.
Visit some of Evanston's fabulous restaurants, pubs, and coffee shops.
Enjoy a stroll along the shore of Lake Michigan, less than a mile (1.6 km) from One Rotary Center.
Take a tour of the Bahá'í House of Worship in nearby Wilmette.
Attend a Rotary club meeting. Please check club websites to confirm dates, times, and other details.
- The Rotary Club of Evanston meets Thursdays at 12:00.
- The Rotary Club of Evanston Lighthouse meets Tuesdays at 07:15.
Visit the former home of Rotary founder Paul Harris. The Paul and Jean Harris Home Foundation owns the house in southern Chicago. Please contact that foundation to arrange a visit. Note that the home is approximately 30 miles (48 km) from One Rotary Center.
Getting here
One Rotary Center is located at 1560 Sherman Avenue, Evanston, IL 60201-3698, USA.
Where to stay
Enjoy a Rotary discount at these hotels, all located a short distance from One Rotary Center. Contact the hotels directly and mention the Rotary special rate.
Hilton Garden Inn Chicago North Shore/Evanston: +1-847-475-6400
Holiday Inn Chicago North-Evanston: +1-847-491-6400