Viewpoints
Extra helping
Volunteers keep food pantries from going without
By David Sarasohn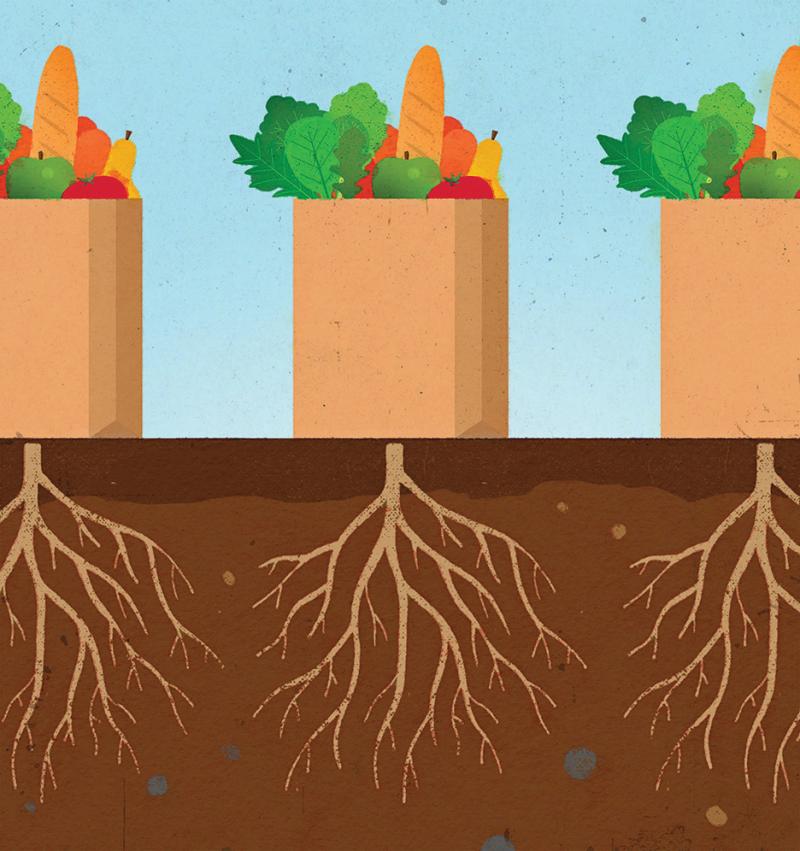 The space looks a bit like a small-town grocery store. Open cartons of potatoes, cabbages, oranges, and other produce stretch down the middle of the room. Boxes and cans of food are arranged on shelves along the walls. Customers walk around, checking out the items on offer.
What's missing is a cash register.
There are 66,000 food pantries in the United States, places where millions of people come to fill the empty space between their cupboards and the end of the month. The pantries operate in church basements, community centers, and schools. This one — the Westside Food Pantry of FISH (Friends in Service to Humanity) of Vancouver, Washington — used to be tucked into a corner of St. Paul's Lutheran Church. But at the end of 2015, it bought its own building with the help of a state grant, a mortgage — and a capital campaign led by Katlin Smith, a member of the Rotary Club of Vancouver and the current president of the FISH of Vancouver board of directors.
Smith, whose day job is in public relations, also puts in a regular shift at the pantry's front desk. "When I'm checking people in, they're so calm, and it's all I can do to keep from crying," she says. "If I were in that situation, I don't know how I'd react."
Like many U.S. cities, Vancouver has a growing number of homeless residents. The pantry has opened a walk-up window specializing in food for people with no way to cook: sandwiches, fruit, and other ready-to-eat items.
Inside the pantry, clients putting together a regular food box often get help from Glenn Hess, a retiree who says he practices "Glennism," a philosophy that seems to focus on giving out chocolate and eliciting a smile from people who might not have much reason to wear one. "When you see someone who's homeless, don't ever think you know their story," he advises.
Larry Smith (no relation to Katlin) retired from the Army as an infantry colonel. Since then, he has been involved in Vancouver city government, the Vancouver Rotary club, and the pantry, where he's also on the board. He takes a particular interest in his fellow veterans. "I make eyeball-to-eyeball contact," Smith explains. "I ask where they live — on the streets, in a car. I look at them very closely and see how they're dressed." The pantry might have a supply of socks or blankets.
In his time volunteering at the pantry, he has also noticed other things. "I'm seeing a lot more women out there," he says. "That scares me, because women on the streets are very vulnerable. The toughest thing for me, and most of the volunteers, is seeing the little kids that come in.
"In a country like ours," he says firmly, "no one should go hungry."
Several members of the Rotary Club of Vancouver serve on the FISH board; many also help out regularly at the pantry. "Our club has a history of volunteer projects," says Katlin Smith. "And every volunteer here gets something a little bit different out of it."
Volunteers are critical to keeping things running, says Susannah Morgan, who has been in the food bank world for 23 years — she went from San Francisco to Boston to Alaska before becoming executive director of the Oregon Food Bank. That organization helps supply the FISH pantry in Vancouver, which sits just across the Columbia River from Portland, Oregon. "There's no question in my mind that the food assistance system would crumble without volunteers," Morgan says, noting that across the country, most pantries have no paid staff.
And Rotary clubs are a major source of volunteers. "The East Anchorage Rotary Club started Alaska's first mobile food pantry," she notes. But the volunteer-based formula is both a strength and a weakness. "The volunteer system is beautiful, but it's fragile, because people's lives change," Morgan says. "We have a lot of churn."
The experience of being a volunteer adds meaning to people's lives, she says. It also helps them understand how even their own lives could change. As a volunteer, "you see how economic status is temporary."
In 2015, Terri Childress, then president of the Rotary Club of Lake Oswego, Oregon, got an email from an eighth grader at Lakeridge Junior High School who, after volunteering at a food pantry in the next town, noticed there weren't any in Lake Oswego and wanted to start one. It might not have been an obvious idea: The Portland suburb is one of the wealthiest towns in Oregon, home to rambling houses and upscale restaurants. "People say, why have a pantry in Lake Oswego?" admits Linda Mathes, who now oversees the operation, called Hunger Fighters Oregon. "But everybody has problems."
Childress looked into the idea and concluded that, contrary to appearances, the community had a need for it. The junior high school provided a small room; at 550 square feet, the pantry is too small for the Oregon Food Bank to support, so it relies on food drives and contributions, along with help from a local food market. It's open only on Saturdays, to ensure that no student is embarrassed on a school day. It helps about 10 clients and families a week.
A Rotarian who is a lawyer set up the pantry's nonprofit status, and another member who is a banker worked on the books. Mathes, whose husband, Malcolm, is also a member of the Lake Oswego club, came to an organizational meeting and has been running things ever since.
Rotary members are on the pantry board and show up regularly for Saturday volunteer shifts, helping clients gather the ingredients for a food box that will work for their family. Rotarians also run food drives and contribute money, including funds for the pantry to subscribe to a weekly produce package from a local farm. A member drives out to pick up the produce every Thursday. "We can call on them for any extra help we need," Mathes says about the Rotarians, "and they're always there."
Lake Oswego may be prosperous, but its residents face the same problems as people anywhere: They lose jobs, they get divorced, they have medical crises. The volunteers supported one client through her husband's cancer treatment and its unhappy outcome. They shared another's joy on the day her 18-year-old child with autism was at last able to come to the pantry on his own.
One Saturday, a local homeowner arrived with a box of apples from her own tree, and soon afterward a mother came in with her daughter. In tears, she said, "I prayed you'd have apples before I came." And because another donor had contributed two boxes of fleece blankets, the pantry was able to give one to her daughter.
"Apples and a blanket gave that mother some encouragement when she needed it," Childress says. "There are so many needs that you never anticipated. I'm grateful to be a part of it."
• David Sarasohn, a longtime columnist for The Oregonian in Portland, has published three books, including Waiting for Lewis and Clark: The Bicentennial and the Changing West.
• This story originally appeared in the October 2019 issue of The Rotarian magazine.