Tools and vision: How ending polio helps fight malaria
By Etelka Lehoczky Photography by Esther Ruth Mbabazi
Health workers in Pakistan go door to door administering the polio vaccine. Volunteers in Zambia perform a dramatic skit showing how malaria spreads. These efforts may seem very different, but they're deeply connected.
A global partnership has mobilized millions of workers, reached underserved populations, and gathered unprecedented amounts of health information in the fight to end polio. That work by the Global Polio Eradication Initiative, of which Rotary is a core partner, is proving crucial in the battle against malaria.
UNICEF estimates that malaria kills a child under age five nearly every minute. "The children are the most susceptible, because they haven't built up any immunity," says Bill Feldt, a chair of Rotary's first US$2 million Programs of Scale award recipient, Partners for a Malaria-Free Zambia.
And yet, malaria is a preventable disease that many believe can be eliminated. Inspired by the GPEI's results and equipped with its tools, health experts and Rotary members are applying its lessons to malaria.
The information challenge
To dramatize the importance of bed nets that have been treated with insecticide to prevent malaria, Rotaractors in Zambia dress up as mosquitoes and act in educational skits. It's a creative way to reach people in an area with a lower literacy rate, and it's based on a lesson from the GPEI: To stop a disease, you've got to dispel misinformation.
"When we began doing polio vaccinations in Ethiopia, this rumor started circulating that the vaccine was meant to sterilize Muslim children," says Jenny Andrews, the executive director of Malaria Partners International. "Rotary was able to bring together a large group of faith leaders, traditional healers, tribal leaders, and medical doctors to do radio and TV ads to overcome that fear. That's one thing we've learned from polio: Instead of waiting for a problem to arise, we get out ahead of it."
There's plenty of misinformation about malaria to counter. When health workers spray rural homes with insecticide, the clouds of bugs that emerge can suggest that mosquitoes are being summoned, not killed. When bed nets are given away, people may not realize they're free. And many people don't realize that leaving an infection untreated puts others at risk.
"Sometimes, if they have malaria and they live far away from a health facility, they'll say, 'Oh well, I've had it before, I'll just hang on,'" says Jim Moore, a founding board member of Malaria Partners International. "Part of it is educating people that they should get tested for malaria if they're feeling sick. Because if they get bitten by [another] mosquito, the parasite can be transmitted from them to the mosquito, and then to their neighbors and family members.
"You are essentially training local leaders — religious leaders, business leaders, tribal leaders — to understand how malaria gets transmitted," he adds.
Thanks to Rotary's polio work, members already have strong relationships with those leaders. Ezra Teshome, a past district governor for District 5030, has been leading Rotary delegations on polio immunization trips to Ethiopia, Uganda, and Kenya since 1997. He says working effectively against malaria is a matter of getting key officials involved. Fortunately, he already knows just whom to talk to.
"The success of my work in East Africa is really due to connecting with the right people," Teshome says. "We've gotten the blessing of the minister of health, the prime minister, and the president's office in these countries. Those kinds of connections make it easier to help the health workers."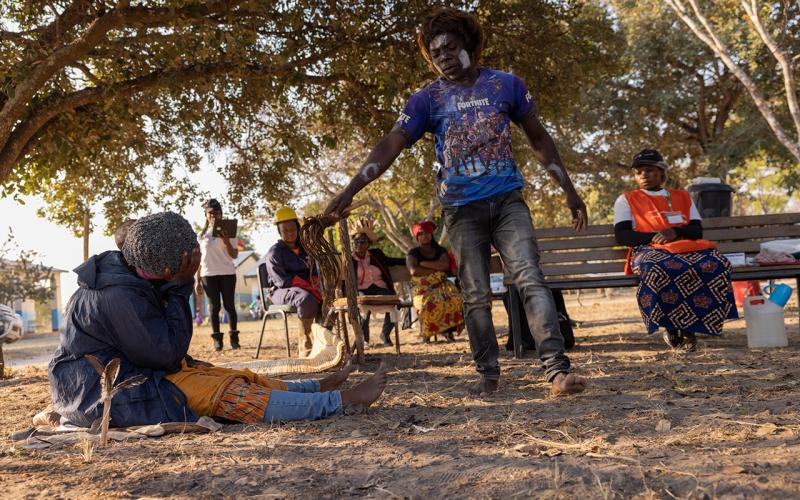 Mining the data
Drake Zimmerman recalls sitting in a bar in the late '80s, listening in as experts from the U.S. Centers for Disease Control and Prevention discussed Rotary's work against polio. They contemplated using similar methods to address diseases like measles and malaria — an approach they called "the Rotary model."
"The Rotary model is, one, mass social mobilization. The second thing is logistics. And then the third part is surveillance," says Zimmerman, the co-founder and chair of the Rotarians Against Malaria-Global Rotary Action Group. "Once you get rid of the disease, you don't know it's really gone until you have the actual proof that it's gone, and you can certify that a whole area is clear."
Gathering this proof is one of the main jobs for 36,000 community health workers in rural Zambia over the next few years. Partners for a Malaria-Free Zambia is training and equipping 2,500 of them. In addition to testing for and treating malaria — a big job in itself — the workers document their findings and submit the data to a massive public health database now used by many African countries.
"With malaria, you've got to keep the surveillance going," Moore says. "You've got to be able to treat new cases as they arise and have an information system that identifies outbreaks. That's been built on the back of the polio reporting system, but it's been extended much further."
The GPEI led the way with a high-performance monitoring system to quickly detect polio cases and respond to outbreaks all over the world — even in countries where exhaustive data collection isn't necessarily the norm. That system is the basis for malaria reporting. Gathering and interpreting data has been the key to virtually eliminating malaria in Sri Lanka and the Democratic Republic of Timor-Leste. The World Health Organization certified Sri Lanka malaria-free in 2016, and the country is now working to prevent the reintroduction of the disease. In Timor-Leste, which had more than 220,000 cases in 2006, a 2020 study found that the last indigenous (non-imported) case had been recorded in 2017.
"When Sri Lanka was able to take malaria to zero, it was a real first for a tropical country of that size," Zimmerman says. "Those methods were taken over to Timor-Leste. The Rotarians there were very active in the campaign, led by the WHO, using the Sri Lankan methods — basically, the Rotary model. They had great data. They trained all the workers to identify any case. And we're taking those methods and adapting them to other countries."
Compound interest
To understand how effective the Zambian malaria reporting system has been, Moore says, just look at where most of the country's cases are identified. Previously, new cases were reported primarily at health facilities. Now, more than half are reported and treated in villages. That means the new health workers are catching cases sooner and also removing a significant burden from Zambia's overstrained health centers. It's a wider impact that reflects another lesson learned from polio work: When you fight a disease, you can't just fight that disease.
"We've always called it PolioPlus. The 'plus' part is encouraging other immunizations, but it's also things like water and sanitation grants," says Mike McGovern, chair of Rotary's International PolioPlus Committee. "We're finding, more and more, to win the hearts of people — to win their cooperation and support — they're looking for us to do other things."
In many countries, one of the "other things" that has the most impact is tackling malaria. Mosquito nets are often given away at immunization days. The WHO, which is a GPEI partner, used the staff and infrastructure created for polio eradication to distribute antimalarial medication to 1.2 million Nigerian children in 2017. And increasingly, when Rotary members and health experts fight malaria, they do more than just fight malaria. By training health workers in remote villages, Andrews says, Partners for a Malaria-Free Zambia addresses a range of issues.
"It might be a 15-mile walk to get to the nearest health center," she says. "So, in addition to training the workers to test for and treat malaria, we're also teaching them how to treat diarrheal disease and respiratory disease — which are two big killers of children in Africa. We're building a health infrastructure in these rural communities. The compound interest on what we're doing is incredible."
The power of a vision
In addition to the concrete ways in which polio eradication work has helped combat malaria, a less-tangible impact is hugely significant: It has showed the world what's possible. When the GPEI started in 1988, polio paralyzed about 1,000 children worldwide each day. Today, experts envision a time when polio will be completely wiped out. Some Rotary members hope the same for malaria.
"I'm very positive malaria can be eradicated," Teshome says. "It might take us a little bit more time, but I think with enough education, with enough support — just like we have been doing for polio eradication — I do feel malaria can be eliminated. And I think we've made a great start."
Learn more about how Rotary members are fighting malaria.