Gaby Moreno returns to Guatemala to inspire children as part of the Imagine Impact Tour
Gaby Moreno moved to Los Angeles with a record deal as a teenager. She's shared the stage with Bono, Andrea Bocelli, Tracy Chapman, Ani DiFranco, and the Buena Vista Social Club. And she sang the TV theme song for Disney's first Latina princess, Elena of Avalor.
But one of the most special performances of the Grammy-nominated singer-songwriter took place in February in a tiny farming village in her home country of Guatemala. More than 100 students at a school in the village of Chajalajyá sang and waved their arms as Moreno played her hit song "Fronteras" ("Borders") on a borrowed guitar. (The song was featured in a national Pepsi commercial and is known by people all over the country.) After an encore prompted by the kids' shouts of "otra, otra!" ("another, another!"), students flocked for photos.
Moreno was in Guatemala with Rotary International President Jennifer Jones as part of Jones' Imagine Impact Tour to raise awareness of some of the highest-impact, sustainable, and scalable Rotary projects. The two visited schools supported by the Guatemala Literacy Project, one of the largest grassroots, multiclub, multidistrict projects in Rotary. The reading program has received 48 grants from The Rotary Foundation totaling $6.5 million since 1997, and more than 800 clubs in nearly 100 Rotary districts have participated. (See the September 2022 issue of Rotary magazine to learn more about the project.)
While this was Moreno's first time traveling with Rotary, she's long been familiar with the organization: Her father and her uncle have been members for more than 30 years. "I remember growing up, seeing my dad going to different communities in Guatemala to help," she says. "I thought that was a very kind and generous thing that he did. … That was a wonderful, selfless thing to do."
Moreno is a UNICEF national ambassador, Guatemala's first. She also does work with a Guatemalan nonprofit that helps children who are blind and deaf, an organization started by her uncle and aunt, and she has donated computers for a school through another nonprofit. "They even named the classroom after me," she says. "That was super sweet."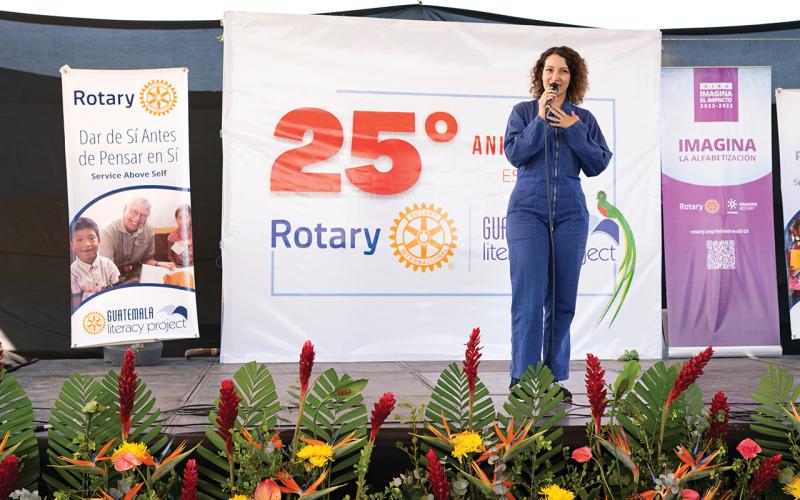 Throughout the Rotary tour, Moreno encouraged the students to work hard to pursue their dreams. "It all starts with a dream. If you don't have a dream, then you have nothing," she says. "When I was a little kid, my dream was music. I worked hard on it. And I never let go of that dream. Somehow, some way, the opportunity arises, and you have to go get it."
---
Moreno, a performer at the 2023 Rotary International Convention in Melbourne, spoke with Briscila Greene, Rotary International regional communication specialist, the day after she visited the school in Chajalajyá.
What has been the most memorable moment for you on this trip?
There have been so many, but one that sticks out is getting to sing for the kids. Hearing them sing back my song and seeing the joy on the faces and the excitement was really moving.
It was really a magical moment.
I taught them the chorus of the song, but I couldn't believe that a lot of them actually knew the whole song. They were singing the verses too. That's always incredible to me, how my music can reach so many people and children, and how they can make the song their own. You can see it in their eyes when they're singing it. It's so precious.
Tell us about the people you have met and the impact that this has had on you.
Yesterday, we visited a computer lab. I got to sit down with one of the students. They played a computer game where they used a mouse to drag icons to make a little robot move. It was a coding game, and it was hard, even for me. I could see how she was really into it, enjoying the learning experience. It's amazing how they are building those skills. I know all of them have so much potential. They can become something bigger. They can dream to be whatever they want to be. It starts right there with the education and with giving them the tools with technology.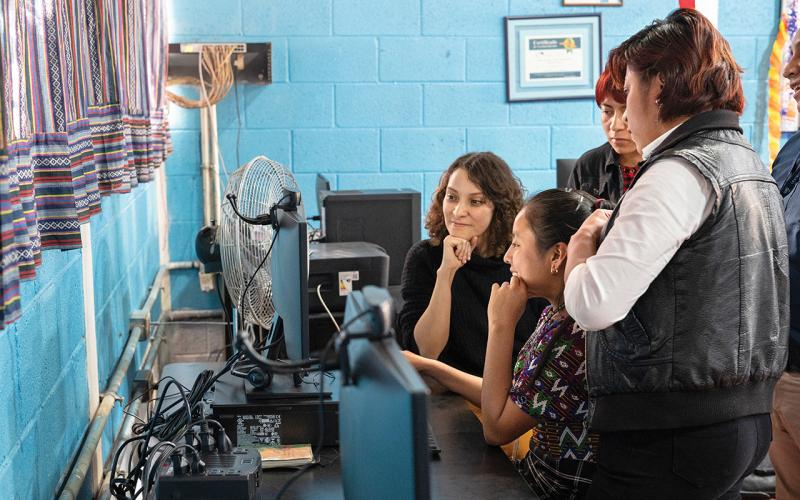 What has surprised you the most so far?
I'm always surprised at the warm welcome that you receive when you go to these communities. They make it a huge celebration. That's always a big surprise for me — when they're chanting my name, it's just so sweet. It really warms my heart. It makes me want to do more for these communities. You can sense the gratitude. And I feel so grateful to be there with them.
What impressions do you have about Rotary's impact on the ground in Guatemala?
This is the first time that I've been in the field with Rotary. It's been a beautiful experience to see firsthand the work that they're doing, and the impact that it's already had on children.
We got to meet two girls yesterday, Joselyn and Jáckelyn, who graduated from one of the computer programs. [Read more about their stories in our September 2022 issue.] We met a teacher named Diego Yojero who also graduated from this program. He went to university, came back, and now he's teaching at this classroom. It's beautiful to see how now they are giving back to their community. It's inspiring, it really is, to see that the program changes lives. They know there are so many opportunities out there for them, that they can go out there and chase their dreams. We want that for every single child. I'm so grateful for Rotary, for CoEd [nonprofit partner Cooperative for Education], to have this initiative.
What are your personal takeaways from this trip?
My own personal takeaway is that I want to do more. I want to get involved more with these organizations. I want to come back to Guatemala and help these communities in any way that I possibly can. It's all so heartbreaking. You see the realities, the way they live. A lot of people here in Guatemala lack resources, and there are still a lot of people that are not getting the education that they deserve. I want to let people know through my platforms of the work that's being done here and hopefully inspire other people to want to get involved.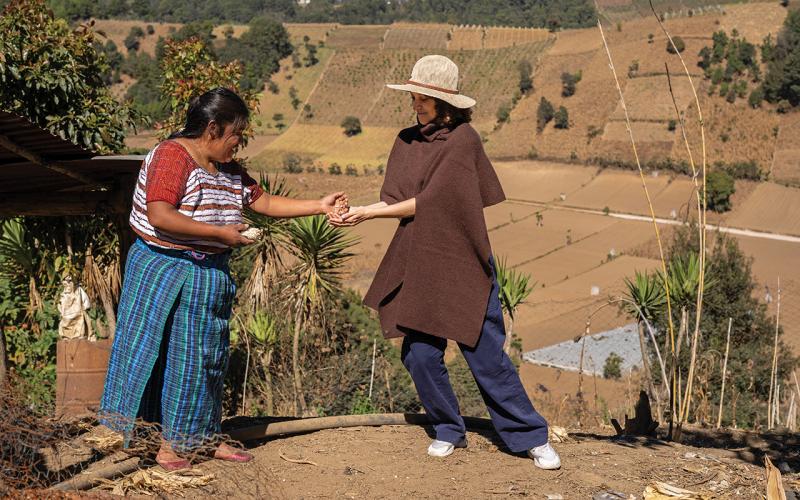 You wrote a children's album with UNICEF. Tell us more about that project.
I've been a UNICEF Guatemala Goodwill Ambassador for about three years now. I got this distinct honor just before the lockdown and the pandemic began. It was a bit frustrating at the beginning because we couldn't find ways to collaborate. Then we came up with this idea of doing what I love doing the most — music — and bringing some music and joy to kids. I decided to produce this album called ¡Cantando Juntos! (Singing Together!). I wanted it to be by kids, for kids. I wrote most of the songs, I produced it, but I had kids sing it, because when I was a little girl, I really enjoyed listening to children singing songs. That made me more inspired to sing.
Some of the songs on this album are songs that I listened to as a kid. One of them was a song that I wrote when I was 10 years old. It's called "Sé positivo," which means "Be Positive," stay positive with life. There are messages of hope, of love, of friendship. There are messages of nutrition: "Sopa de letras" ("Alphabet Soup") is a song that I loved as a kid, and it teaches you about all the wonderful foods out there that you can try, like fruits and vegetables. "Mi planeta" ("My Planet") teaches about taking care of our planet, being environmentally friendly.
The album was so fun to make. The goal was to make CDs and bring them to different rural communities in Guatemala to allow children to have music that they can dance to, have fun with, and learn.
What would you say to the children you met here about chasing their dreams, from your own personal experience?
I would tell them to never let go of their dreams, to dream as big as they want, but to always know that it is very important to stay in school, to get their education, to remain focused and disciplined, and keep working hard at what they do. With all of these ingredients, nothing is impossible.
This story originally appeared in the June 2023 issue of Rotary magazine.
Rotary is helping improve literacy worldwide through the Basic Education and Literacy Rotary Action Group.