Securing medical care for homeless people
A Rotary Peace Fellow uses her fellowship background and medical training to ensure that needs don't get overlooked during the COVID-19 pandemic.
All around the world 5-11 October, Rotarians and alumni will share their experiences, network with each other, and exchange ideas for staying involved in Rotary. Find out how to Celebrate Reconnect Week.
The challenges of homelessness don't disappear when a crisis hits. If anything, the issues become more profound, as aid and assistance programs shift to handle the new emergency.
Dr. Eva Czermak, manager of the Caritas Marienambulanz facility in Graz, Austria, relied on her medical expertise and Rotary Peace Fellowship experience to find ways that refugees and people without homes could continue receiving free medical care and stay safe even amid the threat of the coronavirus.
Medical training
In addition to her medical training as a family doctor, Czermak earned a professional development certificate from the Rotary Peace Center at Chulalongkorn University in Bangkok, Thailand, in 2017. Much of her research there focused on how language barriers affect the quality of health care. She says the experience improved her communication and leadership skills — abilities she puts to use at Caritas.
The nongovernmental organization is a branch of Caritas International, which has volunteers around the world who help the Catholic Church assist the poor and vulnerable in their communities. Each chapter shapes its own agenda and approach to doing the most good in their local communities.
Czermak was drawn to Caritas because it presented a chance to combine her medical experience and peace education. "It just fits together," she says. "That's why I studied medicine, because I wanted to help people."
Czermak's department provides direct aid — food, shelter, and medical care — while other offices of Caritas offer housing for the elderly, reintegration programs for people recovering from drug addiction, and even sports programs for children who otherwise couldn't afford to participate.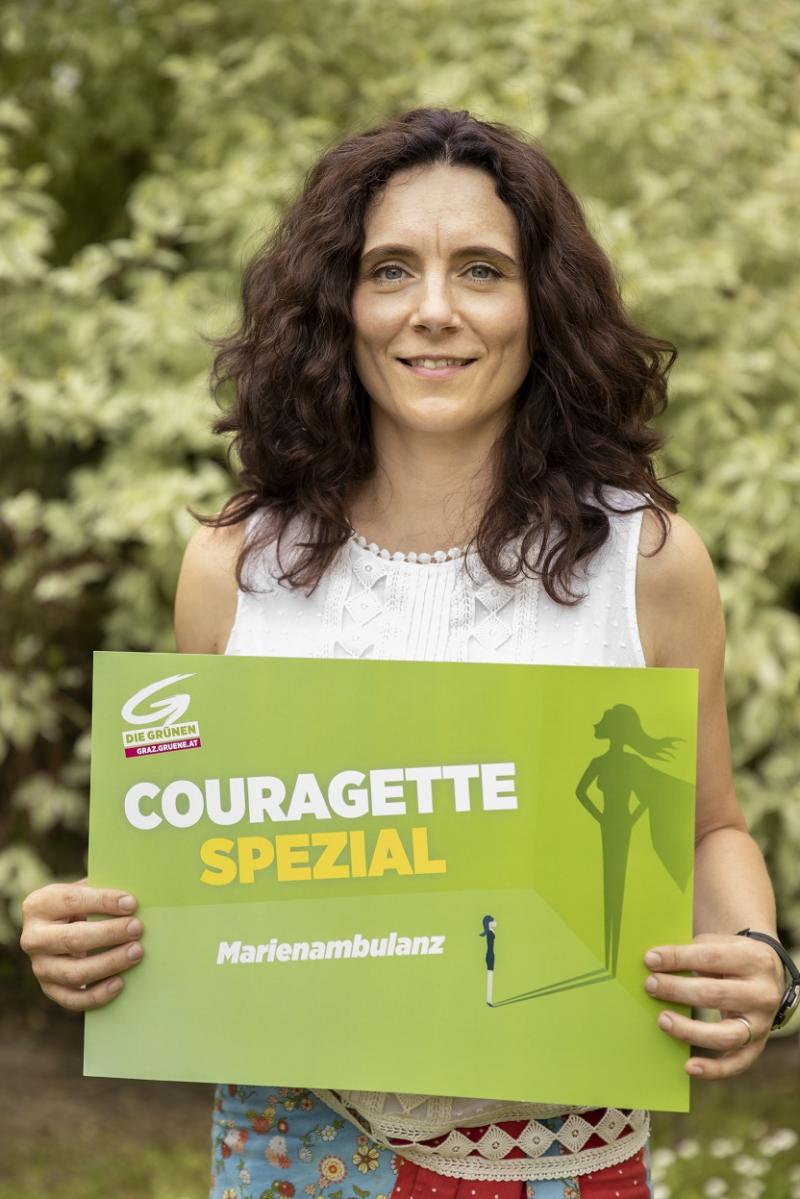 Maintaining care
Like much of Europe, Austria entered a nationwide lockdown in mid-March. The need for care collided right away with a shortage of protective equipment and a shutdown of commerce.
"We had to look for protective equipment because there was very little," Czermak says. "We had a few masks, plastic uniforms, and glasses, but we didn't have enough."
The lockdown also meant operating without Caritas' dedicated volunteers, many of whom are between 60 and 70 years old and thus at higher risk for serious complications or death from COVID-19.
Masks came eventually, from a few sources. "A good friend of mine is the director of a hospital, and he personally — driving a car — brought us five masks at a time," Czermak said.
Those heartfelt donations and contributions from a few firms that support Caritas allowed it to slowly acquire adequate supplies of protective equipment as international trade resumed, allowing it to continue caring for patients. Czermak's department also established safety protocols for providing care.
And the pandemic prompted Caritas Marienambulanz to adopt a "traffic light" system to manage future crises: Red means that a lockdown or other strict measures are in place, green means the situation is normal, and yellow is for in between.
"It just fits together. That's why I studied medicine, because I wanted to help people."
Safety protocol
With a significant amount of uncertainty remaining, Czermak is preparing for a possible second wave of the virus.
"I'm trying to use the time to talk to people, so they don't forget to think about positive cases among the homeless," she says. She's also used the time to develop a safe quarantine protocol for people who don't have homes.
"There's no perfect solution yet," she says. "At the moment, each Caritas shelter has their own apartments [in Graz], so if they have a positive case, they could quarantine the person."
Czermak has already put together a procedure for such cases.
"If you put people somewhere in the town and they're unable to leave, they need food, they need at least a minimum medical check-up every day, and if they don't have a phone, you have to go look after them. So I found some volunteers who were willing to go, trained them to put on protective equipment and how to use the telephone interpretation system, and created checklists for temperature, for coughing, for oxygen in the blood."