Scientist, farmer, innovator, Rotarian
A plainsman with a PhD, Bob Quinn uses his 4,000-acre Montana spread as a laboratory to revive an ancient grain, rethink agricultural practices, and reinvigorate rural communities
by Bryan Smith photography by NashCO
Quinn's connection to Big Sandy's Rotary club runs as deep as his connection to the town itself. His father, also a farmer, was a founding member.
The day slowly warms. It's still summer, but in this late season of harvest, the mornings hold a stubborn chill that will not yield until the sun's full appearance. Bob Quinn is dressed in his habitual raiment: soil-smudged cowboy hat, Wrangler jeans, Western shirt, work boots, thick belt with "Bob" tooled into the leather. He was awake before sunrise and now, as is often his routine, he pulls himself up a ladder inside a lookout tower he designed next to the handsome, sprawling farmhouse he helped build as a boy on a bluff at the end of a long upward-sloping lane. And there it is, spreading before him like an ocean of waving gold: the flaxen tips of spring wheat and spelt haired in rich amber, with the Bears Paw Mountains off to the north and east rising like a small fist of hazy purple on the north central Montana horizon.
There is work to be done. He will get at it in a minute, but he wants to savor the moment a bit longer. There is always work for those who look to the land for their keep, as Quinn has done for 40-odd years, and as his parents and his grandparents did before him — three generations of dryland farmers who have tilled this acreage since 1920.
Presently Quinn climbs down, grabs a basket, and heads toward his "test" orchard, where he experiments with 31 varieties of apples. He inspects the rows of trees one by one, then drops to his hands and knees and begins gathering apples that have plopped to the ground. "Some of them are bird pecked," he says, holding up an apple and turning it in a work-weathered hand. "But that's OK. These are looking pretty good."
Quinn tosses the apple at me. "Just take a bite of this," he says. On just about any other farm in the area, you would pause. Shouldn't it be washed? Not here, for it, like everything on Quinn's acreage, is organic — no pesticides, no herbicides, no chemical fertilizers. That's the point; that's his life's work. It is why he looks out from his tower at the sea of grain surrounding him and worries.
For in this beautiful, sometimes punishingly harsh landscape, all is not well with the food that is grown, at least not from Quinn's perspective. Like every-where, the fields are soaked in chemicals that, while allowing the corporations that farm them to cheaply produce vast stores of product, suck nutrients from the earth, from the food, and from the small communities that dot the plains. That includes the little town of Big Sandy, 10 miles north of Quinn's 4,000-acre farm. He calls it the commodity mentality or mindset, "a high-input game [where] the prize is the highest possible yield" — consequences to small farms, small towns, and quality food be damned.
Redemption and renewal, Quinn believes, lie partly in this orchard and in his organic "oil barn" housed in a small building near his house. But more importantly, they rise from a long swath of land at the edge of his property, a pasture where this 21st-century plainsman grows an ancient Mesopotamian grain called khorasan that he believes holds no less than the power to change everything.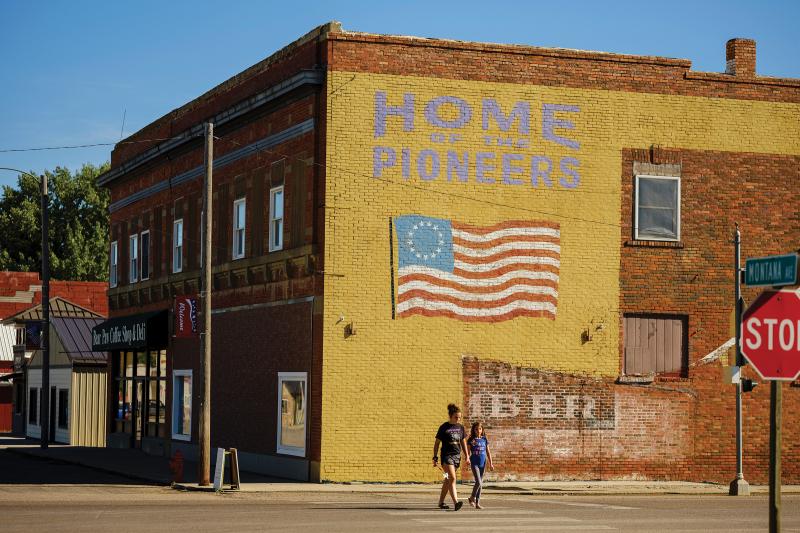 "The most successful businesses are the ones that are profitable but that also help improve the lives of other people."
I meet Quinn on a Monday night at the weekly meeting of the Rotary Club of Big Sandy. Quinn's connection to the club runs as deep as his connection to the town itself: His father, Mack, was a founding member. Quinn joined in 1979 after he returned from earning a PhD in plant biochemistry at the University of California at Davis. With crinkly blue eyes, a full head of silver hair, and a face that's weathered without being quite craggy, Quinn looks as if he could have stepped out of the pages of a Zane Grey novel.
Like the high plains figure Quinn cuts, and like the town he calls home, the meeting seems a step back in time. Held in the senior citizens center at the end of the two-block downtown, it features on this night a dinner of fried chicken, cottage cheese, and potato salad, doled out from aluminum foil trays. There are cold pitchers of lemonade, and a seemingly bottomless stainless steel urn dispenses piping-hot coffee.
Fourteen people, including a visitor from Germany who uses Quinn's grain, gather around a table where, after passing around worn copies of Rotary songs, they sing "Home on the Range" and "You're a Grand Old Flag" before reciting the Pledge of Allegiance.
Quinn joined Rotary, he says, for reasons bigger than wanting to continue the family legacy. He finds that the organization's Four-Way Test — with its emphasis on truth and fairness, goodwill and friendship, and a mutual concern for the well-being of all — dovetails with his own way of thinking. "My philosophy in work is 'everybody wins,'" he says. "The most successful businesses are the ones that are profitable but that also help improve the lives of other people."
In his 2019 book, Grain by Grain, which chronicles his "quest to revive ancient wheat, rural jobs, and healthy food," Quinn writes: "As an entrepreneur and scientist working in the midst of rural American poverty, I have seen firsthand how putting food and other fundamental goods like energy at the center of a value-added economy can foster health, economic opportunity, and ecological regeneration, particularly in some of our country's poorest com-munities. ... I measure the success of my business by the degree to which it's added economic, ecological, and nutritional value all along the supply chain."
Today Quinn, at 72, travels the world spreading his gospel, which has as its premise that the way food is grown and produced — the Big Agriculture approach of making as much as possible as cheaply as possible, with a heavy emphasis on chemical pesticides and fertilizers — is destructive to the land, to communities, to farmers, and to our health. He also preaches the corollary: that organic farming not only is the right thing to do by consumers, but also is highly profitable for the farmer and a prescriptive for towns like Big Sandy that have found themselves struggling for survival.
The results have been as obvious as towering stalks of wheat, says Jon Tester, a U.S. senator from Montana whose life and career have also been closely intertwined with Big Sandy. "It's simply undeniable what he's done for the Big Sandy community," Tester says. "He's contributed jobs and a lot of economy to the town. We don't have enough people like Bob. He's fearless, a true entrepreneur who is not afraid to take risks, and at the same time he's somebody who believes in rural America."
Examples of Quinn's entrepreneurial spirit, and the greater-good benefits that derive from it, bloom like apple blossoms across his property. On the occasional tours he gives, which draw workaday farmers and ivory-tower agriscientists, Quinn refers to his land as his laboratory. It's clear why: There are his experimental gardens, of course, where he tries to see which fruits and vegetables can thrive in Montana's notoriously fickle climate — if only, he says, "to show people we can do something other than wheat and barley."
Ten feet underground, inside Quinn's root cellar, bins of potatoes, all grown on the farm — Yukon Gems, Red Norlands, Red La Sodas, and Purple Vikings — are kept naturally cool. "Potatoes are particularly hardy for our northern climate, and they have an excellent shelf life," Quinn says. A few hundred feet away is what he calls his oil barn. Inside, where Quinn milked cows as a boy, the seeds from farm-grown safflower are pressed into a cooking oil, which he sells to restaurants and grocery stores; it's also used in the kitchens at the University of Montana, after which the waste is returned to Quinn. "The oil we get back from UM is enough to provide about one-eighth of the fuel needs for our farm," he writes in Grain by Grain. (A pioneer in sustainable energy, Quinn played a leading role in creating the Judith Gap Wind Farm, which opened in central Montana in 2005.)
And then there is the ancient grain. Known as khorasan and rechristened — and trademarked — by Quinn as Kamut (pronounced kuh-MOOT), it likely originated centuries ago in the Fertile Crescent, that agriculturally rich region in the Middle East that gave birth to several ancient civilizations. Quinn was introduced to the grain at a county fair when he was in high school and an old man thrust a fistful of kernels in his hand and claimed they were "King Tut's wheat."
"I was amazed by how big they were: three times the size of the wheat we grew on our farm," Quinn recalls in Grain by Grain. "I had no inkling that this grain would, some 25 years later, change the whole course of my life."
Today, Kamut International is a global operation that, while promoting organic farming and healthful eating, also serves as a model for struggling farmers and small towns searching for a return to prosperity. "If you look at what Bob has pushed for and what he's done, it's not conventional," allows Tester. "I mean, it's not stuff that the university system would say, 'Go do this.' For example, in a time when [corporate farms] were shipping grain out in 52-car unit trains, he was setting up a cleaning plant to ship wheat out in 25-kilogram bags. He had a different vision for how you could market grain and make a few bucks off it and employ people."
Jacob Cowgill, who worked on Quinn's farm for two seasons before starting his own organic farm and bakery, marvels at Quinn's willingness to try the unconventional. "The thing that I took away from working with Bob is the idea of experimenting," Cowgill says. "He always has multiple projects that are still considered pretty radical and ahead of their time. In fact, it seems like anything that he jumps into is a radical idea — until it isn't and more people are doing it."
"He's the most incredible idea generator I've ever met," adds Bruce Maxwell, a professor of agroecology at Montana State University. "He has one after another — ways to make his own farm more sustainable and more profitable — but he's also got a real dedication to his community."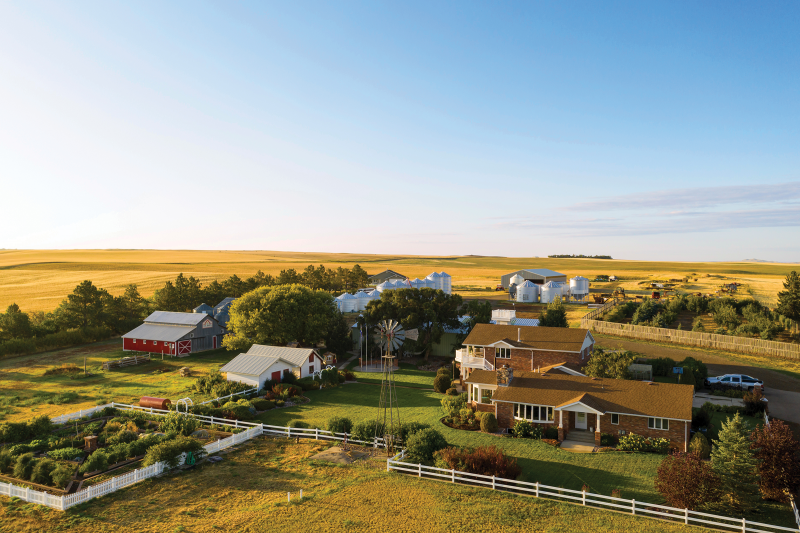 The Rocky Boy's Reservation lies green and windswept at the foot of the Bears Paw Mountains, a flat table of land spread across Chouteau and Hill counties, some 50 miles south of the Canadian border. The last and smallest reservation created in Montana, it is home to about 3,000 members of the Chippewa-Cree tribe. Quinn, having grown up on the family farm, about 15 miles southwest, had long known about the struggles of the reservation's people, such as poor health and high unemployment. Of particular heartbreak to him is that the reservation is a "food desert" — a community barren of quality grocery stores where the residents can buy the kinds of healthy foods that might mitigate some of their worst problems, such as rampant diabetes.
Quinn wanted to help, and believed he could, but the tribal council, to say nothing of the people of the reservation, were wary of a white man trying to tell them what was best for their Native American community. "It took years to win their trust," says Quinn. "Now I'm invited to their sweat lodges, and I have a number of friends here." It has taken another decade for real progress toward the goal of "food sovereignty"— where, rather than relying on outside grocers, the reservation can supply its own healthy food.
Tribe member Jason Belcourt grasped the implications immediately. "I met Bob back in January 2019, and I heard him speak and he just blew me away," says Belcourt, a member of a food sovereignty team that includes representatives from the school health program, the tribe's ranch and farm, the local college, and the reservation hospital's diabetes program.
"Rocky Boy was an island," he says. "There's nothing available but processed foods and frozen food," snacks and sugary drinks. "We're trying to re-establish our relationship with Mother Earth so that, ideally, we can grow our own food and provide for ourselves. Hopefully we can have it turn into something that we can take pride in."
As Belcourt speaks, Quinn walks through a 1-acre plot inspecting rows of winter peas and new potatoes planted a few months before. "I'm really jacked," Quinn says, removing his cowboy hat and cradling it as he drops in the golf-ball sized spuds. "We're going in the right direction."
"What's crazy is that Bob doesn't have to come up and help us do this, but he has volunteered," Belcourt adds. "We have no equipment, so he brought up his to help us weed, and he has given us advice all the way. He gave us the corn seed. That's Indian corn over there, which I actually planted."
The yield from those particular seeds is less than spectacular, but Quinn reassures Belcourt: "This is the first year. You shouldn't be discouraged that it's not perfect."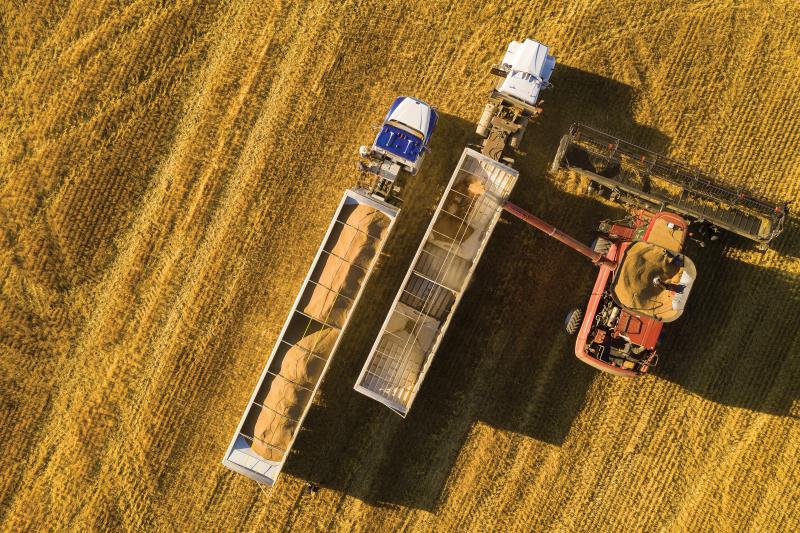 This 21st-century plainsman grows an ancient Mesopotamian grain called khorasan that he believes holds no less than the power to change everything.
If Quinn initially faced mistrust from the residents of Rocky Boy, he encountered outright skepticism from the people of Big Sandy, including the farmers in and around the town who have spent most of their lives using conventional synthetic chemical agricultural practices. He still hears whispers that he's trying to impose fancy big-city ideas on their small town — though even the most hard-bitten skeptic has been forced to acknowledge Quinn's successes. "These young farmers are looking at his new equipment and talking over what's going on, and they're saying, 'I don't know if I can tolerate these weeds, but damn, he's making money,'" Maxwell says.
Quinn is sympathetic to farmers wary of new systems. "I was raised farming with chemicals," he says. "I never questioned our use of fertilizer and herbicide. These were the new tools that my dad quickly adopted after a little experimentation. He thought they could help us be better farmers and make more money."
Grain by Grain is devoted to debunking that myth. Yes, the use of pesticides and chemical fertilizers allows farmers to produce large amounts of food quickly, but the abundant supply continues to drive down prices, which reduces profit margins. That forces farmers into trying to produce even more. Eventually, small farmers are chased off their spreads, unable to afford the vast acreage needed to keep up with chemical commodity agriculture.
Those factors blew through Big Sandy and other small towns like tornadoes on the plain. For proof, you need only look at the past half-century of decline, Quinn says. When he was a boy, for instance, Big Sandy's population was 1,000 — today it has dropped to below 600 — and it boasted a car dealership, two hardware stores, a couple of secondhand shops, a jeweler, a dry cleaner, a lumberyard and farm supply store, and a movie theater.
Quinn's dime tour of today's Big Sandy downtown takes a couple of minutes: Over there is the lone grocery store — a good one, he says, but the only one. The last hardware store closed months ago for lack of business. There's the senior citizens center, the bank, and a combination bowling alley and restaurant.
"The driver [in] all of these social and economic losses to small, rural communities," Quinn writes in one of his frequent blog posts, "is the quest for cheap food and cheap goods without regard of the cost to those that make them, not to mention the loss of friends and neighbors unable to support their families, which results in fewer jobs and smaller communities. It's really too bad the true price of these cheap goods isn't listed on the price tag. If it were, maybe we would think twice about who and what we really want to support with our purchases. It begs the question: How much is our community — our friends and our neighbors — worth to us?"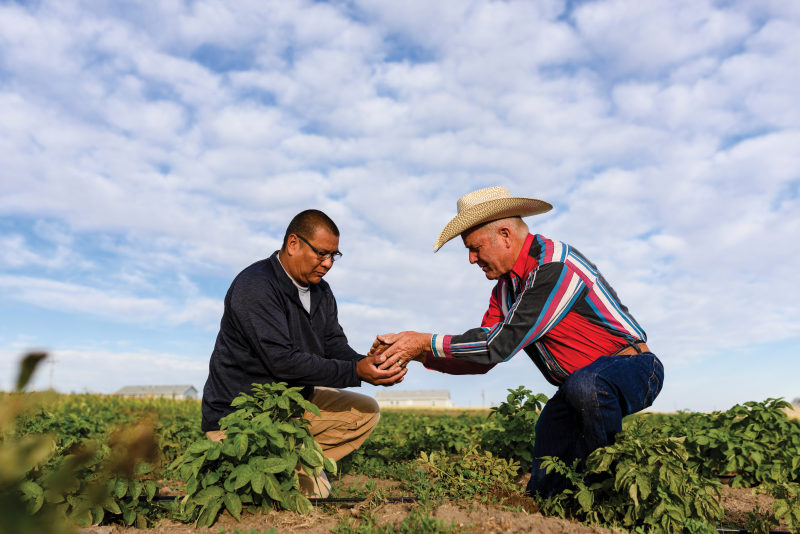 Quinn dedicated himself and his career to farming without chemicals, making him one of the pioneers in organic agriculture.
Quinn's own aha moment came a lifetime ago, in the 1970s while he was on a college field trip. He was a graduate student at UC Davis, one of the nation's premier agricultural schools, and one class outing was to a peach farm. When he stepped off the bus into a "sea of peach trees," he expected to be overwhelmed by a sweet fragrance. Instead, he smelled nothing. The reason, he learned, was a petroleum-based spray one of his professors had developed that made the peaches look ripe even though they weren't — which explained why there was no rich, distinctive aroma. In that moment, Quinn says, he was certain of three things: that the spray couldn't be good for the environment; that unripe peaches were not nearly as nutritious as ripe ones; and that when he returned to Big Sandy, he was going to find a better way.
From that moment sprang Quinn's dedication to farming without chemicals, making him a pioneer in organic agriculture. (Winner of the Organic Trade Association's 2010 Organic Leadership Award, Quinn helped draft Montana's and the nation's guidelines for organic farming.) "A lot of people said it couldn't be done," he recalls. How would you fight weeds and insects without synthetic pesticides? Ever the scientist, Quinn pioneered a system of soil building, green manures, and crop rotation to discourage the growth of weeds and insect infestations. "For many years, people thought I was spraying at night," he says. "They couldn't believe anyone could find success without chemical inputs."
Once he started successfully growing the ancient khorasan wheat, he came up with healthy snack products made from the grain, opening a small plant in Big Sandy that added a few jobs to the economy. (Today his Kamut products are marketed as pasta, cereal, and other foodstuffs all around the world.) When he learned that buyers wanted wheat that had already been milled, he opened a milling plant in nearby Fort Benton to grind his healthier grains, adding jobs there.
Because Quinn doesn't pay the exorbitant costs of "chemical inputs" — pesticides and herbicides — and because the demand for his healthier grains commands far higher prices from buyers, he not only hasn't succumbed to the forces dragging down other family farms, but has thrived.
But old ways die hard. Despite Quinn's successes and the jobs his new endeavors have created, some still cast a jaundiced eye. For one, Quinn committed what to some people is an unpardonable sin: He believed that climate change is both real and man-made. What's more, he was convinced that the production and employment of the nitrogen-based fertilizers typically used by U.S. farmers generated the greenhouse gases that contributed to climate change.
"He has certainly encountered skepticism," says Liz Carlisle, a lecturer in the School of Earth, Energy, and Environmental Sciences at Stanford University and the co-author of Grain by Grain. "But I think he recognized that commodity agriculture was not going to sustain his farm. Chemical inputs are getting more and more expensive, and we don't like the government subsidies that essentially cover the cost of those inputs."
More to the point, she says, "is that he's thinking at the scale of his whole community. It's not just 'How do I save my farm at a time when agriculture is really difficult?' But 'How can I help create conditions under which our whole community can really thrive through a smarter, healthier food system?'"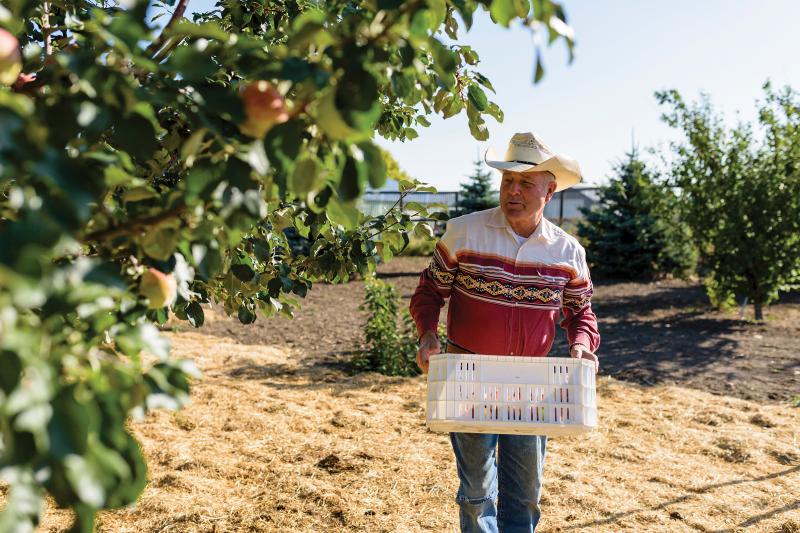 The field lies vast and hot in the late afternoon, the sun pouring amber over the wheat, which is packed so tightly the landscape looks like a single golden bar. Quinn stands knee-high in the grain, cowboy hat tilted back, his shadow stretching three times his length. He reaches down and pulls a single stalk. Behind him, a combine scythes row after row of the season's final harvest. He brushes the stalk gently as if it were an ancient artifact, which in some ways it is. "To me, there is something almost sacred about growing wheat," Quinn writes in Grain by Grain. "Nearly every spring of my life, I have held in my hands a seed passed down over 500 generations, a seed that has nourished my fellow humans for some 10 millennia."
Just as he likes to begin his days looking over the land from the tall white tower that rises next to his home, he can think of no better way to end them than to be out here, under the big Montana sky, with the golden dust thrown by the combine filling the air with shimmering confetti.
The following morning, he will rise early to make pancakes for a group of visitors. In anticipation, when he leaves the field tonight, he will grind some of his Kamut wheat in a flour mill: Two cups of grain make 2 1/3 cups of flour. He will add 2 tablespoons of the nutty-smelling safflower oil extracted from his homegrown safflower plants; he will add the same amount of honey, extracted from the honeycombs in his own bee farm, as well as two eggs hatched by his daughter's chickens. He'll spoon the batter onto a griddle and within a couple of minutes set steaming stacks of golden Kamut pancakes before his guests, along with small bowls of fresh raspberries and chokeberry syrup he made himself. The whole production will be a symphony of food sovereignty, with Bob Quinn as conductor.
For now, however, he shakes his cupped hands like a miner panning for gold until he has reduced the head of the wheat stalk to a small collection of grain. One by one, he pops the kernels into his mouth and looks out onto the fields, his seamed face smoothed by a contented smile.
• In our November issue, Bryan Smith described how Rotarians brought a new basketball court — and an anti-bullying program — to Yonkers, New York.
• This story originally appeared in the March 2020 issue of The Rotarian magazine.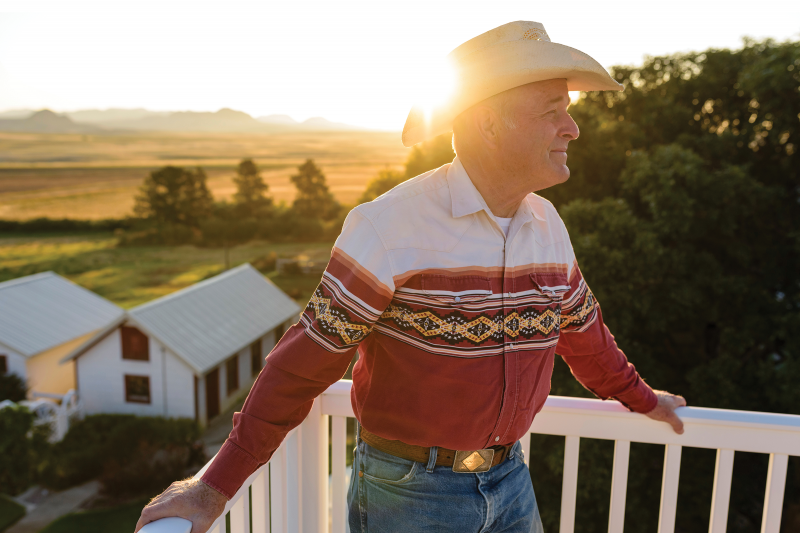 Food insecurity in Montana
In Montana, approximately 1 in 8 people struggle with hunger and more than 38,000 children live in food insecure homes. This can be a symptom of the state's economic insecurity, where low wages, job loss, and insufficient incomes leave families unable to keep food on the table while trying to afford rising costs of housing, child care, and medical costs. While Montana has a relatively low unemployment rate, nearly a quarter of working residents earn below the poverty level, making it difficult to decide which expenses to pay each month.
Thirty of Montana's 56 counties have areas considered food deserts, where at least 33 percent of the residents must travel more than 10 miles to the nearest supermarket.
Nationally, 17.6 million people live in areas with limited access to healthy foods. Is your neighborhood a food desert? Check out the USDA's interactive map to find out where it's difficult to buy fresh produce and food.