Rotary, Ukraine Friends to collaborate on addressing needs in Ukraine
By Ryan Hyland
Rotary International and the U.S.-based nonprofit Ukraine Friends have agreed to collaborate to provide resources, organize logistics, and distribute funds for high-impact projects that help Ukrainians affected by the war with Russia.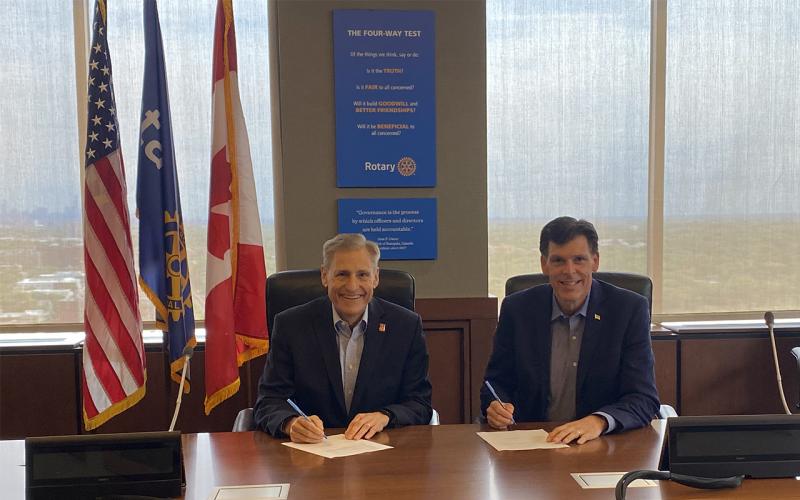 RI General Secretary and CEO John Hewko and Ukraine Friends CEO Brock D. Bierman signed a memorandum of understanding in July 2022 that calls for the organizations to work together to determine the viability of potential projects, distribute funds and in-kind donations, and prioritize joint efforts.
"Rotary is delighted to expand its reach by partnering with Ukraine Friends," Hewko says. "This terrible crisis has brought out the best in Rotary — demonstrating our generosity, increasing membership in Ukraine, and now opening up new opportunities for providing vital services."
The partnership with Ukraine Friends, Hewko says, will help Rotary "do more for Ukrainians as they struggle to survive and rebuild in the months and years ahead."
Rotary has awarded 272 disaster response grants totaling $8.9 million since the Russian invasion of Ukraine. These grants, for club projects in 29 countries, support people in and around Ukraine who have been affected by the war. Rotary and Rotaract clubs worldwide have also donated millions more directly to Ukrainian clubs that are providing water, food, shelter, medicine, and clothing.
Ukraine Friends, the current focus of the New York-based Worldwide Friends Foundation, works in Ukraine to help people affected by the war. This includes organizing temporary housing as well as providing medical equipment and supplies such as badly needed ambulances to help treat injured civilians.
Rotary and Ukraine Friends have agreed on their first joint project, which is procuring and delivering nearly 50 ambulances to hospitals and other organizations. Rotary and Ukraine Friends have donated $300,000 each toward the ambulances, and Rotary districts in Ukraine and Slovakia will work with Ukraine Friends to coordinate the delivery.
The collaboration between Rotary and Ukraine Friends "will have an amplifying effect and create an even larger impact on those we are trying to help," Bierman says. "The critical humanitarian assistance and medical aid to those most in need will provide Ukrainians with a helping hand exactly at the time when they need it most."