Rotary scholarship gives CEO skills to preserve culture, history
In 2006 the nonprofit organization Turquoise Mountain was established at the request of Britain's Prince Charles and then-Afghan President Hamid Karzai to preserve historic buildings, revive traditional crafts, and create jobs for cultures facing crisis. Its work in Afghanistan has created opportunities for artisans and brought hand-crafted luxury items to retailers to create a sustainable market for the goods.
Shoshana Stewart, now Turquoise Mountain's CEO, credits the knowledge she gained through a Rotary scholarship with helping her to expand the organization's reach to Myanmar and to Syrian refugees in the Middle East. Stewart says successful economic recovery programs should focus on creating civic spirit first.
Q: You earned a bachelor's degree in astrophysics and then taught science before volunteering in Afghanistan. What led you to running a nonprofit?
A: Actually, the way I got there was pure serendipity. I was tagging along with someone on an adventure and heard about Turquoise Mountain as I was about to leave for Kabul. The Turquoise Mountain project was six months old, and there were already over 100 people doing calligraphy and woodwork, and beginning to clear the garbage in the old city. I was just helping out in whatever role I could. I started to take over more projects and became the deputy CEO to the founder, Rory Stewart, who I'm now married to.
Q: You've said that it wasn't necessarily strategic planning or feasibility studies that helped get things done, but a focus on energy, beauty, and pride. Why?
A: In a humanitarian crisis, people do need food, water, and shelter very, very quickly. People need jobs. What I have found is that people like coming to work and learning a craft that glorifies their history. The worse and the more difficult life gets, the more a sense of identity and connection to others matters.
Q: What craft are people learning in Afghanistan?
A: Artists in Afghanistan do very beautiful illumination – the colorful decoration around calligraphy. The art is traditionally created with ground lapis lazuli, gold paint, and crushed emerald. While this is how Qurans were made in the past, it is extremely rare now. The teachers and students of the Institute for Afghan Arts and Architecture, which Turquoise Mountain runs, thought they'd make one without a commission and see what happened. With over 600 pages, it took a team of 38 calligraphers and miniature painters nearly two years to finish. But we just went for it, and now we have a potential buyer. The hope is that we can get commissions for these things.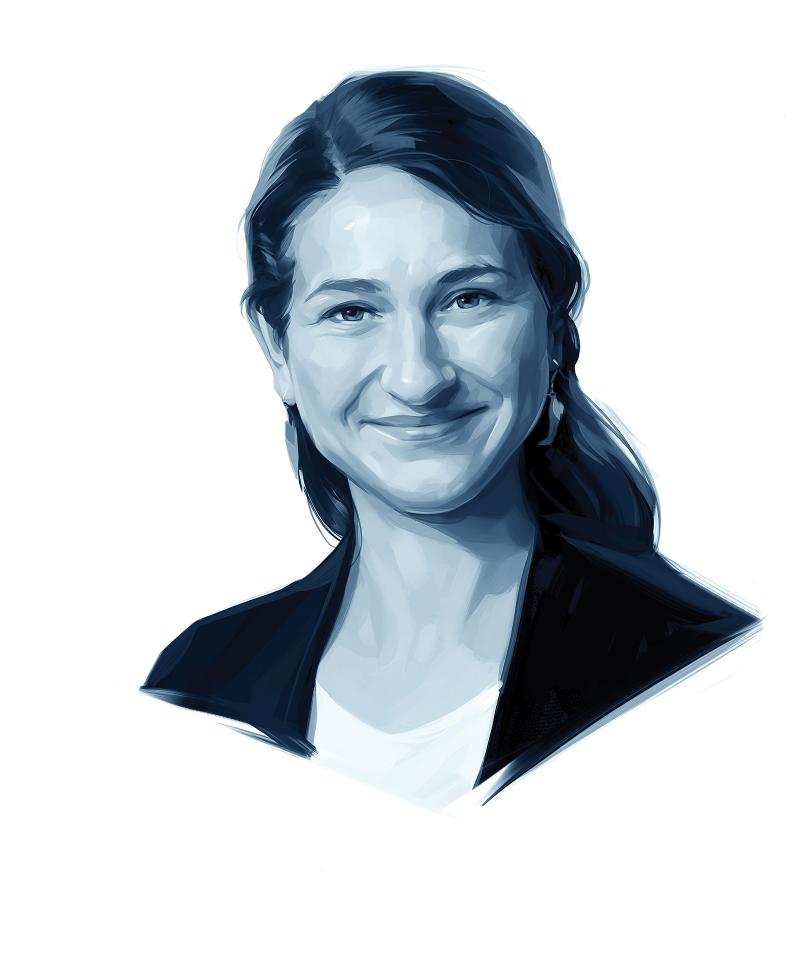 Q: What work are you doing in other countries?
A: We're now in Myanmar and the Middle East. The first step is to find the master artisans and make sure they are still producing. We have found 30 of the best Syrian artisans in Jordan and have begun connecting them to markets. We've just started programs in textile and woodwork training in the Azraq and Zaatari refugee camps in Jordan. The products they make were launched during London Craft Week.
In Myanmar there is the incredible historic downtown of Yangon. We are working on a large and landmark project in the downtown called the old Tourist Burma building and we're working with jewelers, weavers, and textile artists. We're meeting with the Rotary Club of Yangon in Myanmar and talking about a potential collaboration.
— Nikki Kallio
• Read more stories from The Rotarian