Rotary ramps up COVID-19 vaccination efforts
by Ryan Hyland
Rotary clubs around the world are mobilizing in their communities to support the introduction and delivery of COVID-19 vaccinations. Rotary leaders are urging members to connect with their local health agencies to determine how Rotary can support COVID-19 vaccine efforts.
Rotary has decades of experience in supporting the distribution of polio vaccines as well as highlighting their power and efficacy, which is a critical reason why polio is on the brink of eradication. It's this expertise, along with strategic partnerships and innovation, that Rotary members can tap into to protect communities from COVID-19.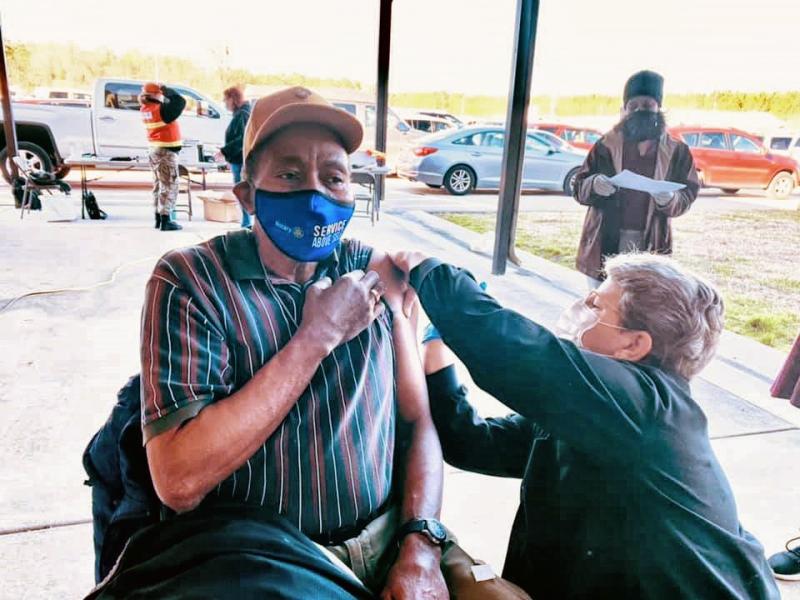 Back-up for health officials
Rotary International President Holger Knaack and Foundation Trustee Chair K.R. "Ravi" Ravindran have called on Rotary members to take action on a number of levels. Rotary members in North Carolina, USA, quickly organized to offer assistance to health officials. District leaders contacted the state's secretary of the Department of Health and Human Services (DHHS) to strategize support efforts.
The six district governors in North Carolina joined the state's health department in conducting a webinar, open to the more than 12,200 Rotary members in North Carolina, to provide information about the available COVID-19 vaccines, how they will be distributed, and answer their questions so they can serve as role models and instill confidence in the vaccines in their community.
"Rotarians are leaders who are looked upon for guidance, and the more information and opportunity to share ideas with health officials, the better," said Dawn Rochelle, governor of Rotary district 7730 (North Carolina).
Members volunteered at local vaccination sites across the state to help health officials with logistics including data entry, crowd control, and check-ins. Members also provide health workers and volunteers with food and beverages. In addition, the districts provided the state health department with a spreadsheet that included a Rotary member contact for each of the 100 counties in North Carolina.
Nancy Barbee and Rochelle, past governors of the same district, volunteered together during National Immunization Days in India. It's those experiences with mass immunization for polio that helped them identify specific needs for how members can help support COVID-19 vaccinations.
"The polio eradication initiative gives a blueprint that provides strategy that is effective in any community," says Rochelle, who took part in two polio immunization drives in India. "Governments take the lead on immunizations there and here in the U.S., but what's critical to the success is the additional layer of support Rotarians bring. We are here to back-up the frontline workers with anything they need. It's amazing to see the response of North Carolina Rotarians."
New joint COVID-19 taskforce gives direction to clubs
At a meeting in December, the Rotary International Board of Directors and Rotary Foundation Trustees created a joint taskforce that will help guide upcoming efforts to distribute the COVID-19 vaccines and advocate for people to get vaccinated. The newly formed group will also share information promoting vaccine acceptance, and encourage service projects to stop the spread of the disease, such as social distancing, wearing masks, and washing hands frequently.
In a joint letter to district leaders, Knaack and Ravindran said members have a successful history of getting things done when help is needed. "Through the hundreds of global grants and projects, Rotary members have demonstrated what we can accomplish to raise awareness, deliver critical personal protection equipment, and provide support to frontline health workers," they said in the letter.
The two Rotary leaders called particular attention to the importance of one specific call to action: combatting vaccine hesitancy. "Help us combat the powerful, growing force of vaccine resistance and misinformation. Our advocacy in our communities will be critical – we need to spread the message about the power of vaccines to save lives," they urged.
Other ways clubs can mobilize around COVID-19 vaccine introduction and delivery at the local level include community education, ensuring equitable distribution of the vaccine, helping stop the continued spread of the disease, and aiding local health authorities to get prepared for mass vaccinations.
The infrastructure created by Rotary and its Global Polio Eradication Initiative (GPEI) partners is already supporting efforts to combat COVID-19. The GPEI recently announced that it is ready to support the rollout of COVID-19 vaccines.
1-Feb-2021