The Seven Centers of Peace
---
Uppsala University in Uppsala, Sweden
by Jeff Ruby
Rotary Peace Centers offer tailor-made curricula to train individuals devoted to peacebuilding and conflict resolution — no matter where they land. More than 1,500 peace fellows from more than 115 countries have graduated from a Rotary Peace Center since the program was created in 1999; the first peace centers began classes three years later. The curriculum at each peace center has been carefully crafted to address specific aspects of the peacebuilding process — and train the next generation of global change-makers. Currently, Rotary has seven peace centers in various locations around the world. The newest, at Makerere University in Kampala, Uganda — the first in Africa — welcomed its inaugural cohort of peace fellows in 2021.
The peace center at Uppsala University is known for its conflict data program, a comprehensive database of organized violence and mortality. Around the world, policymakers and practitioners from the European Union to the United Nations look to the Uppsala program as the global standard for evidence-based records — and the peace center's fellows draw upon the same scientific approach toward social issues. "There's a deep expertise here," says Kristine Eck, the director. "Our fellows want to understand cause and effect, and that's a skill set we train them in."
Highlights of the 20-month program include a joint trip with Bradford fellows to Oslo to visit the Nobel Peace Center; there are also extended opportunities for fellows to continue self-designed field work and research. For example, in Zambia they might focus on water and sanitation, or in Korea they could learn about nuclear nonproliferation (designed to prevent the spread of nuclear weapons and weapons technology while promoting nuclear disarmament and the peaceful use of nuclear energy). One student assisted in a quantitative research project that explored the relationship between a society's level of gender equality and its military effectiveness.
Sweden is proud of its history of pacifism, which enables fellows to take advantage of local events such as "Philosophy Teas," a series of discussions about peace practitioners and philosophers led by Uppsala professor Peter Wallensteen at a century-old theater — a tradition that began as a celebration of Sweden's 200 consecutive years of peace. "There's an increased interest among our fellows in the skill set of peacebuilding," says Eck. "A lot more people used to come to us wanting to learn about conflict."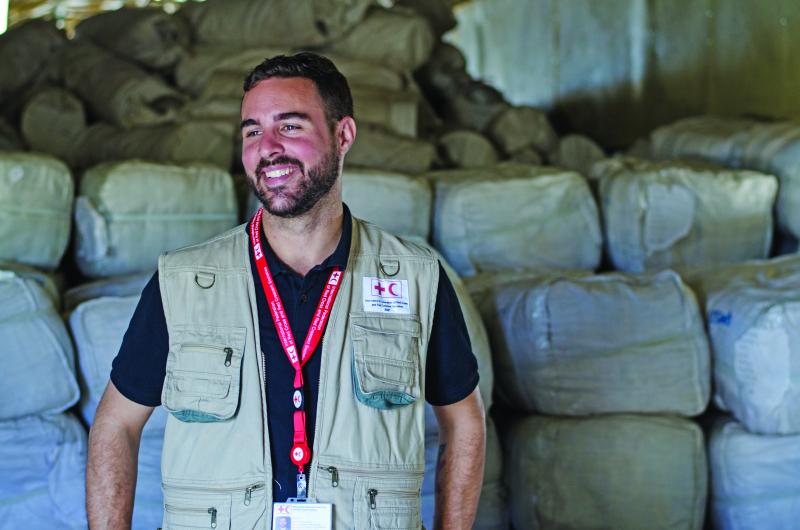 Jamie LeSueur, Alberta
Uppsala University, 2013-15
• Master of Social Science, with a focus on peace and conflict studies
• Head of emergency operations at the International Federation of Red Cross and Red Crescent Societies (IFRC), leading humanitarian relief and disaster management efforts in disaster and conflict situations in Africa and elsewhere
• Alumnus of the Year, Uppsala University, 2020
"My Rotary Peace Fellowship provided the opportunity to learn and study in a foreign context — and the applied field experience offered me a first entry point as a delegate in the international humanitarian space. Less tangibly than the courses offered, the fellowship offered a unique exposure to a diverse cultural context that helped prepare me for international work. It's a truism that to be an effective humanitarian you must possess a strong degree of cultural awareness."