Putting power in hands of women
Stephanie Woollard went from Down Under to the top of the world to find out if one person can make a difference
By Diana Schoberg Photos by Monika Lozinska
The clacking of sewing machines fills the sunlit room until word spreads that the bus has arrived. At that, a dozen women clad in pink kurtas file into the courtyard of the Seven Women Center in Kathmandu, Nepal. They smile widely as a group of Australian women led by a tall blonde enters through the iron gate.
Stephanie Woollard bends down to let Sandhya Khadgi, the center's bookkeeper and literacy trainer, put a dot of red powder on her forehead and a red flower petal atop her head in a gesture of welcome. Woollard has arrived with a group of Rotary members and friends to tour the center that she founded and whose goal is to improve the lives of women in Nepal.
When Woollard, now 34 and a member of the Rotary Club of Melbourne, first met Khadgi, Woollard was a 22-year-old tour guide with a passion for social justice and a knack for connecting with people. After leading a tour group to Kathmandu in 2006, she stayed an extra week to explore the city's winding streets and hidden passageways, as tangled as the electrical wires above them. She soon made friends with shopkeepers, who invited her to tea as she asked them about their lives.
"I'm a very curious person," she says.
One day, Woollard noticed a woman with dwarfism lugging two heavy bags into a makeshift tin shed constructed of three walls and a roof. It had no door; on impulse, Woollard followed the woman inside.
Another woman who spoke some English told Woollard that seven disabled women lived in the shed, eking out a living selling soaps and candles. In Nepal, many people consider a disability to be karmic payback for a sin committed in a past life. One of the women had fallen out of a tree as a child and had never been treated for her injuries; another had hurt her leg and, because her family didn't have money for treatment, had to have it amputated. Khadgi — who was one of the women Woollard met that day — was born with a jaw deformity that she covered with a mask in public.
"When Stephanie walked into the tin shed, I felt so nervous around someone from outside the Nepali community," Khadgi says. "In the community, because of the deformity I have, I am shunned." But she had a feeling Woollard was different.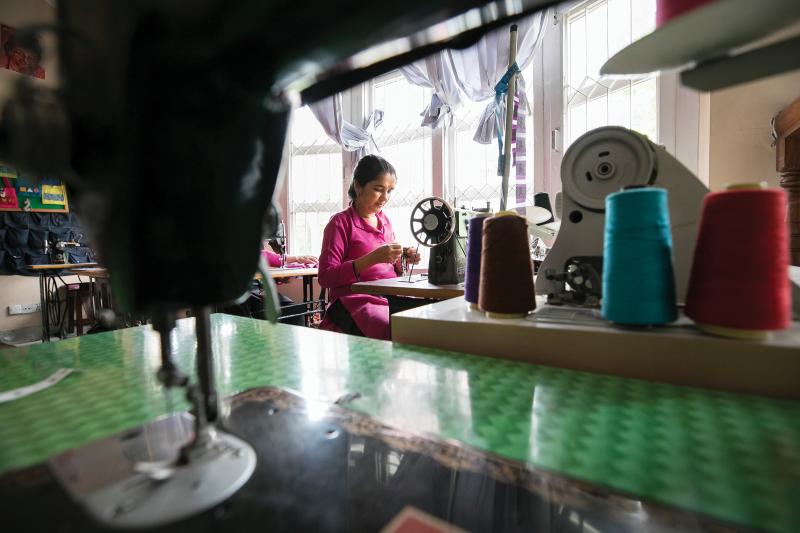 The experience haunted Woollard. She called home and asked her mother what to do. "Can one person make a difference?" she wondered aloud.
She decided to use her last AU$200 to find out.
Through the connections she had made in Nepal, Woollard hired two people to teach the seven women to knit handbags, gloves, and hats. By the time she flew home, they had crafted 12 items, which she stuffed into her suitcase to sell to friends in Australia. Meanwhile, the women kept on knitting, and Woollard looked for an outlet to sell their work.
A student at La Trobe University in Melbourne at the time, Woollard joined a group focused on fighting human trafficking and asked the members to host a booth on campus to sell the Nepali women's products. But sales didn't go the way she expected. She began to realize that people saw only the items, not the women behind them. So she started speaking to groups around campus to drum up interest in the group she now called Seven Women; soon sales reached $800 per week. The proceeds went back to Nepal where they were invested into more training so the women could make higher quality goods. Soon they were getting orders from fair-trade outlets across Australia.
The enterprise went through some growing pains. When products weren't consistent in size, Woollard realized the women had to learn how to use a ruler. The need to read and fill out order sheets turned into literacy lessons. Trying to find products that would appeal to the Australian market, Woollard searched the internet for images and, on trips to Nepal, made patterns on her hotel room floor using material from a wholesale market in Kathmandu. She and the women worked together to come up with designs that would suit both their skill level and the market's demand. She wanted it to be their business, not hers.
"All of those things that went wrong, she turned into learning experiences. She's creative in that way," says Bob Fels, a Rotarian from Melbourne. "She got her hands dirty. She was practical. She was driven by wanting to help people. She was prepared to put herself out."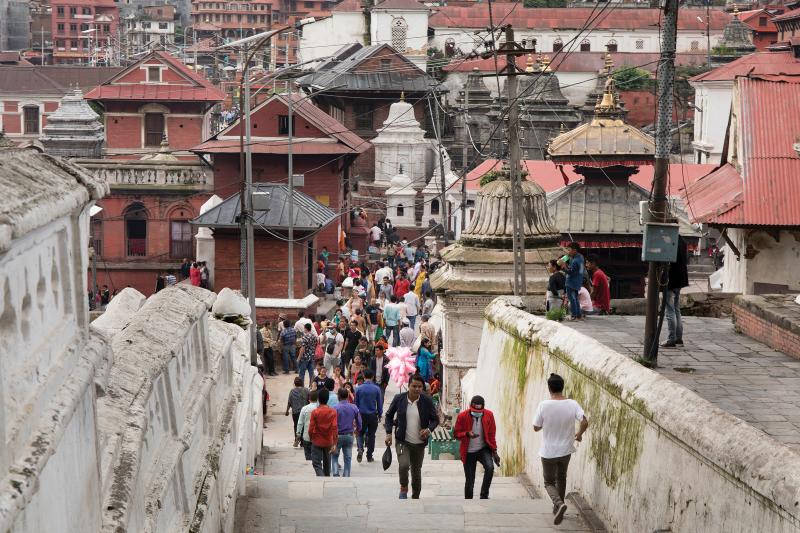 In Kathmandu — which ranks fifth among the world's most polluted cities — blaring horns and choking dust fill the air and the crowded streets. The Seven Women Center provides a respite from all that, as well as from the discrimination and violence many Nepali women face in their personal lives. "When Steph comes here to visit, we're excited," says Anita Kerr, president of Seven Women. "There are always new things happening. We are growing, and the women are changing. They have more confidence."
On this July day, the visiting Rotarians' first stop is the sewing room, where a half-dozen women sit at the machines. They are only a few of the women who work with the center; most are based at home so they can fit in their sewing or knitting between taking care of children and other household duties. The women have just completed a large order that they've been working on for months for a French company, a new customer. Now they're starting on a 10,000-piece order for friendship bracelets for a local tour company.
Kerr introduces the women and briefly tells their stories. A 17-year-old girl who used to wash dishes 16 hours a day until her hands were raw now lives at the center, where she receives an education as well as a stipend that she can send home to her parents. Eventually, she wants to own a tailor shop. Another woman is a single mother who wouldn't give up her daughter, even though girls are seen as a burden in Nepali society. A third makes a three-hour round-trip bus ride to the center every day because it's a place where she feels safe and happy after her abusive husband left her for another woman. "I feel like it is my home," she says.
A banner hanging on the wall of the sewing room depicts the life cycle of a butterfly: It's the metaphor the women use to describe how their lives have changed because of Seven Women. They were caterpillars when they arrived, and the center is the cocoon that shelters them while they receive training in skills that include hospitality, literacy, and finances. When they're earning money, they're butterflies, able to leave poverty, violence, and oppression behind. And once their metamorphosis is complete, they can share their skills with others — teaching women back in their villages how to read and write, continuing to work with Seven Women, or opening their own shops and businesses.
Kerr has her own metamorphosis story. When she was in school in her village near the Indian border, she used to wonder what had happened to girls who stopped coming to class. Then she would see them with babies of their own. In Nepal's poor villages, where there are many mouths to feed, children are often married off or sent to monasteries.
One day, she witnessed a girl being pulled off the schoolyard by three men for an arranged marriage. "She looked so scared," Kerr remembers. "I felt angry, and I felt pain as well, because it's not fair that this happens to women."
Kerr wanted more for her life. When she was 14, she left her family a letter telling them not to look for her and then took the first bus she saw to a town she had never been to. Fortunately, she met a friendly woman shopkeeper who helped her find a safe place to stay and a job cooking at a kindergarten. Later, she managed a boutique hotel in Kathmandu, where she was the only woman employee.
"I always felt that there was something big that I was going to do," Kerr says.
She found that in Seven Women. By 2012, Seven Women's manufacturing business was running smoothly. While the organization had originally focused solely on women with disabilities, many other women in desperate situations were looking for help too. Woollard scouted for a location for a new center and hired Kerr to run it.
"Anita's an action person, just like me," Woollard says.
Meanwhile, Woollard herself was at a crossroads. "The joy as an entrepreneur is at the beginning — working with those seven women to set the thing up and get through challenges together. It had been running for a while, and we'd ironed out the crises," she says. "I had been laser focused on Nepal. Now I wanted to learn more about the world and where I could make the biggest impacts."
What should she do next? Rotary helped show her the way.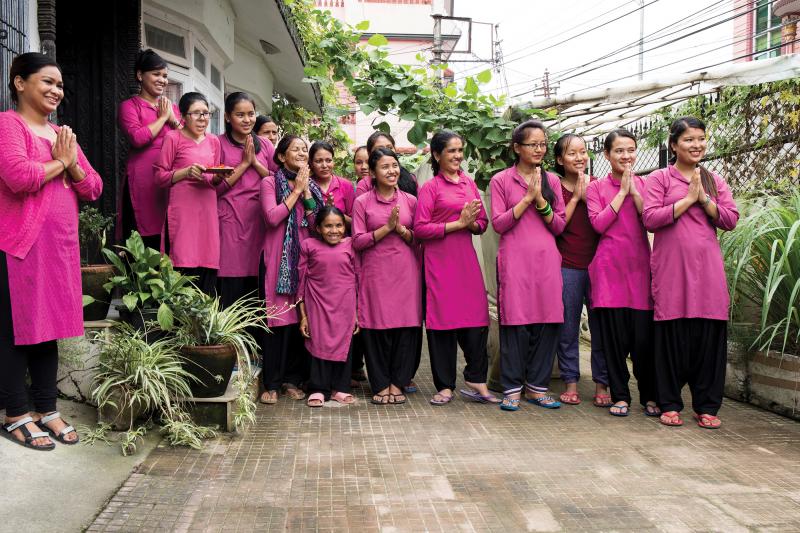 The Australian Rotarians are gathered around a large wooden table in a room festooned with prayer flags as Sandhya Khadgi neatly writes out Nepali vocabulary words on a whiteboard. "Are you ready?" she asks them. Her sweet demeanor quickly morphs into drill sergeant mode as she quizzes them on the words: "Thank you," she prompts. "Dhanyabaad," the Rotarians reply. Then she calls on people to respond in an increasingly rapid cadence, and they all crack up as their tongues twist over the words.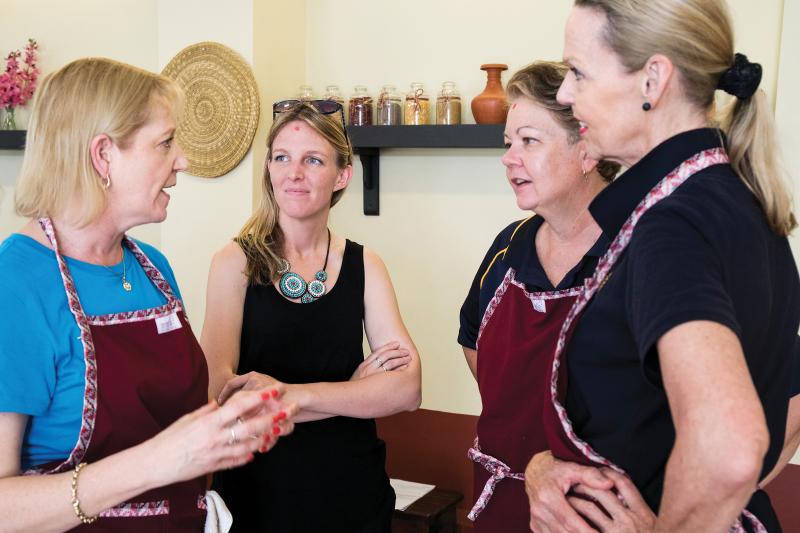 Visitors like the Australian Rotarians come to the center for language, cooking, and craft classes taught by the women, who in return receive valuable experience in hospitality skills and an opportunity to practice their English (more than 1,100 tourists had taken a cooking class over the previous 17 months, Kerr says). After their classes, tourists visit the shop where they can buy handmade cashmere scarves, silk garments, and decorative items made of felt. The center is currently fundraising for renovations on a planned 13-room hotel. When people look up the hotel online, they'll read about the classes.
The various enterprises give the women opportunities to follow a career path that they find rewarding. Khadgi, who has a 10th-grade education, desired more cerebral work, so Kerr first asked her if she wanted to train as a literacy teacher and later encouraged her to try accounting. "I was very afraid, as day-to-day bookkeeping had to be done and I didn't know anything," Khadgi says. "I started with small tasks, and after doing it and doing it, I can handle all these things. Now I feel very proud."
Another piece of the Seven Women ecosystem is Hands On Development, a tour company that Woollard founded in 2012 after showing some visitors around the Seven Women Center and other sites in Nepal. After hearing how the trip had affected them, Woollard had a lightbulb moment. "I thought maybe I could share Nepal with others and change their lives too," she says. Each year, several of the tours organized by the company are geared toward Rotary members and friends.
During a steamy cooking class at the center, the 19 people on this tour learn to make tarkari, achar, and khir (vegetable curry, tomato pickle, and rice pudding). Jenny Foster, a member of the Rotary Club of Essendon, Australia, and several other Rotarians abandon their knives and cutting boards to hold an impromptu side meeting, brainstorming amid the cacophony the ways Rotary can help Seven Women expand. Rotary buzz-words like "global grants" and "vocational training teams" fly around the room. It's a scene repeated frequently during the tour.
Foster, who worked with her Rotary club to host a screening of a documentary about Seven Women to raise money for the organization, came on this trip with her 20-year-old daughter, Elise. "You see the work of Seven Women, but you've got to also see the story behind why you need to do a project such as this," she says. "Getting into the villages, going up to see a temple, meeting the local people — you start to understand the needs of a country like Nepal and why Stephanie would want to help."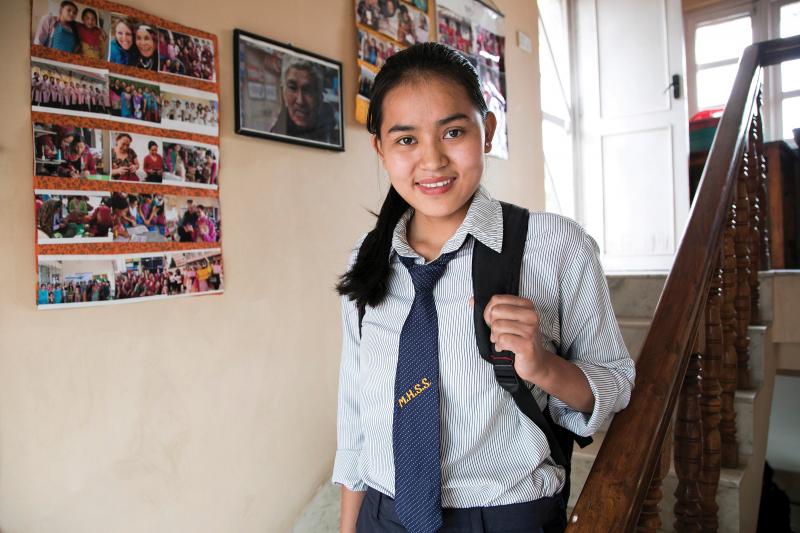 Bimala Tamang is 19 years old. She's from Betini, a village deep in the Himalayas, a six-hour bus ride from Kathmandu followed by an eight-hour hike. Betini has one of the highest rates of child marriage in the country, and most of Tamang's friends have several children already.
As a child, Tamang tagged along with her older brother when he walked to school — five hours round trip. In Nepal, the money a family would spend to send a girl to school is often seen as better saved for her dowry, but in response to Tamang's pleas, her grandparents, with whom she lived after her mother died of complications from her birth, agreed to fund her schooling.
When Seven Women brought its literacy program to the village, Tamang was the most educated female — child or adult — they could find. Though she was only 17 years old, Seven Women asked her to teach other women in her village.
Seven Women then began a microloan program in Betini, and today, the women own shops and restaurants that cater to aid workers who are helping to rebuild after a 2015 earthquake hit the area. "Bimala has had a huge role in that success," Kerr says.
When the prospect of an arranged marriage threatened to interfere with Tamang's dream of becoming a social worker whose focus was maternal and child health — one directly influenced by the death of her own mother — she found refuge and continued her education at the Seven Women Center in Kathmandu.
Woollard, Kerr, and the Australian Rotarians are gathered around the large wooden table in the classroom eating lunch when Tamang enters the room, beaming. She has passed her year 12 exam, which means she's graduating from secondary school and on her way to college. The Rotarians erupt in applause and a cheer.
"I used to doubt a girl could amount to anything," she says. "Now my grandparents tell me, 'You don't need to get married. You have to do good things and show them to the villagers.' I have already become a role model. They are so happy to see this."
• Read more stories from The Rotarian
Get involved
Want to lend your support to Seven Women? Host a screening at your club of the documentary Bringing the Light: The Seven Women Story or become an ambassador for the organization. Find out how at sevenwomen.org/involve.
Make peace
There have been more than 1,200 Rotary Peace Fellows since the program began in 2002. Rotary districts are recruiting for the next class of peacebuilders. Learn more at rotary.org/peace-fellowships.