Rotary Fellowships amplify Ukrainian relief efforts
By Arnold R. Grahl
In the festive atmosphere of a gala dinner, Rotary members raised glasses in toasts and kindled friendships in Lviv as they welcomed a group of Ukrainians to the International Fellowship of Flying Rotarians. The next day, the Ukrainian members showed visitors former Eastern Bloc aircraft at a military base that had become a general aviation field.
Just a few months later, Russian forces invaded Ukraine — and the new friendships became critical connections for support and supplies.
Rotary's global network has sent millions of dollars' worth of relief and medical supplies to help the people of Ukraine. Rotary Fellowships, which bring together members who have a shared interest or hobby, have amplified the impact of these efforts.
Members of the flying fellowship leapt into action to help their fellow pilots as soon as the war began. George Chaffey, then-world president of the fellowship, says he and other members quickly contacted the Ukrainian members, who have been instrumental in identifying the most effective ways to channel the assistance.
One of them has been Olha Paliychuk, a member of the Rotary Club of Cherkasy, Ukraine. Paliychuk, who is a doctor and working toward her pilot's license, has helped coordinate response plans through both the flying fellowship and the International Fellowship of Healthcare Professionals.
"Within a week we raised more than $12,000 and a large volume of medical supplies, all cleared through Olha," Chaffey says. "We collect what the Ukrainians tell us they need and direct it to exactly where it is needed."
Chaffey says the fellowship members based in Hong Kong have arranged the delivery of more than $25,000 overall in medical supplies. At one point, they raised more than $10,000 in just four days for urgently needed medical equipment. Fellowship members worked out the details of the shipment in a message chat that spanned multiple time zones.
"Talk about speed and how technology has made the world a small place," says George Ritchie, the 2022-24 world president of the group. "I'd like to think our fellowship was one of the quickest out of the block to help."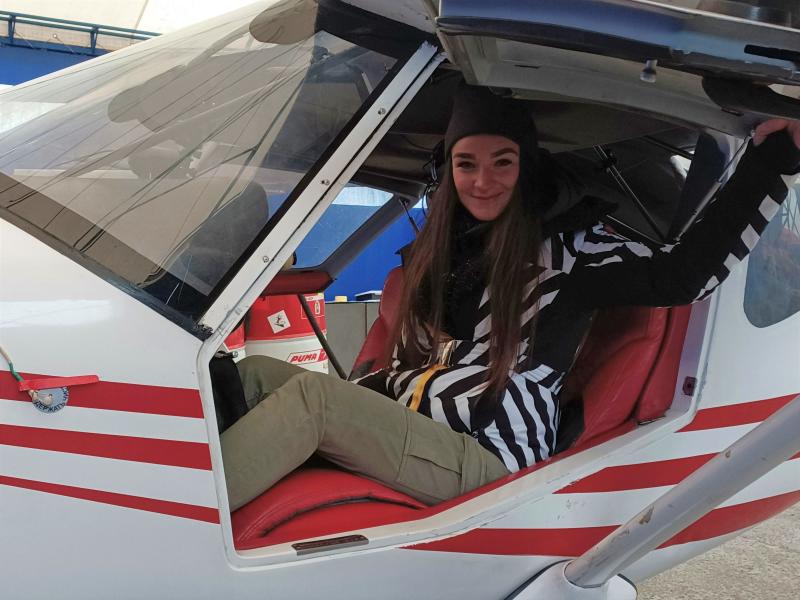 Medical professionals
John Philip, chair of the International Fellowship of Healthcare Professionals, says he and the group's other leaders also acted swiftly to connect with its Ukrainian members, including Paliychuk. The group quickly developed an effective approach to aid and holds weekly meetings with medical workers in Ukraine about the supplies they need.
"We only respond to the requests of medics in Ukraine, and only source and fund things through Rotary," Philip says. "Items we purchase are sent to a warehouse in Poland managed by Rotarians, who take it over the border and hand it to volunteers, who take it to the precise hospitals we specify."
One effort they've been involved with included Rotary districts in North America and Argentina that are working with a U.S.-based association of Ukrainian health care workers to ship hundreds of tons of critical medical supplies from Chicago to Ukraine.
Ski event benefits Ukraine
Even sporting fellowships have joined the effort. The International Skiing Fellowship of Rotarians organized a benefit week in Scuol, Switzerland, in March. More than 100 skiers from 16 European countries attended, raising about €35,000 (US$35,000) to buy clothing and other goods that were sent to a warehouse near the border of Ukraine for distribution.
The ski fellowship also collaborated with the Rotary Club of Bratislava Danube, Slovakia, and the Rotary Club of Coburg, Germany, to raise an additional €1 million (US$1 million) from its members. Working with the District 2240 Ukrainian relief committee, the money was used to purchase and retrofit five ambulances and fill backpacks of supplies for paramedics.
Miloš Kmety, head of the European chapter of the fellowship, says the group will continue its efforts, including buying more ambulances and equipment, pellets to purify water, and tourniquets.
Long-term solutions
Philip says the healthcare fellowship quickly realized that it would need a more coordinated, strategic response than a single funding effort. Fellowship members have heard in their weekly meetings about long-term problems developing because of how people have been displaced and the infrastructure that has been disrupted. This includes reports of children going unvaccinated and chronic health issues going untreated.
"Given a situation where there is poor water supply and inadequate sanitation, the danger of cholera and typhoid and measles and hepatitis is lurking in the background," Philip says.
At the request of Ukrainian doctors, the fellowship formed a task force to study the prolonged effects of the war on prenatal care, chronic medical conditions, and young people's mental health. It has also developed a confidential support network for doctors in Ukraine who need to process their emotions.
"The worst thing is to see doctors crying," Philip says. "They talk to us about some of their patients who shouldn't be at risk but are at risk. They have patients whose limbs have been pulled apart. They are having to remove bones with crude instruments that were used in the first World War. They are seeing people die of bleeding."
Having to respond so quickly to the events in Ukraine, Philip says, has shown the fellowship that it can mobilize to provide long-term care in response to other conflicts and natural disasters.
"We have learned so much through this experience," Philip says. "We've discovered there is a lot more we can do."