Our world
Waste makes haste
Rotary club raises money with outhouse race
For Ray Anthony, it simply doesn't sit right when winter festivals are held indoors. So when the Rotary Club of Shenendehowa in Clifton Park, New York, was looking for a fundraiser, he told his fellow club members about his time in Alaska in the 1990s. During the long winters there, he says, "there was always an outhouse race" to ease the seasonal doldrums.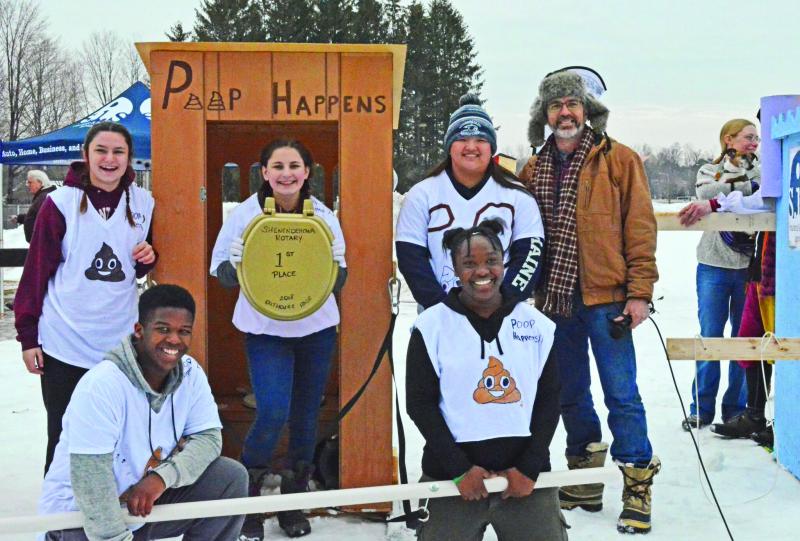 The club embraced his proposal for a commodious competition, and in February it held its second annual outhouse race. Six teams of five competitors propelled their themed wooden outhouses on skis along a 100-yard course. "Pushing and pulling an outhouse on the snow around a cone can be a little more difficult than you think," Anthony says. The potties – which are unused – are built by the participants; some use $100 kits sold at cost by a Rotarian-owned lumber supplier. There are certain specifications: "You have to have a seat inside with a hole in it. Someone has to sit on the seat. Each house also must include a roll of toilet paper." Unlike real outhouses, these faux loos have no doors, so the occupant can see where the team is going.
Some 200 spectators lined the town common and cheered entries including the Shrek-themed "Princess Fiona's Royal Throne," sponsored by a local insurance company. "The team members all came in costume; one gentleman was juggling toilet plungers," says Anthony. The fan favorite, "Poop Happens," was pulled by a squad garbed in shirts and caps featuring the poop emoji. It won the race, collecting $500 and a gold-painted toilet seat. The Southern Saratoga YMCA was No. 2, yet remained flushed with pride over its victory in 2017.
This year's race raised over $2,000 for the club. Proceeds help provide dictionaries to every third-grader in the area, among other projects. "We have a college scholarship," Anthony says, "and we also do Ronald McDonald House breakfasts once a month," cooking and covering the cost of meals for the families of ill children. The Mohawk Towpath Scenic Byway, along the historic Erie Canal, also benefits from the club's regular restoration work.
Anthony's garage stores two latrines built to help promote the race, and they're available for rent on race day in case any teams come unprepared. He's delighted at the success of the Winter Outhouse Races. "I really appreciate how much fun the people who come out have," he says. "Our club really gets excited with this one."
– Brad Webber
• Read more stories from The Rotarian