Our world
Caught between two nations
In a quiet coastal district of southern Bangladesh – an area that normally attracts visitors to its beaches, resorts, and natural beauty – a crisis is underway.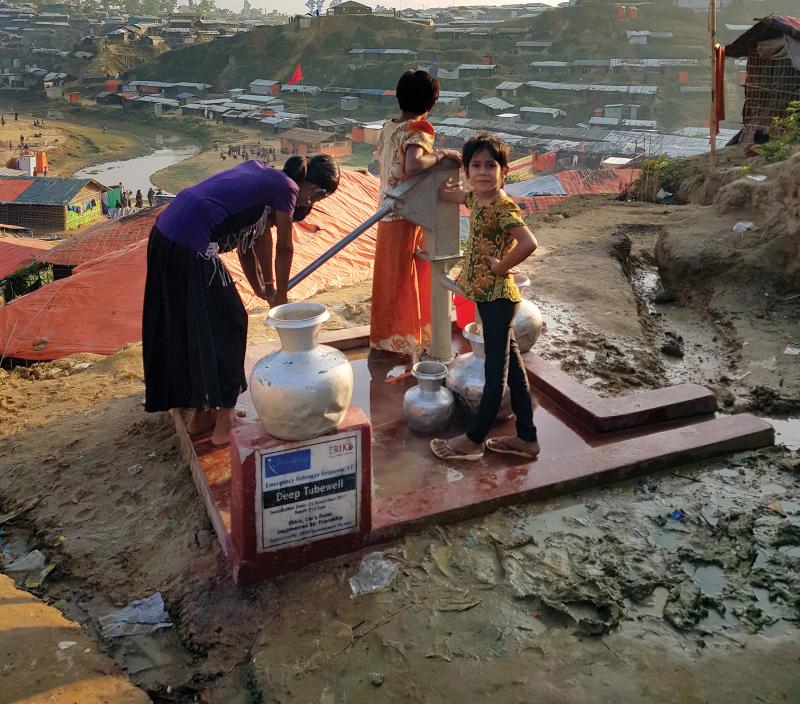 Since August 2017, hundreds of thousands of Rohingya Muslims have fled Rakhine state in Myanmar into neighboring Bangladesh to escape widespread "clearance operations" by Myanmar's military, which involved burning crops and homes. As of March, the Bangladeshi Immigration and Passports Department had registered more than a million refugees.
The Rohingya population now living in the Cox's Bazar district in Bangladesh endured persecution even before this most recent crisis. The government of Myanmar has long treated them as outsiders, even though the Rohingya have been in the region for centuries. Meanwhile, the government of Bangladesh has committed to helping the refugees but also demanded that Myanmar take the Rohingya back.
Kazi Amdadul Hoque, past president of the Rotary Club of Sonargaon Dhaka in Bangladesh, learned of the Rohingya refugee crisis while watching news reports on television. He quickly began looking for a way to help. On 12 September last year, he traveled to Cox's Bazar to see what was happening firsthand.
"Beyond one hill, I saw thousands and thousands of people," Hoque says. "Their faces were telling ghastly stories: exhausted, broken, flushed, hollow – reflective of the sheer terror they fled."
Hoque is director of strategic planning and head of climate change adaptation and disaster management for Friendship, a nongovernmental organization that helps people in remote communities in Bangladesh. The group provides emergency food relief as well as disaster preparedness, water treatment, legal aid, cultural preservation, and health care services through hospital ships, satellite clinics, and mobile phones.
Friendship is also providing aid to the Rohingya refugees, who have suffered murder, rape, and destruction of their crops and villages in Myanmar.
"None of us had ever witnessed such cruel experiences in our lives: children injured by bullets, newborn babies having no breast to feed on, elderly people in pain, everyone looking for something or someone they lost in the crowd, not knowing where to go, where to find food, bleeding from injury," Hoque says.
Hoque and Runa Khan, founder and executive director of Friendship, say they were not prepared for the severity of the situation. When they visited, Khan noticed that most of the refugees entering the camps were children and women.
"That's when the realization hits you that most of the men had been killed," she says.
The magnitude of the crisis made it difficult to know where to begin. Friendship quickly mobilized its workers to the area. Without adequate time to raise funds, employees contributed their own money to help with the immediate response, Khan says. Early in the effort, Hoque led a team that implemented a water sanitation and hygiene project and quickly assessed and recommended other needed actions.
Since the crisis began, Friendship has set up a birthing center and comprehensive maternity clinic, offered door-to-door health care services, set up basic infrastructure, and installed bamboo bridges and solar-powered street lamps.
With thousands of acres of forests cleared to make room for the refugee camps, the stressed region is at risk of landslides and floods.
But the biggest concern is "to find a way for these people to have hope about their future and hope for the right things," Khan says. "There are a lot of uncertainties ahead, and for a life of dignity, creating a solution where they can be more self-reliant is very important."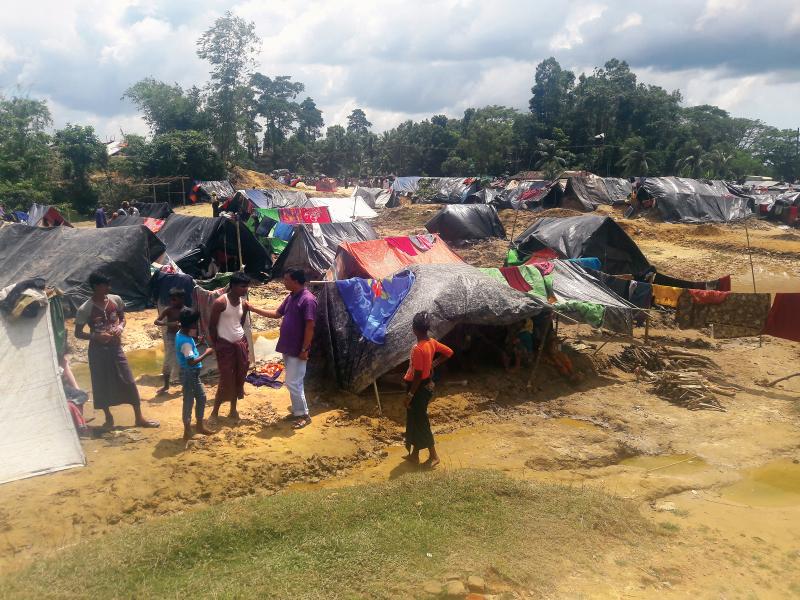 The mounting pressures of surviving in inadequate conditions add to a growing sense of frustration "that could eventually lead to desperation, especially if no medium- and long-term plan is presented to them," Hoque says. "This crisis is not so different from the many pogroms that have taken place throughout history."
Other Rotary clubs are responding to the situation. The Rotary Club of Cox's Bazar City, at the center of the crisis, has been raising funds, and in September 2017 it distributed aid to Rohingya refugees.
Clubs around the world are taking notice as well. Eric Lee, a journalist and member of the Rotary Club of Cheat Lake, West Virginia, had heard details of the situation from a Bangladeshi colleague. Lee took the story to the Cheat Lake club, and the club committed $2,500. Lee raised an additional $750, and all of the money was spent on supplies purchased through a wholesaler in Dhaka.
Lee and his wife, Kayley, traveled to Bangladesh in February. Working with Samsul Hoque Shohel and Sifat Imtiaz Hasan of the Rotary Club of Cox's Bazar City, who coordinated efforts on the ground, they delivered about 100 packets of clothing, hygiene products, and water purification tablets to Rohingya refugees. Lee says this was a pilot project to assess the feasibility of a larger distribution. "It was a small donation, and it was quite an ambitious undertaking, but part of that was to demonstrate to the world that it could be done," he says.
More than a million Rohingya people need food assistance, and many refugees still don't have access to basic infrastructure, including safe drinking water and lighting, leading to safety risks, particularly for women and children.
"Reproductive health needs of women are not sufficiently being addressed, and mitigation of incidents of gender-based violence needs to be stepped up," Hoque says. "The overcrowded camps exacerbate many risks and limit the ability to provide comprehensive protection services."
The psychological impacts of forcible displacement and dependency on humanitarian assistance will continue to affect the Rohingya refugees, Hoque says, and environmental hazards and disaster preparation have remained largely unaddressed. Rotary, with its partners and global reach, has the ability to make an example for the next generation, he says.
"If Rotary members joined forces and managed to gather the Rotarian expertise that we all either directly or indirectly possess, then I believe this would lay the foundations for an integrated cooperation effort that could bring a lot of positive impacts to the Rohingya," he says.
— Nikki Kallio
• Read more stories in The Rotarian