Smooth operations
When the plane lands, the team from New Orleans Medical Mission Services, or NOMMS, springs into action. Doctors, nurses, and nonmedical volunteers head to the hospital that is hosting them; there, they set up operating rooms, patient consultation areas, and clinics. They also organize their medical supplies, which are already on the ground, having been loaded on pallets days earlier in NOMMS' new 9,000-square-foot warehouse in Louisiana and then shipped by air.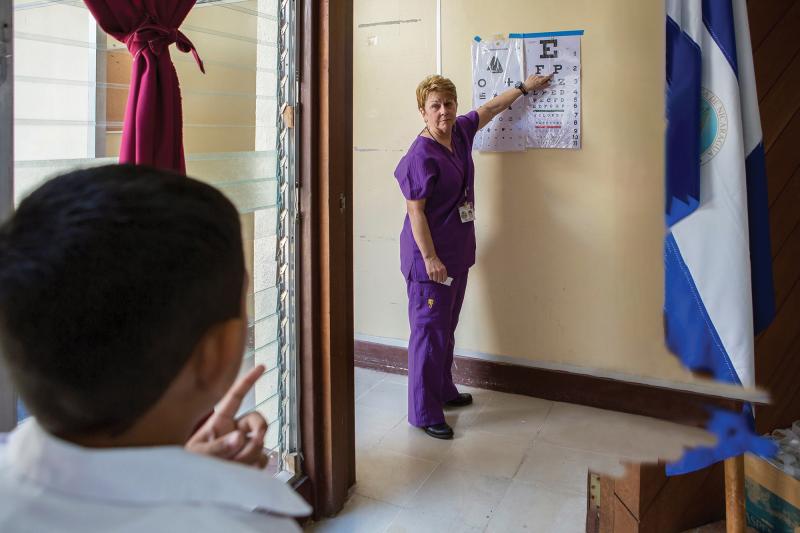 "We try to bring everything we're going to need on the mission so we don't use up the local hospital's supplies," says Tom Kennedy, a retired obstetrician/gynecologist and a member of the Rotary Club of Metairie, Louisiana. Kennedy, a co-founder and the medical director of NOMMS, coordinates logistics for each of the group's trips.
Since 2002, volunteers with NOMMS have completed 37 such missions, bringing medical care to people in the Dominican Republic, Ecuador, Honduras, Nicaragua, and Panama. And for more than a decade, NOMMS and the Rotary Club of Metairie have been working together: Members have volunteered on NOMMS missions and participated in NOMMS' annual gala and golf fundraisers, which provide much of the group's operating budget. And NOMMS frequently taps into Rotary's global network to find translators.
Each trip lasts a week. "It's very active and very tiring," says Nancy Hudson Miller (pictured), a Metairie club member who has gone on three NOMMS missions to Nicaragua. She has no medical background, but for the trips she was trained to fit people for eyeglasses.
"There's a lot of camaraderie among volunteers."
The type of medical care provided depends on the specialties of the doctors and nurses who participate. On each trip, the group is typically divided into four or five teams: They often include orthopedists and physical therapists for knee replacements and rehabilitation, spinal surgeons to treat conditions such as scoliosis, and urogynecology surgeons for female pelvic reconstructive surgery. Volunteers also staff dental and eye clinics.
In total, NOMMS volunteers have performed 1,987 surgeries (including more than 800 knee replacements) and 153 dental procedures, and distributed 44,568 pairs of eyeglasses.
The strength of the long-running partnership between NOMMS and the Metairie Rotarians is based on fellowship. "It's hard work, but we have fun. There's a lot of camaraderie among volunteers," says Miller. "It's a remarkable experience."
— Fritz Lenneman