Rotary members from Durango, Colorado, USA, team with the Navajo Nation to bring solar lights to remote, off-the-grid homes on the country's largest Native American reservation.
By Kate Sieber Produced by Stuart Cleland
After decades of crafting squash-blossom necklaces, pendants, and bracelets, Jerry Domingo knew he would have to quit making jewelry, because he couldn't see very well anymore.
Navajo like Jerry Domingo are caught in isolated pockets of land, which are called The Checkerboard.
A sturdy Navajo grandfather, silversmith, and revivalist preacher, Domingo lives in a one-room house smaller than a single-car garage in the windswept sagebrush desert near Nageezi, New Mexico.
His home is mere miles from the picturesque badlands Georgia O'Keefe painted and Dzilth Na-o Dithle, the sacred portal where the Navajo believe the first people came out of the earth. But it's a long distance from all that the modern world seems to promise — grocery stores, jobs, medical care. Domingo's home is new. It has unpainted walls, plywood floors, and a wood stove but no insulation or electricity.
In a twist to his story, electric lines traverse the land just a few hundred yards from Domingo's front door, but with all of the permissions and work required by the utility, it would cost more than $30,000 to connect to the power.
Domingo, who has pewter hair and a broad, calm face, first started making jewelry in the 1970s, when he went to work in his uncle's shop. Over the years, he honed his craft, and customers started to come to him to commission works.
Now he sells his wares when he travels to preach all over the reservation. But with his failing eyesight, it has been getting harder to do the detailed work. After all, it takes a good four days to make a full squash-blossom necklace.
At night, the glow of kerosene lamps is too dim. Even during the day, the home's interior is full of shadows, making it difficult to tease, hammer, and solder metal into art.
"When I do silverworking, I have to wait until the sun comes through the window," said Domingo, wearing a thick Dallas Cowboys sweatshirt to insulate himself against the chill and large turquoise rings on his fingers, as he worked on a necklace more than a year ago. "I can't really know what I'm doing when it's dark in here. It would make a whole lot of difference just to not be in the dark."
Through a pastor at a local church, Domingo found out about a program through a Rotary club in Durango , Colorado, USA, that brings solar-powered lighting to remote homes on the Navajo reservation.
A solar light is a simple thing: just a small panel the size of a baking sheet, which mounts onto a roof with a pole. A wire runs from the panel into the house, where up to three rechargeable lights hang from hooks on the ceiling. To turn on the lights, Domingo simply has to touch a button.
To use the light as a flashlight for going outside at night, he simply unhooks it. A fully charged lamp offers dim light for 75 hours or bright light for 7½ before needing to be recharged.
But in this house, a light is more than a simple thing. It brings a world of possibility.
In the dark of The Checkerboard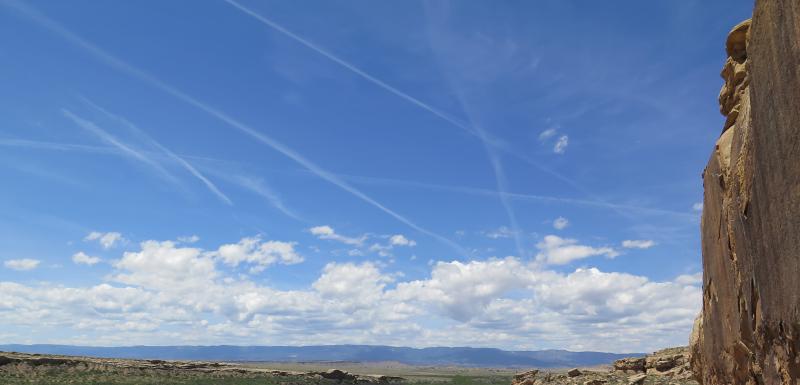 It's not unusual for Navajo homes to lack electricity.
The reservation, bigger than the state of West Virginia, sprawls across Arizona, Utah, and New Mexico. It's a harsh, beautiful land marked by extremes of temperature, sun, wind, and dryness.
Jeanette Sandoval explains why electricity is scarce in The Checkerboard.
Many Navajo — Diné in their own language — have lived in these rural areas for generations, as the land is passed from grandmother to granddaughter.
Although they are blessed with big skies and desert vistas, these remote locations are often far from services and paved roads.
According to a 2016 assessment, about 16,000 Navajo homes don't have access to electricity. Nearly a third have no running water, and more than half lack kitchen and toilet facilities.
In an area known as The Checkerboard, in northwestern New Mexico, it can be particularly challenging to gain access to utilities.
As a result of legislation dating to the 1880s, the land was divided into 160-acre chunks and distributed among individual Native Americans in an attempt to encourage them to adopt Euro-American farming lifestyles.
The remaining chunks became a patchwork of lands administered by federal, state, and other entities. Now, when a house is separated from utilities by these checkerboard-like lands, it can be difficult and expensive to secure the rights of way.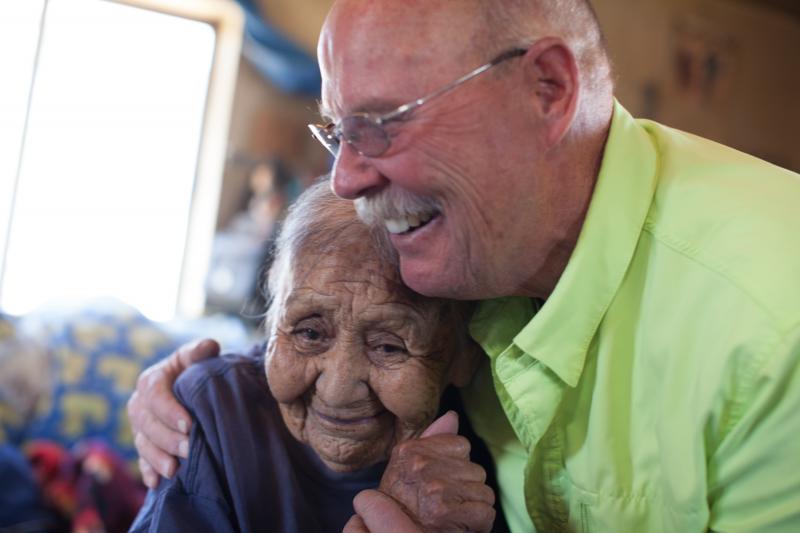 Rotarian Joe Williams grew up in The Checkerboard in the 1960s, not far from where Jerry Domingo's house now stands. The son of a natural-gas worker, he went to work in the oil-and-gas fields at age 14. But he still remembers riding the bus 48 miles to school and 48 miles back, one of the only white kids in a crowd of Navajo children.
Williams now owns an industrial water-purification company in Aztec, New Mexico, and employs many Navajo people. He has been a member of the Durango Daybreak Rotary Club, about 35 miles north, since 1996.
He always loved international service projects. In 2013, he traveled with a group to Nepal to trek along the Great Himalaya Trail and install solar lights in teahouses, which offer food, lodging, and other services to hikers.
In such remote areas, under the shadows of the Annapurna and Everest mountains, it wasn't surprising that residents didn't have access to electricity. When the group returned, however, new member Nancy Lauro, a civil engineer in Durango, brought up a provocative question: Similar developing-nation conditions exist within a couple of hours by car. Why not serve our neighbors, the Navajo?
"We can't go very far south from Durango without driving through the Navajo Nation, and many Durango-area residents work or go to school with tribal members," says Lauro, who joined Rotary after her daughters participated in the club's Youth Exchange program. "Our International Committee had just come back from installing the solar lights in Nepal, and we all thought that it was a natural to bring it home."
The group planned a project that would bring solar lights to at-risk populations on the reservation, including elders over 70 years old and disabled tribal members. Soon after launching, the group asked Joe Williams to become the project leader.
To see a house go from kerosene to solar ... it's life-changing. No longer do they have a proclivity for upper respiratory infections because of the soot.

Joe Williams
Rotarian
"I viewed this as a bookend project," says Williams. "I started off as a kid out there, and there were no lights. I've lived my whole life and traveled everywhere, and I've come back 50 years later, and the same places have no lights. I said to myself, 'This is my project.'"
Williams has an air of gentleness about him and an indomitable wellspring of energy. He walks with the slight stoop and occasional uncertainty of Parkinson's, which he staves off with determination. Last year alone, Williams coordinated 90 service trips to the reservation at his own expense.
"To see a house go from kerosene to solar ... it's life-changing," he says. "No longer do they spend $20 a month on kerosene. No longer do they have a proclivity for upper respiratory infections because of the soot. It's a hell of a thing."
Transformative power of light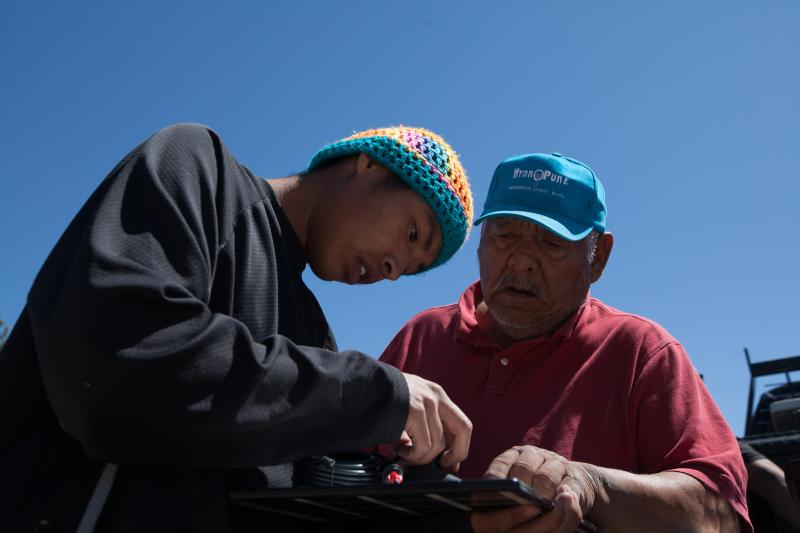 One weekend in November, a group of Rotarians and international exchange students, part of the Mountains & Plains Rotary Youth Exchange, drove from their homes in southern Colorado across the state line and into northwest New Mexico.
The wind was howling, kicking up sheets of dust, making the town of Shiprock look like a scene from an apocalyptic movie. But overhead, long spine-like clouds lay across a desert sky turning pink and purple with sunset.
The group gathered to sleep on mats camping-style inside the Sanostee Chapter House, a branch of the tribal government.
Danny Simpson, the Nageezi delegate to the Navajo Nation, says Joe Williams' respect for the Navajo helped build trust.
The next morning, two Navajo women volunteered to make the group breakfast, a crew of locals showed up to guide the teams, and Frank Smith, the Sanostee Chapter president, arrived to oversee the installations. Smith is responsible for the distribution of resources, maintaining infrastructure like roads and bridges and assisting the needy with housing and utilities in this sparsely populated and underserved area.
"You want to do your best to help your people, but there are always obstacles," says Smith, who grew up here and prefers country life to working in one of the reservation's population centers.
One challenge is finding and encouraging groups like Rotary to bring assistance. "I've never really had anybody coming in with a specific purpose like Rotary has. I've tried a lot of things, going online, figuring out how to contact these groups or get donations. It's hard to get that connection going ."
Since Durango Daybreak started coming to Sanostee in 2012, volunteers have supplied more than 40 homes with solar power in this municipality. Along with a panel of community leaders, Smith, a jovial man who is quick to laugh and break out into Johnny Cash songs, has helped identify the households that would benefit most from the solar lights. He also shows installation crews to the houses, many of which do not have addresses and are miles from the nearest paved road.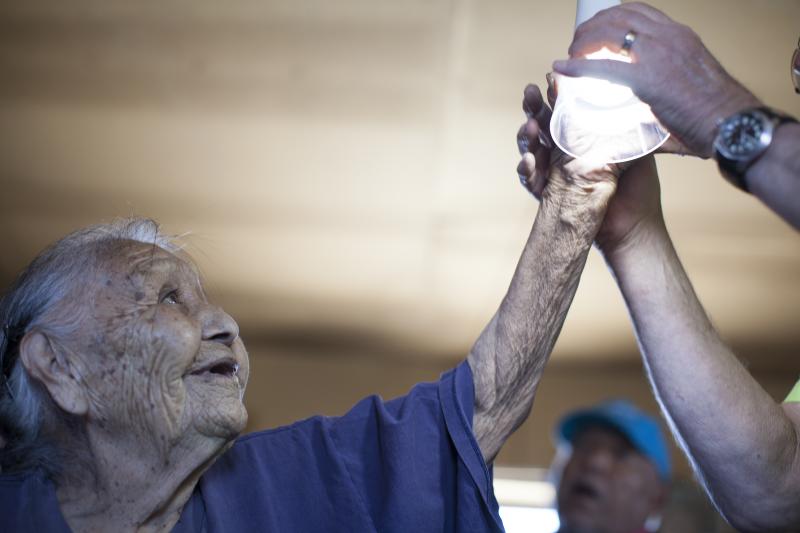 The beneficiaries are largely elders, the disabled, and other at-risk individuals and families. That day, the recipients included Albert and Joe James, brothers in their 80s who live in a one-room house with two twin beds and a woodstove way out at the end of a rugged dirt road in a solitary canyon.
They've spent their entire lives in this spectacular enclave of rusty sandstone cliffs and big skies, herding their sheep. They speak to Frank Smith in Navajo, telling him that they'll be able to play cards, work on artwork, and do puzzles with the new lights, passing the long dark hours of winter.
They'll also be able to use the flashlights to go the outhouse at night, a comforting prospect considering they've struggled with both a bear and a mountain lion that have started visiting regularly.
Other beneficiaries that day included James Cambridge, an 89-year-old who lives alone in an ancient metal trailer supported by plywood. He's a slim military veteran who loves to talk and joke.
When the light was installed, he was fascinated by its simplicity. Now, when he wakes up early in the morning, he doesn't have to wait until it's bright out to read. Miles north, a grandmother received a light that will help her young granddaughter, who dreams of becoming a doctor, do her schoolwork at night.
"The lights are a real plus for them," says Smith. "They use them for basic necessities. They can stay up longer, play cards, read books. Their grandkids can do their homework." Williams also notes that the lights provide more time in the evenings for elders to practice and pass on long-held traditions, such as weaving, to their families.
The solar project also benefits those who offer their time and energy to participate.
Over the past few years, volunteers from all over the country have enjoyed opportunities to sample regional cuisine at the chapter house, participate in a sweat lodge with a local medicine man, and learn about a vastly different culture. This weekend, the group visited a remote site with ancient rock carvings.
"For me, the Navajo solar lights project was a life-changing experience," says Akos Varga, an exchange student from Hungary. "I was very glad seeing the people's emotions when they first turned their solar lights on. Probably that was the best part !"
"We loved it," says Tami Duke, who came with her husband, son, and stepdaughter from Durango. "My son is only 12 years old, and our daughter is 14. It was a really impactful thing for them. There was a young girl whose grandmother received lights who said, 'Wow, now I'll be able to do my homework at night.' Her parents weren't nagging her to do her homework — she's thrilled she can do it. It was really inspiring."
Tangible change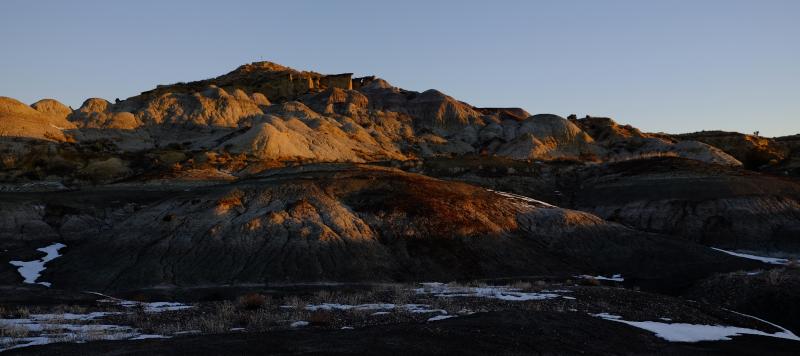 Joe Williams and the Durango Daybreak Rotary club hope the project continues to change lives on the reservation. They are working with the Navajo Nation to pursue grant funding for further solar units and to train crews of young Navajo tribal members as installation and repair technicians. So far, progress is slow, but the group is persistent.
"That's what the Navajo say: 'We have time. If we don't get to it today, we'll get to it tomorrow,'" says Joe Williams. "We continue to make our installations every year, and we have great support, because people see the results. Already we're getting requests to buy lights" from people who don't have electricity but can potentially afford to buy the solar lights, which cost about $300 each.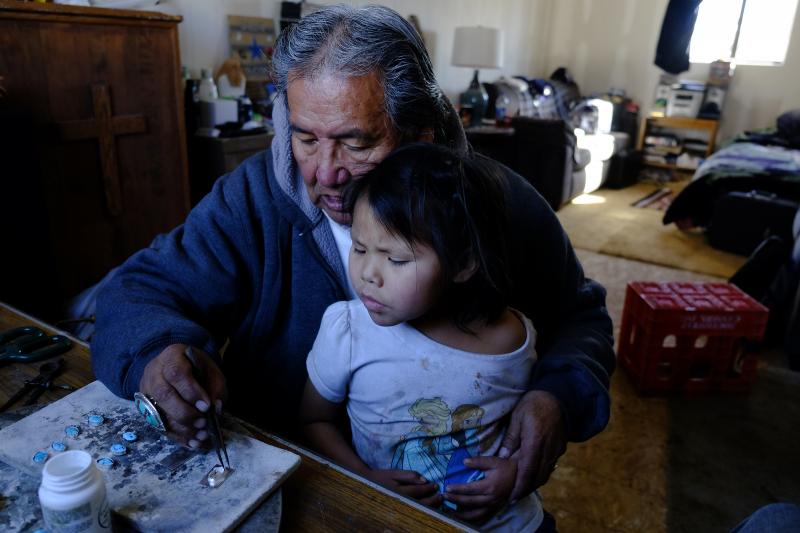 Jerry Domingo, the silversmith and preacher in Nageezi, New Mexico, has now enjoyed his lights for more than a year. It's wintertime again, and the days are shrinking as the evenings grow long.
Life out here is secluded and beautiful but can be punishing. In summer, temperatures top 100 degrees, and in winter they plummet below zero. With rain or snow, the roads become muddy and rutted.
Domingo has his own personal challenges, too. A few years ago in September, his wife and two of his adult children died when a truck hit their vehicle on the highway that leads north to the closest town.
Even though Domingo now lives by himself, he is usually not alone. His remaining children and grandchildren, friends, and neighbors cycle in and out of his home.
Now, at night, he can tinker with his jewelry and read his Navajo-language Bible by the light of solar lamps as the wind roars outside and the dust rises into great plumes.
"Now when it gets dark I can do my silversmithing," he says, working on a squash-blossom necklace laid out on a vintage desk one recent afternoon. "Many of our people are in need of electricity or lighting of some kind. This is a good thing that you all have going."
Share this story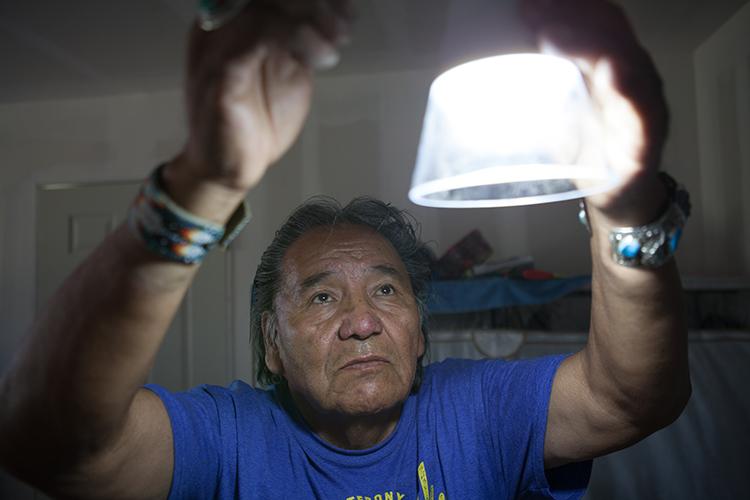 More from the Navajo
Navajo song
Irene Guerito sings Navajo song
Navajo leader essay
Samuel Harrison, social worker who has served as president of the Nageezi Chapter of the Navajo Nation, shares the history of Dinétah. Read his essay.
Tears in their eyes
Rotary member Joe Williams shares why he's passionate about this project in this blog post.