Rotaract program prepares students for college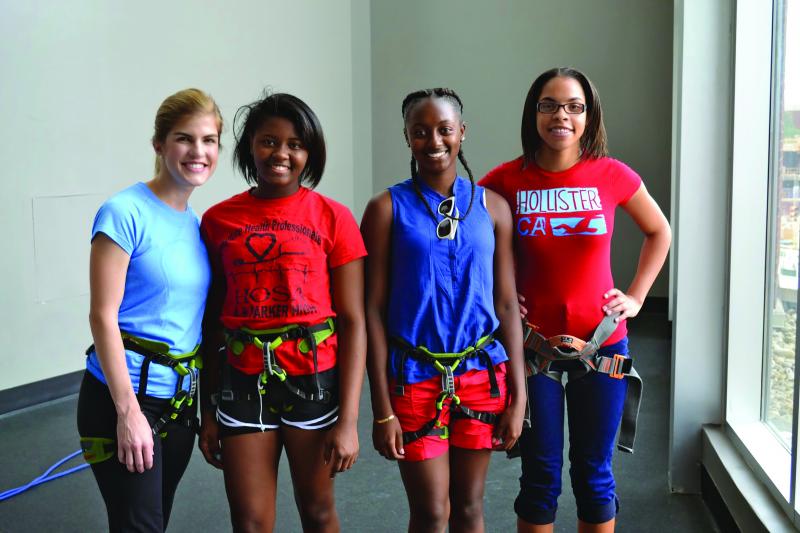 By Deblina Chakraborty
When Birmingham, Ala., high school students Amber Watts, Elizabeth Duke, and Nailah Shearer got a boost in 2014 from Rotary, it was in more than just their ACT scores. As mentees in the local Rotaract Club of Birmingham's Ready 2 Succeed program, the three girls, photographed at a quarterly event alongside mentor Chappell Stewart, got the opportunity to rock climb and elevate their leadership skills, too.
Rotaract of Birmingham created Ready 2 Succeed to help local high school juniors and seniors prepare for college, but the program's mentor coordinator, Sydni Willis, says recreational activities like rock climbing and zip-lining are vital to the program's mission. "When you're working with kids, there's got to be some type of personal relationship outside of just talking about college," Willis says.
The club launched Ready 2 Succeed as a two-year pilot program in 2014 at Birmingham's A.H. Parker High School. Tools for participants include ACT prep courses, help with financial aid applications, mock interviews, and an Alabama-specific scholarship database.
Additionally, Rotaract mentors share perspective gleaned from their own college experiences, such as what it's like to live in a dorm. "For a lot of [mentees], they may be a first-generation college student," says Lora Terry, chair of the Rotaract Club of Birmingham.
Students also have fun in groups at larger events the club organizes, like the event that Watts, Duke, and Shearer attended, which combined rock climbing and a public speaking class. Ready 2 Succeed has seen results: Of the seniors who participated in 2015, more than 75 percent became college freshmen. The club also took home a regional prize in the Rotaract Outstanding Project Awards last summer.
"Our core business is developing leaders in our community, and I think this allows us to develop the next generation of leaders that are going to come behind us and ensure that our community continues to thrive," Willis says. –Deblina Chakraborty
• See more stories from The Rotarian