PolioPlus is engaging reluctant communities by addressing basic needs
by Diana Schoberg
Khadim Solangi Goth, a community on the outskirts of Karachi, Pakistan, sits in one of the last remaining polio reservoirs on the planet. More than 40,000 people live in improvised dwellings made of earth or other found materials. For some, a cotton sheet is all that protects them from the hot sun and monsoon rains. "The poorest of the poor are living in this area," says Asher Ali, the project manager for the Pakistan PolioPlus Committee.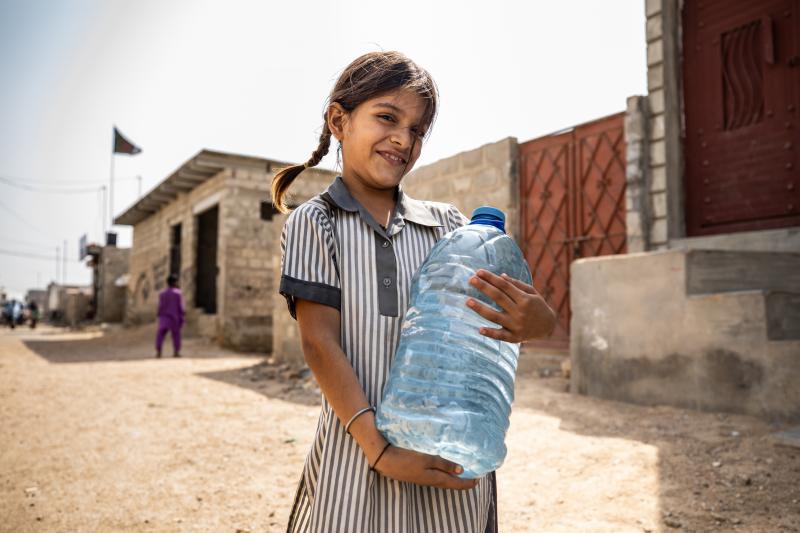 Polio is especially resilient in this community, which has been one of the most resistant to eradication efforts; the Global Polio Eradication Initiative (GPEI) has designated Khadim Solangi Goth one of its highest-priority areas. And the Pakistan Polio Eradication Initiative classifies Gadap Union Council 4, the administrative district that the community is a part of, as "super high risk."
What makes polio thrive in this place? The piles of trash and open sewers are one reason; the poliovirus gets transmitted through contaminated water. But another major factor is the area's low vaccination rate. In a community whose basic needs aren't met, residents see the polio vaccine as a low priority. "The refusals are not for the sake of religion but because civic amenities are missing," says Aziz Memon, chair of the Pakistan PolioPlus Committee. "They ask us, 'What are you doing here? You come again and again and again to give us polio drops. You never tell us how you're going to help us with electricity, roads, or clean water.'"
Still, the polio eradication program has seen a boost to its credibility in the past couple of years, thanks to the installation of water filtration plants in Karachi and several other areas of the country, including in Khadim Solangi Goth in December 2020 — part of the GPEI's effort to install a total of 36 such plants in Pakistan. Since 2012, Rotary members have been working to install plants through a variety of channels, including a partnership with Coca-Cola Pakistan, Rotary Foundation global grant projects, PolioPlus Partners grants, and partnerships with Rotary districts or other entities. More construction is in progress or in the planning stages.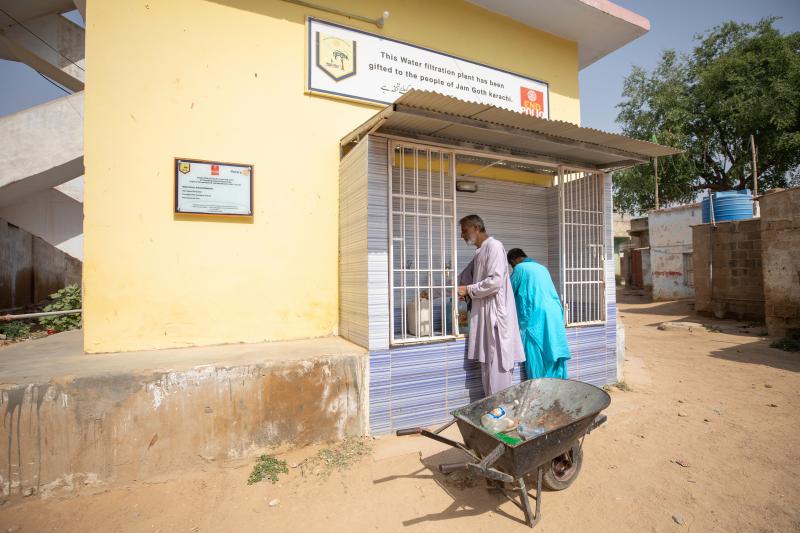 "Now that the community has access to clean water, polio workers are giving us feedback that when they are going to homes, the mothers bring their children to be vaccinated. The workers now have easy access to get into the area," says Ali.
Reaching Khadim Solangi Goth had been a challenge because of security concerns. But the polio workers persevered. Rotary members met with elders, women, and other stakeholders in the community to find out what they needed most and how Rotary could help. "Once we gained their confidence, then we moved forward," Ali says.
Safe drinking water was a high priority among Khadim Solangi Goth residents, so Coca-Cola Pakistan and Rotary in Pakistan — whose decade-long partnership has brought clean water to tens of thousands of people in the country — installed a water filtration plant in the community. Rotary members also trained residents to operate and maintain the equipment, and worked with the community to provide education in hygiene and handwashing. "We gradually gained the respect of the people and gained success," Ali says.
The work ties into the GPEI's new strategic plan, which launched in June 2021. One of the objectives is to speed progress toward polio eradication by integrating that work with efforts to address other community needs — "in other words, not just focusing on polio alone," explains Michael K. McGovern, chair of the International Polio-Plus Committee.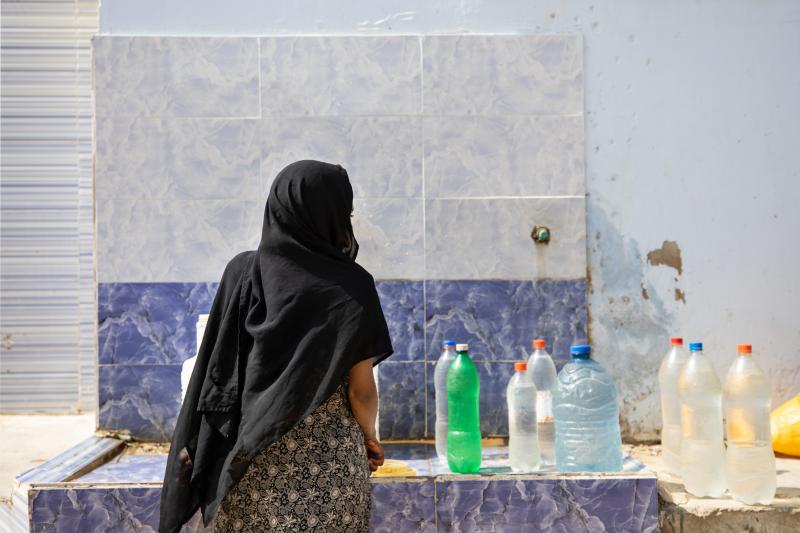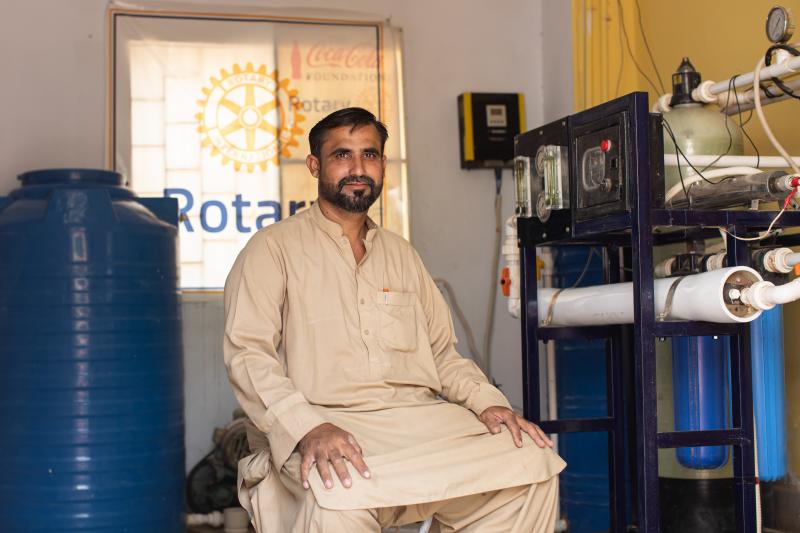 In a report issued the same month, the Independent Monitoring Board, a group of experts who assess progress toward a polio-free world, highlighted the slow progress toward improving water and sanitation in parts of Pakistan deemed "super high risk." The board called directly on Rotary to help bridge the gap between the polio program and other programs and funders. "Rotary International is greatly respected as having a 'can-do' capability in advancing practical action of this kind," the report stated.
While the improvement of water and sanitation in these areas helps stop the spread of polio, the new infrastructure helps build goodwill for the polio program. "It all ties together," McGovern says.
Hence the "plus" in PolioPlus, Rotary's program that provides communities with benefits beyond vaccination — such as clean water, medical treatments, bed nets, and soap. In northern Nigeria, for example, Rotary and its partners sponsored more than 30 solar-powered boreholes, which helped develop trust among the vulnerable residents. The strategy worked: Nigeria reported its last case of polio in 2016, and the World Health Organization certified the Africa region free of wild polio in 2020.
In Pakistan, Memon says, Rotary members complement the water projects with health camps that assist families with other medical needs. "Health camps also send a very positive signal," he says. "It shows that our main focus is not polio alone, it's PolioPlus."
By the numbers
40 million

Number of Pakistani children under age 5 immunized each year

63

Percentage of polio cases in Pakistan in 2019 that involved zero-dose children, who had never received any essential immunizations

70

Percentage of Pakistani households that drink contaminated water
In Hassan Brohi Goth, another community in the Karachi metropolitan area, many people make their living by producing bricks in kilns. A smoky haze envelops the area, exacerbating breathing difficulties among health-challenged residents. The community lacks medical facilities. Its drinking water comes from a pipeline — which is broken, making the water unsafe to drink — or from vendors who charge more than many people can afford.
Rotary members worked with a kiln owner to provide a site for a water filtration plant. The plant, installed as part of a Rotary Foundation global grant sponsored by the Rotary clubs of Karachi and Maysville, North Carolina, went online in August.
"Through this water filtration plant, we've gained credibility and the confidence of the people," Ali says. "The people know us. It gives me a lot of happiness. The polio teams, whether from WHO or the government, all are welcomed."
This story originally appeared in the December 2021 issue of Rotary magazine.