People of action around the globe
As many as 1 in 3 children in the United States say they have been bullied at school.
United States
In suburban Denver, a Rotary anti-bullying program has reached more than 2,000 elementary school pupils. The Peaceful Schools Program, developed by the Rotary clubs of Denver Southeast, Highlands Ranch (Littleton), and Parker, was created in 2014 by Carole Baumbusch. A template created by Operation Respect, a nonprofit focused on helping children develop into ethical and compassionate adults, was adapted to add a Rotary twist: "It teaches character development using The Four-Way Test," Baum-busch says. The program is delivered by high school students, who are trained by Rotarians.
Cayman Islands
On 28 March, the three Rotary clubs in this British overseas territory unveiled an open-air children's education center. Charles, Prince of Wales, cut the ribbon at the facility on the grounds of Queen Elizabeth II Botanic Park. The $180,000 center was funded by the Rotary clubs of Central Cayman Islands, Grand Cayman, and Grand Cayman Sunrise. The Rotary Club of Grand Cayman also donated a Mamava pod, a $20,000 lactation room, to Owen Roberts International Airport in George Town. "We wanted to offer nursing mums a clean, private area to nurse or pump," says club member Justin Bodden.
United Kingdom
For 15 years, the annual Technology Tournament, hosted by the three Rotary clubs in York, has helped stimulate student interest in technology and fostered a spirit of team-work. This year, the challenge for the 16 four-person teams was to design and assemble a flashing beacon using supplied parts. Judges awarded points to teams in three age groups for their design, success of construction, and scripted commentary on how they approached the engineering challenge. The Rotary clubs of York, York Ainsty, and York Vikings funded the competition, with support from sponsors including the University of York.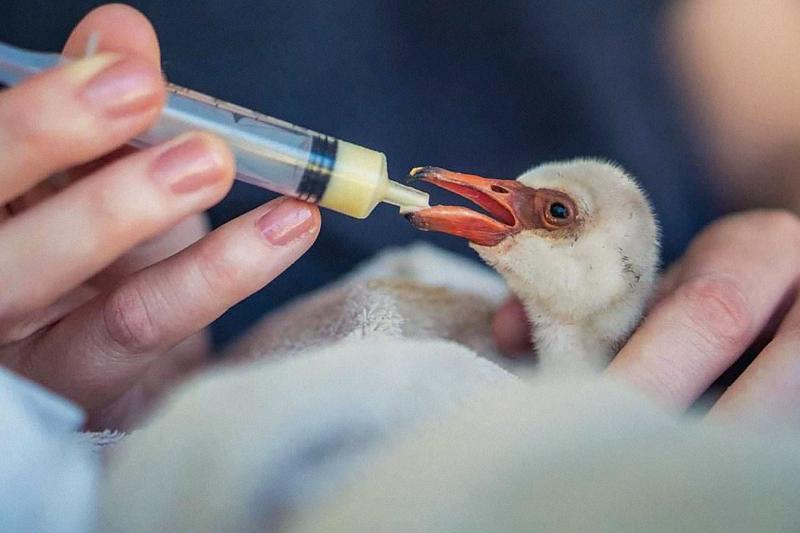 South Africa
When drought drove thousands of flamingos to abandon their chicks at a reservoir that serves as a breeding ground for the birds, the Rotary Club of Fourways Main Reef, Johannesburg, sprang into action, providing lactate solution, food, blankets, and saline solution to a conservation group.
"Sometimes life works in magical ways," says club member Ingrid Sellschop, who had seen a social media post about the flamingo chicks' plight that prompted the club members to get involved in late January. "A friend from my school days, who runs the VulPro vulture rehab program at the Hartbeespoort dam, contacted me requesting help when she saw that our club was collecting items and money for the rescue." Many conservation centers around the country were involved in relocating the chicks and eggs to safe environments.
"I was fortunate enough to be able to assist with feeding the little flamingo chicks in the first week that they arrived at the VulPro center," Sellschop says. The mission ended happily with healthy hatchlings, and dam water levels have since risen, improving conditions for the flocks.
The word "ski" is derived from the Norwegian term for a split piece of wood.
Austria and Germany
More than 100 winter sports enthusiasts hit the slopes during Ski Week, organized by the Rotary Club of Oberstdorf-Kleinwalsertal, a border-crossing club in the Allgäu Alps. The celebration lured Rotarians from the European Union, Russia, Turkey, and the United States. A similar gathering was held two months earlier in Telluride, Colorado. "We were able to show that in Bavaria and Austria you will not only find great ski slopes, but also genuine Rotarian hospitality," says Andreas Kaenders. Participants also raised more than $7,800 to help children with tuberous sclerosis complex, a genetic disease that causes tumors in various organs of the body.
— BRAD WEBBER
• This story originally appeared in the September 2019 issue of The Rotarian magazine.