People of action around the globe
Haiti
At age 16, Odette Constant moved with her family to New York state from Port-au-Prince, the Haitian capital. After the devastating earthquake on 12 January 2010, Constant helped establish Haiti Health & Rehabilitation, an organization dedicated to instruction, health promotion, nutrition education, and community hygiene development. Beginning in late 2017, Constant focused her efforts on a makeshift Haitian orphanage, where she saw children in dire need. Constant relocated the children to a new house and took charge. The Rotary E-Club of Florida, which welcomed Constant as a member in 2019, supports the orphanage with marketing and promotional ideas.
Ghana
Observing increased flooding caused by garbage-clogged drainage systems, the Rotaract Club of Ho got to work. Aided by funds and labor from Rotaract clubs in Ghana, Togo, and Uganda, and the Rotary Club of Lomé-Zénith in Togo, the Rotaractors installed 10 waste bins at key spots in the city last July. "We had 130 volunteers participating," says Prince Kotoko, president of the 27-member Ho club. The project was followed by a cleanup exercise on 28 September, when volunteers desilted gutters. "It was by far the largest cleanup to take place in the township, with close to 300 volunteers."
EU member states granted citizenship to 825,000 people in 2017.
Finland
Members of the Rotary Club of Helsinki International have mentored more than 110 immigrants and refugees, many of them from Afghanistan, Iran, Iraq, and Syria, since 2017. The immigrants receive job training and assistance on résumé writing and adapting to a new culture. After completing the program, arranged through the Hanken School of Economics and affiliated with the Stockholm School of Economics executive education program, the graduates are given the option of three months of work training at Finnish companies, says Sam-Erik Ruttmann, a club member. "After the training, three have gotten a full-time job out of the program," Ruttmann says.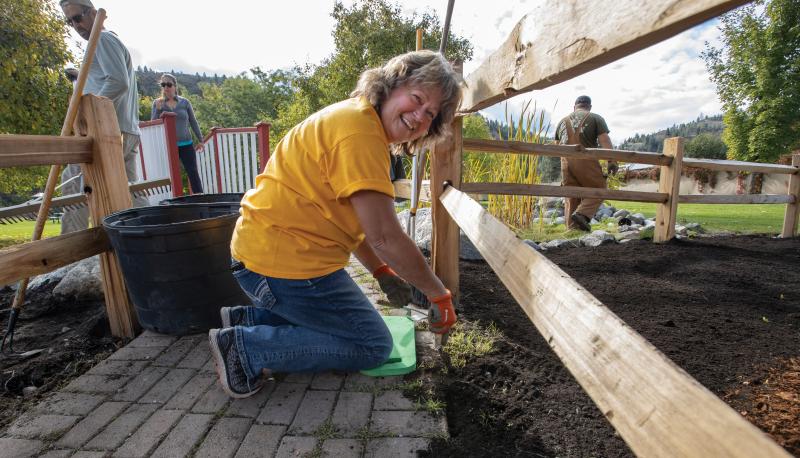 Canada
After years of providing financial support for the B.C. Wildlife Park, members of the Rotary Club of Kamloops West, British Columbia, staked out territory of their own in the 106-acre preserve. Enhancing a habitat that is home to cougars, lynx, bobcats, Rocky Mountain bighorn sheep, arctic wolves, and snakes, the club inaugurated a pollinator garden designed to attract hummingbirds, butterflies, bees, and desirable bugs.
During the District 5060 conference last May in Kamloops, 40 volunteers, including Rotarians, Rotaractors, and Rotary Youth Exchange participants from Districts 5040 and 5060, laid dirt and planted foxglove, tulips, lavender, woolly thyme, Russian sage, and coneflowers. "Many plants were chosen for their attraction for pollinators and drought tolerance," Sherry Chamberlain, the immediate past governor of District 5060 and a Kamloops West club member, says of the $2,300 project. The Rotary clubs of Kamloops and Kamloops Daybreak, also big supporters of the park, contributed funds and labor. "Afterward, our two districts met at the site for a social to mix and mingle." In October, club members returned to spread more dirt and gravel, and installed more plants, fencing, and a bench at a cost of about $3,800.
The American Kennel Club recognizes 193 breeds of dogs.
Sri Lanka
To celebrate our canine companions, the Rotaract Club of Colombo Central held a dog walk and carnival that attracted 200 dogs and their owners in October. The festivities included a dog show and contests for best-dressed dog, best trick, and most popular pooch. Organizers circulated a petition to update Sri Lanka's outdated Cruelty to Animals Act. Along with signatures of participants, the paw prints of the dogs were taken to indicate their participation and support toward amendment of the laws, according to club member Pramodha Weerasekara. Proposed amendments include prison time for causing the intentional death of an animal.
— BRAD WEBBER
• This story originally appeared in the March 2020 issue of The Rotarian magazine.