People of action around the globe
Canada
The Rotary Club of Langley, British Columbia, led the drive to construct an interpretive center on the grounds of a local arboretum. The 1,000-square-foot post-and-beam structure of red cedar, pine, and fir harvested in the province opened in late June. "There are dozens of nonprofit organizations in Langley that meet at people's homes or whatnot," says club member Allan Richmond. "We thought, why not have a build-ing that any one of these nonprofits can use?" The club provided $190,000 for the project, which was matched by Langley Township. Local residents also contributed materials and labor.
Trinidad and Tobago
More than 100 high school students from across the Caribbean demonstrated their diplomatic savvy in a Model United Nations sponsored by the Rotary Club of Central Port of Spain. The two-day mock General Assembly debate, with the youths donning garb representative of their randomly chosen countries, centered on the global refugee crisis. Four attendees who had fled their native Venezuela to settle in Trinidad and Tobago participated, and though they represented Afghanistan and Guyana during the March debate, they drew on their experiences as refugees. "They had a lot of valuable perspectives to share," says club member Abigail Edwards.
Malawi
A widow with five children, living in a 90-square-foot mud and brick room with a thatched roof, was offered a helping hand by a hardworking team from Habitat for Humanity that included four Rotarians and two of their spouses. In March, the volunteers constructed a three-room, 360-square-foot house. The Rotarians — Carey Beamesderfer, Doug Borrett, and David Driscoll of the Rotary Club of West El Paso, Texas, and Joann Navar of the Rotary Club of Anthony, New Mexico — are all on the board of directors of Habitat for Humanity El Paso.
Habitat for Humanity says Malawi needs 21,000 new housing units over each of the next 10 years.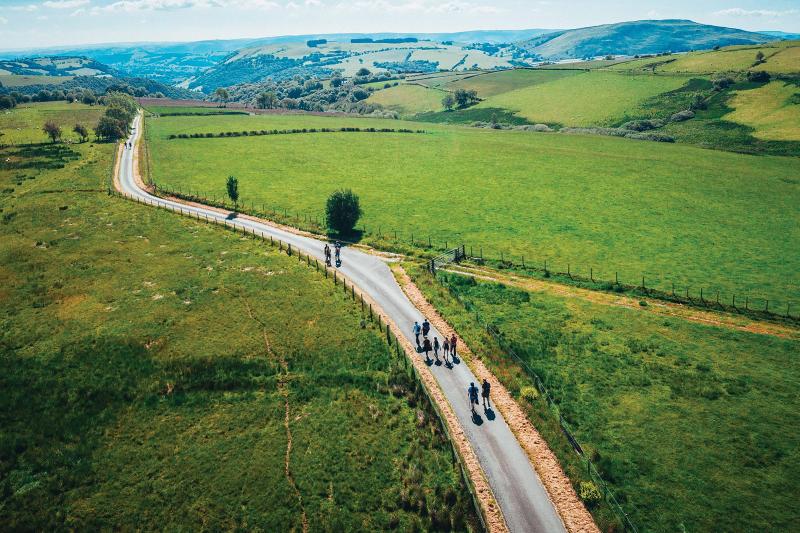 England and Wales have 2,500 miles of National Trails.
United Kingdom
An annual walk across Wales drew more than 200 wayfarers in June to hike more than 40 miles in one very long day. This year's event raised more than $22,000 for organizations of the ramblers' choosing. "There are many ways to raise money, but seldom does a charity event involve crossing a country in one day on foot," says Paul Jones, a member of the Rotary Club of Llanidloes, which sponsors the event with the Rotary clubs of Newtown and Machynlleth. The three clubs supported the walkers with food and cheers along the well-marked route, which starts in the west near the coast in Machynlleth and goes through the hilly countryside of central Wales before finishing at the Anchor Inn pub just across the English border (walks of 26, 16, and 8 miles were also options).
"Every year I meet people digging deep to finish what they've started," says Jones, who carries out the duties of "back marker" – the person who brings up the rear of the group. "I've crossed the line with someone who didn't finish the walk the previous year and had returned to set the record straight. From a 13-year-old to an elderly gentleman with tears in his eyes, every one of them is an inspiration, and they are the reason I return every year."
India
When flooding brought on by heavy rainfall displaced more than 100,000 people in the plains of West Garo Hills in July, the Rotaract Club of NEHU (North-Eastern Hill University), Shillong, sprang into action. The Rotaractors collected donations from university faculty, staff, and students, as well as the Rotaract Club of Guwahati East. Five NEHU Rotaractors traveled about 180 miles to the hard-hit village of Haribhanga in a vehicle supplied by their sponsoring Rotary Club of Orchid City Shillong. There, they handed out packages with rice, dal, milk packets, cookies, soap, bleach, feminine hygiene products, and clothing directly to more than 200 households.
• This story originally appeared in the December 2019 issue of The Rotarian magazine.