People of action around the globe
United States
The Rotary Club of Yakima Sunrise, Washington, has installed nine pianos in public spots where anyone can sit down and tickle the ivories — and the community. Sites include brewpubs, a shopping mall, and a coffee shop, and more installations are planned soon. The Painted Piano Project also provided stipends of $300 to artists who decorated the donated instruments.
A Heintzman & Co. piano made of crystal was sold at auction for $3.2 million.
"People stop to listen to the music or take a moment to examine the beautiful artwork," says Nathan Hull, the club's immediate past president. "The pianists play everything from Mozart to Van Halen, and that has been a lot of fun."
United Kingdom
To raise funds for End Polio Now, the Rotary Club of Narberth & Whitland is selling Rotary-themed scarves designed by fashion and textiles student Mia Hewitson-Jones with help from graphics student Sam Stables, both enrolled at Pembrokeshire College. The scarves went on sale in 2019 after the club garnered approval from Rotary International for use of the logo. By April of this year, nearly 100 scarves had been sold and another shipment was on the way, says club member John Hughes. "We have sold a few in America and Canada," adds Hughes. The idea of selling specially designed scarves was conceived by Mary Adams when she was president-elect of the club in 2016.
Romania
Faced with the coronavirus pandemic, the Rotaract Club of Cluj-Napoca "SAMVS" adapted an online mental health campaign on the club's social media accounts, encouraging people to engage in satisfying activities, such as art. The social media campaign focused on "how to make the best of your #stayhome experience," says club member Loana Vultur. More than 3,000 people have viewed the club's posts on Facebook and Instagram. "No money was necessary," Vultur says. "Our resources were our minds, creativity, and the will to help. In Romania we have the expression, 'Make heaven from what you have.'"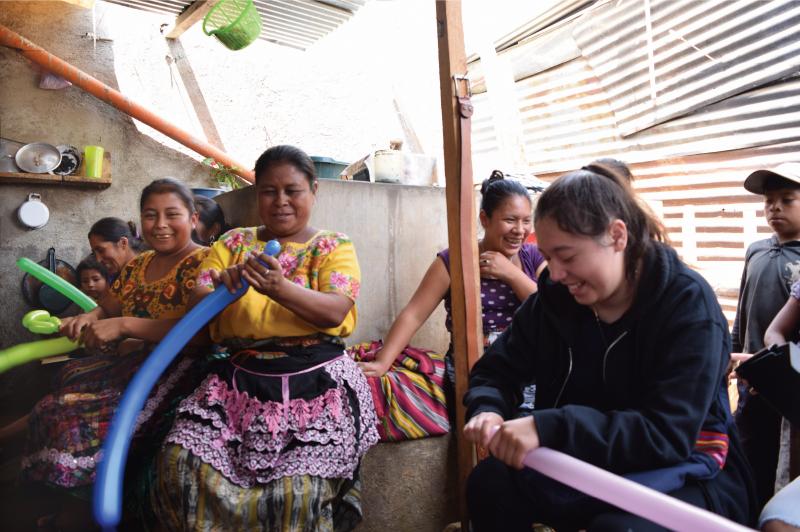 Guatemala
More than 100 Guatemalan women have been helped financially by the Interact Club of Hillsdale High School in San Mateo, California; its sponsoring Rotary Club of San Mateo; and the nonprofit group Namaste Direct. Over the years, about 100 Hillsdale Interactors have joined chaperone Rotarians and teachers on trips to Antigua, a city in Guatemala's central highlands, to meet the women who have received grants funded through student-led fundraising events including "penny war" collections and taco dinners.
Nearly half of all Guatemalans live on less than $5.50 a day.
The site visits are eye-openers for the students, who see how microloans, financial literacy workshops, and mentorship have empowered the women, says Namaste Direct's founder and chief executive, Robert Graham. He cites Namaste's policy of charging lower interest rates than many other nongovernmental organizations (loans range from a few hundred dollars to $4,000), its adherence to Western consulting methodologies, and Rotary involvement as major reasons for the program's success. "Many women have corner convenience stores, while others purchase clothing and household goods in bulk for resale at the local market," Graham says. Other beneficiaries include a nut vendor, a chicken butcher, and a chocolatier.
India
In the Rotary Club of Vapi's first 20 years, club members oversaw the establishment of a school, a hospital, and a college. "Our club created an entire town worth residing in," says Ketan Patel. In 2011, seeking a way to honor the RI presidency of club member Kalyan Banerjee, the Rotarians embarked on a project to provide free kidney dialysis that continues to this day. Nearly 3,800 patients have received more than 32,000 procedures. "The entire treatment is free of charge," says Patel. The cost of the dialysis project is covered by Rotarian and community contributions, along with club fundraising.
— BRAD WEBBER
• This story originally appeared in the August 2020 issue of The Rotarian magazine.